2011-2012 regular season Ligue Féminine 2 statistics
One of the conditions of playing basketball in the Ligue Féminine 2 is that the club must have qualified statisticians.
The Fédération Française de Basketball organised free training sessions at the end of the 2010-2011 season across all divisions for statisticians, which included sessions on how to use the FIBA Live statistics software.
Although live statistics were not always available due to one technical reason or other on match day, the statistics were recorded and score sheets were produced for each game.
The consistency in the recording of statistics collected around the clubs in LF2 is now much better. So we have decided to put together all the statistics compiled by the Fédération Française de Basketball (FFBB) for all the players in this division for this season.
The leading scorer with 20.7 points per game is former Latvian youth international Dace Pierre-Joseph from Dunkerque Malo. She also finished in the top 10 in rebounding with 8.7 rebounds per game and was top of the efficiency ranking with 20.3 points.
The leader in rebounding for the season was Astan Dabo from Reims with 12.7 per game. Some of the other category leaders in the Ligue Féminine 2 this season are:

Aurélie Cibert from COB Calais hit 57.9% percent of her shots from within the arc while Aurélie Durand from Dunkerque was the only player to connect above 40% from beyond the arc.
Bintou Dieme from Le Havre finished with the best free-throw percentage of 85.1 while Héléna Ciak from Perpignan finished way ahead of the rest in blocks with 2.7 per game.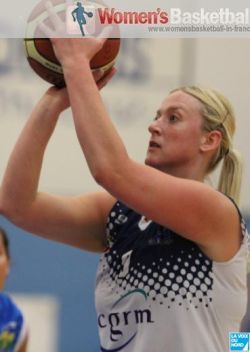 The Voiron duo of Faëza Bouderra and Amanda Lassiter lead the assists and steals category.
Aurélie Carmona had the honour to topping the fouls committed while the turnover queen was Aude Kernevez who also played the most minutes in the "Ligue" this year.
When it comes to player of the year awards, it is very likely that Ciak will win the award but Pierre-Joseph (in picture) who was also the most fouled was statistically way ahead of any other player.
The following statistics information for each player has been recorded:
MIN: Average of minutes played, PTS: Points, FG: Field Goals, 2PTS: 2-point Field Goals, 3PTS: 3-point Field Goals, FT: Free Throws, OR: Offensive Rebounds, DR: Defensive Rebounds, TR: Total Rebounds, STL: Steals, TO: Turnovers, AST: Assists, BS: Blocks, PF: Personal fouls and PV: Player fouled on or fouls drawn.
You are able to jump to any club statistics by clicking on the link below or by scrolling down the page.
AL Aplemont Le Havre L2F statistics
Centre Fédéral de Basket Ball (CFBB) L2F statistics
Côte d'Opale Basket Calais (COB Calais) L2F statistics
Dunkerque Malo Basket Club L2F statistics
Étoile de Voiron Basket Féminin L2F statistics
Léon Trégor Basket 29 L2F statistics
Limoges ABC en Limousin L2F statistics
Perpignan Basket L2F statistics
Reims Basket Féminin L2F statistics
Roche Vendée Basket Club L2F statistics
Illkirch-Graffenstaden (SIG) L2F statistics
Sports Ouvriers Armentièrois L2F statistics
Toulouse Metropole Basket L2F statistics
US Laveyron Drôme L2F statistics

AL Aplemont Le Havre - Ligue Féminine 2 statistics
| Name | Games Played | MIN | PTS | 2PTS | % | 3PTS | % | FT | % | PF | PV | OR | DR | TR | STLS | BS | TO | AST | Efficiency Rating |
| --- | --- | --- | --- | --- | --- | --- | --- | --- | --- | --- | --- | --- | --- | --- | --- | --- | --- | --- | --- |
| BINTOU DIEME | 21 | 35:59 | 16.8 | 84/183 | 45.9 | 33/98 | 33.7 | 86/101 | 85.1 | 2.1 | 4.6 | 0.6 | 4.5 | 5.1 | 2.3 | 0.0 | 3.8 | 4.9 | 16.8 |
| KAYLA SMITH | 15 | 36:27 | 16.3 | 96/183 | 52.5 | 0/8 | 0.0 | 53/89 | 59.6 | 2.3 | 4.8 | 4.6 | 5.5 | 10.1 | 0.9 | 0.2 | 3.1 | 1.5 | 17.3 |
| IDA PREETZMANN | 24 | 28:33 | 10.0 | 40/103 | 38.8 | 37/111 | 33.3 | 50/61 | 82.0 | 1.5 | 2.1 | 0.6 | 2.1 | 2.8 | 0.7 | 0.0 | 2.9 | 1.2 | 5.6 |
| MELISSA WASHINGTON | 7 | 28:45 | 8.1 | 22/60 | 36.7 | 0/0 | 0.0 | 13/22 | 59.1 | 2.4 | 2.3 | 3.0 | 5.0 | 8.0 | 1.0 | 0.4 | 3.0 | 1.6 | 9.4 |
| KEKELLY ELENGA | 26 | 20:40 | 7.6 | 75/172 | 43.6 | 4/21 | 19.0 | 35/55 | 63.6 | 2.2 | 1.9 | 1.7 | 2.9 | 4.6 | 0.3 | 0.2 | 1.3 | 0.5 | 6.8 |
| MICHELANDE AUGER | 26 | 23:43 | 4.8 | 18/55 | 32.7 | 26/81 | 32.1 | 11/18 | 61.1 | 2.3 | 1.1 | 0.4 | 2.7 | 3.2 | 0.9 | 0.0 | 1.5 | 1.3 | 5.0 |
| LALYA SIDIBE | 24 | 17:02 | 4.6 | 40/95 | 42.1 | 2/12 | 16.7 | 24/40 | 60.0 | 2.4 | 2.0 | 0.7 | 1.3 | 1.9 | 0.7 | 0.0 | 2.0 | 0.9 | 2.7 |
| LESLIE MATANGA | 25 | 20:49 | 4.6 | 19/54 | 35.2 | 17/64 | 26.6 | 25/37 | 67.6 | 2.2 | 1.3 | 0.8 | 2.2 | 3.0 | 0.9 | 0.1 | 1.5 | 1.3 | 4.6 |
| WHITNEY MIGUEL | 25 | 15:40 | 4.2 | 36/99 | 36.4 | 4/28 | 14.3 | 21/29 | 72.4 | 2.1 | 1.1 | 1.1 | 2.7 | 3.8 | 0.3 | 0.0 | 1.8 | 0.5 | 3.1 |
| EMMANUELLE NAULEAU | 24 | 15:34 | 3.7 | 38/87 | 43.7 | 0/3 | 0.0 | 13/29 | 44.8 | 2.6 | 1.3 | 1.2 | 1.3 | 2.5 | 0.5 | 0.0 | 1.8 | 0.5 | 2.7 |
| LUCIE DEMOLLIENS | 14 | 14:45 | 3.0 | 13/36 | 36.1 | 3/19 | 15.8 | 7/7 | 99.9 | 1.9 | 0.9 | 0.9 | 1.6 | 2.5 | 0.3 | 0.0 | 0.4 | 0.7 | 3.3 |
| ALYSON TEXIER | 3 | 01:13 | 0.0 | 0/0 | 0.0 | 0/1 | 0.0 | 0/0 | 0.0 | 0.0 | 0.0 | 0.0 | 0.0 | 0.0 | 0.0 | 0.0 | 0.0 | 0.0 | -0.3 |
| HAWA KANE | 3 | 00:44 | 0.0 | 0/0 | 0.0 | 0/0 | 0.0 | 0/0 | 0.0 | 0.0 | 0.0 | 0.0 | 0.0 | 0.0 | 0.0 | 0.0 | 0.0 | 0.0 | 0.0 |
| Average | | | 64.3 | 462/1086 | 42.5 | 118/421 | 28.0 | 477/330 | 69.2 | 19.4 | 18.0 | 12.1 | 25.1 | 37.2 | 7.5 | 0.7 | 18.9 | 11.8 | 59.7 |
Return to the Ligue Féminine 2 statistics index
Centre Fédéral de Basket Ball - Ligue Féminine 2 statistics
| Name | Games Played | MIN | PTS | 2PTS | % | 3PTS | % | FT | % | PF | PV | OR | DR | TR | STLS | BS | TO | AST | Efficiency Rating |
| --- | --- | --- | --- | --- | --- | --- | --- | --- | --- | --- | --- | --- | --- | --- | --- | --- | --- | --- | --- |
| VALERIANE AYAYI | 17 | 27:35 | 11.6 | 46/99 | 46.5 | 18/68 | 26.5 | 51/75 | 68.0 | 2.9 | 4.4 | 0.9 | 4.1 | 5.0 | 1.2 | 0.6 | 2.5 | 0.9 | 9.3 |
| OLIVIA EPOUPA | 24 | 28:45 | 9.0 | 76/167 | 45.5 | 6/39 | 15.4 | 45/65 | 69.2 | 2.4 | 3.1 | 2.2 | 2.9 | 5.0 | 3.0 | 0.1 | 3.5 | 3.0 | 10.5 |
| ASSITAN KONE | 26 | 26:13 | 8.9 | 94/198 | 47.5 | 1/15 | 6.7 | 40/75 | 53.3 | 2.5 | 2.7 | 1.8 | 3.7 | 5.5 | 0.8 | 0.3 | 2.7 | 0.5 | 7.5 |
| LIDIJA TURCINOVIC | 23 | 26:54 | 8.6 | 43/91 | 47.3 | 32/98 | 32.7 | 16/31 | 51.6 | 2.1 | 1.2 | 1.4 | 2.6 | 4.0 | 0.7 | 0.1 | 2.4 | 1.2 | 6.7 |
| MAMIGNAN TOURE | 26 | 23:09 | 6.2 | 34/83 | 41.0 | 20/98 | 20.4 | 34/36 | 94.4 | 1.6 | 1.6 | 0.8 | 1.3 | 2.1 | 0.5 | 0.0 | 2.6 | 1.1 | 2.4 |
| BERENGERE DINGA NBOMI | 22 | 15:28 | 5.5 | 18/40 | 45.0 | 24/78 | 30.8 | 13/18 | 72.2 | 1.8 | 1.0 | 0.5 | 1.1 | 1.6 | 0.6 | 0.1 | 1.4 | 0.4 | 3.2 |
| ABY GAYE | 21 | 20:01 | 5.4 | 47/105 | 44.8 | 0/2 | 0.0 | 19/32 | 59.4 | 3.0 | 1.6 | 1.0 | 2.9 | 4.0 | 0.1 | 0.7 | 1.4 | 0.6 | 5.9 |
| MARIEME BADIANE | 25 | 23:33 | 4.5 | 45/114 | 39.5 | 0/8 | 0.0 | 23/48 | 47.9 | 2.5 | 1.7 | 1.6 | 4.6 | 6.2 | 0.7 | 0.2 | 2.6 | 0.4 | 5.3 |
| CLEMENTINE MORATEUR | 12 | 14:33 | 2.9 | 5/12 | 41.7 | 6/31 | 19.4 | 7/9 | 77.8 | 1.0 | 0.8 | 0.2 | 1.3 | 1.4 | 0.3 | 0.0 | 1.3 | 0.7 | 1.2 |
| LAETITIA GUAPO | 9 | 08:56 | 2.4 | 2/9 | 22.2 | 6/11 | 54.5 | 0/0 | 0.0 | 1.1 | 0.1 | 0.7 | 0.7 | 1.3 | 0.0 | 0.0 | 0.4 | 0.2 | 2.2 |
| FLEUR DEVILLERS | 16 | 15:42 | 2.2 | 13/42 | 31.0 | 1/20 | 5.0 | 6/14 | 42.9 | 1.2 | 1.4 | 0.4 | 1.1 | 1.5 | 0.7 | 0.1 | 1.6 | 0.7 | 0.0 |
| AXELLE KOUNDOUNO | 23 | 12:41 | 1.7 | 15/54 | 27.8 | 0/9 | 0.0 | 10/16 | 62.5 | 2.0 | 0.8 | 0.7 | 1.7 | 2.4 | 0.3 | 0.0 | 0.9 | 0.2 | 1.5 |
| KATIA CLANET | 2 | 08:21 | 0.0 | 0/1 | 0.0 | 0/0 | 0.0 | 0/0 | 0.0 | 3.0 | 0.0 | 0.0 | 0.0 | 0.0 | 0.5 | 0.0 | 1.0 | 0.0 | -1.0 |
| Average | | | 57.0 | 438/1015 | 43.2 | 114/477 | 23.9 | 419/264 | 63.0 | 20.1 | 17.0 | 11.8 | 25.1 | 36.9 | 8.6 | 1.8 | 21.0 | 8.3 | 49.6 |
Return to the Ligue Féminine 2 statistics index
Côte d'Opale Basket - Ligue Féminine 2 statistics
| Name | Games Played | MIN | PTS | 2PTS | % | 3PTS | % | FT | % | PF | PV | OR | DR | TR | STLS | BS | TO | AST | Efficiency Rating |
| --- | --- | --- | --- | --- | --- | --- | --- | --- | --- | --- | --- | --- | --- | --- | --- | --- | --- | --- | --- |
| MANON SINICO | 26 | 33:42 | 12.3 | 110/294 | 37.4 | 0/11 | 0.0 | 100/118 | 84.7 | 2.3 | 3.6 | 1.7 | 2.3 | 4.0 | 2.0 | 0.0 | 1.7 | 2.7 | 11.3 |
| FLORIANE HERRSCHER | 22 | 32:04 | 12.2 | 124/230 | 53.9 | 0/0 | 0.0 | 20/25 | 80.0 | 2.9 | 1.2 | 1.2 | 5.2 | 6.4 | 0.6 | 0.2 | 2.1 | 1.5 | 13.7 |
| MELANIE ARNAUD | 26 | 30:05 | 11.5 | 106/257 | 41.2 | 4/14 | 28.6 | 74/100 | 74.0 | 2.4 | 3.5 | 3.7 | 7.1 | 10.8 | 1.8 | 1.0 | 1.6 | 1.4 | 17.6 |
| AURELIE CIBERT | 26 | 29:05 | 11.2 | 62/107 | 57.9 | 39/121 | 32.2 | 51/60 | 85.0 | 3.0 | 2.5 | 0.8 | 2.9 | 3.7 | 1.8 | 0.1 | 1.9 | 2.8 | 12.5 |
| CHERIN-BRITANY MILLER | 25 | 23:30 | 9.8 | 103/194 | 53.1 | 1/1 | 99.9 | 37/72 | 51.4 | 3.0 | 2.7 | 3.1 | 4.0 | 7.1 | 1.2 | 0.6 | 2.4 | 0.6 | 11.8 |
| EMILIE DUVIVIER | 25 | 29:18 | 9.3 | 45/90 | 50.0 | 38/104 | 36.5 | 29/41 | 70.7 | 2.5 | 1.5 | 0.4 | 2.6 | 3.0 | 1.4 | 0.0 | 1.8 | 2.6 | 9.7 |
| MELANIE DEVAUX | 24 | 17:39 | 5.6 | 26/79 | 32.9 | 17/72 | 23.6 | 31/38 | 81.6 | 2.4 | 1.5 | 0.3 | 1.1 | 1.3 | 0.9 | 0.0 | 1.3 | 0.9 | 2.6 |
| PAULINE MELISSA DIAWAKANA | 23 | 09:33 | 3.1 | 18/51 | 35.3 | 6/20 | 30.0 | 17/29 | 58.6 | 1.1 | 1.1 | 0.3 | 0.7 | 1.0 | 0.7 | 0.0 | 1.6 | 1.2 | 1.8 |
| MARINE CAPON | 14 | 06:25 | 1.3 | 5/9 | 55.6 | 1/5 | 20.0 | 5/9 | 55.6 | 0.8 | 0.4 | 0.2 | 0.6 | 0.8 | 0.5 | 0.0 | 0.3 | 0.0 | 1.4 |
| CONSTANCE DELBECQUE | 9 | 02:58 | 0.2 | 1/5 | 20.0 | 0/0 | 0.0 | 0/0 | 0.0 | 0.3 | 0.0 | 0.0 | 0.3 | 0.3 | 0.1 | 0.0 | 0.4 | 0.0 | -0.2 |
| Average | | | 72.4 | 600/1316 | 45.6 | 106/348 | 30.5 | 492/364 | 74.0 | 19.3 | 17.2 | 11.7 | 26.2 | 37.9 | 10.6 | 1.8 | 14.3 | 13.2 | 79.8 |
Return to the Ligue Féminine 2 statistics index
Dunkerque Malo Basket Club - Ligue Féminine 2 statistics
| Name | Games Played | MIN | PTS | 2PTS | % | 3PTS | % | FT | % | PF | PV | OR | DR | TR | STLS | BS | TO | AST | Efficiency Rating |
| --- | --- | --- | --- | --- | --- | --- | --- | --- | --- | --- | --- | --- | --- | --- | --- | --- | --- | --- | --- |
| DACE PIERRE-JOSEPH | 26 | 36:46 | 20.7 | 172/358 | 48.0 | 7/24 | 29.2 | 172/215 | 80.0 | 1.9 | 6.8 | 4.0 | 4.7 | 8.7 | 0.8 | 0.1 | 2.1 | 1.6 | 20.3 |
| TAISIIA BOVYKINA | 26 | 26:40 | 11.0 | 79/183 | 43.2 | 29/75 | 38.7 | 41/56 | 73.2 | 3.0 | 1.9 | 1.2 | 4.5 | 5.7 | 1.2 | 0.7 | 2.7 | 1.4 | 11.1 |
| SABRINA LYNN SCOTT | 24 | 36:53 | 10.9 | 110/233 | 47.2 | 5/27 | 18.5 | 27/37 | 73.0 | 1.6 | 2.5 | 1.5 | 6.3 | 7.8 | 1.5 | 0.3 | 2.0 | 2.3 | 14.4 |
| AURELIE DURAND | 25 | 27:30 | 8.4 | 51/121 | 42.1 | 21/51 | 41.2 | 45/61 | 73.8 | 2.7 | 2.9 | 0.3 | 1.8 | 2.2 | 1.2 | 0.0 | 2.8 | 2.3 | 6.6 |
| AMELIE FRESNAIS | 26 | 34:13 | 7.5 | 56/112 | 50.0 | 17/63 | 27.0 | 32/45 | 71.1 | 1.8 | 1.8 | 0.8 | 2.7 | 3.5 | 1.1 | 0.0 | 3.0 | 3.9 | 8.5 |
| LUCIE CARLIER | 26 | 19:17 | 5.9 | 43/101 | 42.6 | 16/57 | 28.1 | 19/30 | 63.3 | 3.2 | 1.0 | 0.3 | 2.2 | 2.5 | 1.0 | 0.5 | 1.3 | 0.7 | 5.1 |
| ELODIE DUBASQUE | 25 | 22:36 | 3.8 | 27/87 | 31.0 | 3/24 | 12.5 | 32/61 | 52.5 | 2.4 | 2.2 | 0.8 | 1.2 | 2.0 | 0.6 | 0.1 | 2.0 | 1.6 | 1.7 |
| PAULINE FOURNIER | 3 | 02:55 | 1.0 | 1/3 | 33.3 | 0/0 | 0.0 | 1/2 | 50.0 | 0.0 | 0.3 | 0.0 | 0.3 | 0.3 | 0.0 | 0.0 | 0.0 | 0.0 | 0.3 |
| MARIE LECOUSTRE | 7 | 03:56 | 0.3 | 1/1 | 99.9 | 0/2 | 0.0 | 0/0 | 0.0 | 0.1 | 0.0 | 0.0 | 0.0 | 0.0 | 0.4 | 0.0 | 0.4 | 0.1 | 0.1 |
| MARION CARLIER | 3 | 03:13 | 0.0 | 0/1 | 0.0 | 0/0 | 0.0 | 0/0 | 0.0 | 1.0 | 0.0 | 0.3 | 0.0 | 0.3 | 0.0 | 0.0 | 0.3 | 0.3 | 0.0 |
| LAETITIA SIX | 1 | 00:31 | 0.0 | 0/0 | 0.0 | 0/0 | 0.0 | 0/0 | 0.0 | 0.0 | 0.0 | 0.0 | 0.0 | 0.0 | 0.0 | 0.0 | 0.0 | 0.0 | 0.0 |
| Average | | | 67.0 | 540/1200 | 45.0 | 98/323 | 30.3 | 507/369 | 72.8 | 16.4 | 18.8 | 9.5 | 24.0 | 33.5 | 7.7 | 1.8 | 17.0 | 13.8 | 67.5 |
Return to the Ligue Féminine 2 statistics index
Étoile de Voiron Basket Féminin - Ligue Féminine 2 statistics
| Name | Games Played | MIN | PTS | 2PTS | % | 3PTS | % | FT | % | PF | PV | OR | DR | TR | STLS | BS | TO | AST | Efficiency Rating |
| --- | --- | --- | --- | --- | --- | --- | --- | --- | --- | --- | --- | --- | --- | --- | --- | --- | --- | --- | --- |
| AMANDA LASSITER | 26 | 31:29 | 15.5 | 76/193 | 39.4 | 63/163 | 38.7 | 62/80 | 77.5 | 3.2 | 2.6 | 1.8 | 6.2 | 8.0 | 3.3 | 1.3 | 2.1 | 1.9 | 18.8 |
| MAGALI MENDY | 24 | 29:17 | 13.7 | 93/183 | 50.8 | 18/57 | 31.6 | 88/120 | 73.3 | 2.4 | 3.8 | 1.8 | 3.1 | 5.0 | 3.0 | 0.3 | 2.2 | 2.0 | 15.0 |
| FAEZA BOUDERRA | 22 | 30:53 | 10.8 | 79/181 | 43.6 | 7/39 | 17.9 | 59/77 | 76.6 | 2.3 | 4.4 | 0.6 | 2.8 | 3.4 | 1.9 | 0.0 | 4.2 | 5.5 | 10.5 |
| CYRIELLE RECOURA | 26 | 24:49 | 10.5 | 96/192 | 50.0 | 4/17 | 23.5 | 68/93 | 73.1 | 2.8 | 3.2 | 1.7 | 1.3 | 3.0 | 1.4 | 0.1 | 2.1 | 1.9 | 9.6 |
| KHADIDIATOU GASSAMA | 23 | 28:20 | 10.4 | 96/212 | 45.3 | 0/7 | 0.0 | 47/74 | 63.5 | 2.7 | 2.7 | 2.0 | 3.7 | 5.6 | 1.2 | 0.2 | 2.1 | 1.0 | 9.8 |
| MELANIE VENIER | 21 | 22:16 | 7.4 | 35/74 | 47.3 | 27/83 | 32.5 | 4/4 | 99.9 | 2.6 | 0.5 | 0.5 | 2.5 | 3.0 | 0.7 | 0.1 | 1.1 | 1.0 | 6.5 |
| IVONA JERKOVIC | 25 | 11:08 | 3.7 | 42/84 | 50.0 | 1/4 | 25.0 | 5/6 | 83.3 | 1.7 | 0.3 | 0.5 | 1.3 | 1.8 | 0.3 | 0.4 | 0.6 | 0.4 | 4.0 |
| LAURE MERCIER | 26 | 20:37 | 3.7 | 27/69 | 39.1 | 10/53 | 18.9 | 12/22 | 54.5 | 0.5 | 0.6 | 0.3 | 1.0 | 1.3 | 0.8 | 0.0 | 1.0 | 1.8 | 2.9 |
| JOHANNA JOSEPH | 18 | 18:57 | 2.7 | 17/62 | 27.4 | 0/0 | 0.0 | 14/22 | 63.6 | 2.5 | 1.1 | 1.5 | 1.9 | 3.4 | 0.5 | 0.2 | 1.1 | 0.8 | 3.7 |
| JULIANNE ANCHLING | 11 | 06:17 | 2.1 | 8/18 | 44.4 | 0/1 | 0.0 | 7/8 | 87.5 | 1.4 | 0.6 | 0.3 | 0.6 | 0.9 | 0.5 | 0.1 | 0.1 | 0.2 | 2.5 |
| LAURENCE CARRE | 2 | 05:00 | 2.0 | 2/5 | 40.0 | 0/0 | 0.0 | 0/0 | 0.0 | 0.0 | 0.0 | 0.0 | 0.0 | 0.0 | 0.0 | 0.0 | 0.5 | 0.0 | 0.0 |
| OLIVIA CANOINE | 4 | 02:53 | 0.5 | 1/2 | 50.0 | 0/0 | 0.0 | 0/0 | 0.0 | 0.3 | 0.3 | 0.3 | 0.3 | 0.5 | 0.0 | 0.0 | 0.3 | 0.3 | 0.8 |
| CASSANDRE BLANCHON | 5 | 02:41 | 0.4 | 1/1 | 99.9 | 0/2 | 0.0 | 0/0 | 0.0 | 0.2 | 0.2 | 0.2 | 0.0 | 0.2 | 0.0 | 0.0 | 0.4 | 0.2 | 0.0 |
| Average | | | 73.2 | 573/1276 | 44.9 | 130/426 | 30.5 | 506/366 | 72.3 | 19.3 | 17.8 | 11.2 | 23.5 | 34.7 | 12.6 | 2.5 | 15.3 | 15.1 | 79.0 |
Return to the Ligue Féminine 2 statistics index
Léon Trégor Basket 29 - Ligue Féminine 2 statistics
| Name | Games Played | MIN | PTS | 2PTS | % | 3PTS | % | FT | % | PF | PV | OR | DR | TR | STLS | BS | TO | AST | Efficiency Rating |
| --- | --- | --- | --- | --- | --- | --- | --- | --- | --- | --- | --- | --- | --- | --- | --- | --- | --- | --- | --- |
| JOUMOU KALSOUM TOURE | 25 | 30:33 | 17.4 | 166/356 | 46.6 | 0/0 | 0.0 | 104/153 | 68.0 | 3.3 | 5.0 | 4.0 | 7.2 | 11.2 | 1.2 | 0.6 | 3.8 | 0.4 | 17.6 |
| AUDE KERNEVEZ | 26 | 38:06 | 13.5 | 85/209 | 40.7 | 29/91 | 31.9 | 95/118 | 80.5 | 2.3 | 4.0 | 1.7 | 3.0 | 4.7 | 2.4 | 0.0 | 4.8 | 2.8 | 10.5 |
| ADRIANA GRESNEROVA | 26 | 31:29 | 12.2 | 62/154 | 40.3 | 52/141 | 36.9 | 38/43 | 88.4 | 2.3 | 1.3 | 1.3 | 3.6 | 4.9 | 2.0 | 0.3 | 1.9 | 1.4 | 11.7 |
| MARIE BUTARD | 26 | 35:19 | 12.1 | 117/290 | 40.3 | 1/16 | 6.2 | 78/107 | 72.9 | 2.5 | 4.4 | 1.8 | 2.6 | 4.4 | 2.5 | 0.2 | 3.5 | 2.8 | 10.1 |
| MARIE JULIE LEVANT | 26 | 32:56 | 7.7 | 61/160 | 38.1 | 13/50 | 26.0 | 40/49 | 81.6 | 2.7 | 2.2 | 0.8 | 2.8 | 3.7 | 0.7 | 0.2 | 3.1 | 2.2 | 5.8 |
| ELSA MARTINS | 25 | 17:24 | 3.8 | 37/110 | 33.6 | 0/3 | 0.0 | 21/28 | 75.0 | 2.6 | 1.2 | 0.7 | 1.9 | 2.6 | 0.2 | 0.1 | 1.7 | 0.5 | 2.1 |
| CELINE GIRARD | 13 | 14:05 | 3.6 | 17/47 | 36.2 | 2/8 | 25.0 | 7/9 | 77.8 | 1.6 | 1.2 | 0.8 | 1.2 | 1.9 | 0.5 | 0.0 | 1.5 | 0.4 | 2.1 |
| MORGANE CROGUENNEC | 1 | 01:48 | 2.0 | 0/0 | 0.0 | 0/0 | 0.0 | 2/2 | 99.9 | 0.0 | 1.0 | 0.0 | 0.0 | 0.0 | 0.0 | 0.0 | 0.0 | 0.0 | 2.0 |
| CAROLINE PIRIOU | 1 | 02:48 | 1.0 | 0/0 | 0.0 | 0/1 | 0.0 | 1/2 | 50.0 | 0.0 | 1.0 | 0.0 | 1.0 | 1.0 | 0.0 | 0.0 | 1.0 | 0.0 | -1.0 |
| EMILIE CROGUENNEC | 6 | 05:30 | 1.0 | 3/7 | 42.9 | 0/0 | 0.0 | 0/1 | 0.0 | 0.2 | 0.2 | 0.0 | 0.0 | 0.0 | 0.2 | 0.0 | 0.0 | 0.0 | 0.3 |
| LEA BEAUGENDRE | 18 | 05:10 | 0.8 | 5/11 | 45.5 | 0/0 | 0.0 | 5/15 | 33.3 | 0.6 | 0.7 | 0.1 | 0.3 | 0.4 | 0.1 | 0.0 | 0.6 | 0.3 | 0.2 |
| CAMILLE LE MANACH | 7 | 05:33 | 0.7 | 1/4 | 25.0 | 1/3 | 33.3 | 0/0 | 0.0 | 1.0 | 0.0 | 0.0 | 0.1 | 0.1 | 0.0 | 0.0 | 0.1 | 0.0 | 0.0 |
| ALISON ANSQUER | 2 | 13:49 | 0.5 | 0/4 | 0.0 | 0/0 | 0.0 | 1/2 | 50.0 | 1.0 | 1.5 | 0.5 | 2.0 | 2.5 | 0.0 | 0.0 | 0.0 | 0.5 | 1.0 |
| GERALDINE BRISSET | 7 | 04:52 | 0.3 | 1/5 | 20.0 | 0/0 | 0.0 | 0/0 | 0.0 | 0.7 | 0.4 | 0.0 | 0.9 | 0.9 | 0.1 | 0.0 | 0.3 | 0.3 | 0.7 |
| CHARLENE GELEBART | 1 | 03:41 | 0.0 | 0/1 | 0.0 | 0/0 | 0.0 | 0/0 | 0.0 | 0.0 | 0.0 | 0.0 | 0.0 | 0.0 | 1.0 | 0.0 | 0.0 | 0.0 | 0.0 |
| Average | | | 69.1 | 555/1358 | 40.9 | 98/313 | 31.3 | 529/392 | 74.1 | 17.3 | 19.5 | 11.3 | 23.7 | 35.0 | 9.9 | 1.3 | 20.6 | 10.7 | 61.0 |
Return to the Ligue Féminine 2 statistics index
Limoges ABC en Limousin - Ligue Féminine 2 statistics
| Name | Games Played | MIN | PTS | 2PTS | % | 3PTS | % | FT | % | PF | PV | OR | DR | TR | STLS | BS | TO | AST | Efficiency Rating |
| --- | --- | --- | --- | --- | --- | --- | --- | --- | --- | --- | --- | --- | --- | --- | --- | --- | --- | --- | --- |
| HILLARY JOAN KLIMOWICZ | 26 | 28:27 | 15.2 | 141/250 | 56.4 | 0/3 | 0.0 | 114/153 | 74.5 | 3.2 | 4.4 | 2.8 | 4.8 | 7.7 | 1.2 | 0.8 | 1.7 | 0.8 | 18.2 |
| BELINDA MBOMA | 25 | 25:31 | 6.9 | 26/91 | 28.6 | 37/103 | 35.9 | 10/13 | 76.9 | 2.2 | 0.8 | 0.9 | 2.2 | 3.1 | 0.9 | 0.0 | 1.8 | 0.9 | 4.6 |
| PERRINE LE LEUCH | 25 | 24:26 | 6.8 | 27/107 | 25.2 | 29/101 | 28.7 | 28/57 | 49.1 | 2.6 | 2.0 | 1.5 | 2.6 | 4.1 | 1.3 | 0.2 | 2.7 | 1.2 | 3.7 |
| ELODIE CHIEZE-LEROUX | 25 | 26:44 | 6.6 | 51/122 | 41.8 | 11/58 | 19.0 | 29/45 | 64.4 | 3.0 | 1.6 | 0.7 | 1.9 | 2.6 | 1.0 | 0.0 | 2.7 | 1.2 | 3.3 |
| LUCIE MARTINE BARBA | 26 | 22:35 | 6.4 | 62/137 | 45.3 | 4/19 | 21.1 | 30/42 | 71.4 | 2.4 | 1.8 | 1.9 | 4.2 | 6.1 | 0.9 | 0.3 | 2.1 | 0.8 | 8.5 |
| KERLINE VERJUIN | 26 | 23:47 | 5.7 | 49/168 | 29.2 | 1/10 | 10.0 | 47/75 | 62.7 | 2.5 | 2.7 | 1.3 | 3.5 | 4.9 | 1.0 | 0.1 | 2.6 | 1.2 | 4.2 |
| LINDSAY GONZALEZ | 26 | 21:33 | 5.4 | 24/86 | 27.9 | 18/62 | 29.0 | 38/51 | 74.5 | 2.1 | 2.2 | 0.2 | 1.0 | 1.2 | 1.0 | 0.0 | 2.4 | 1.7 | 2.4 |
| LINDA BOUSBAA | 26 | 21:20 | 5.1 | 31/87 | 35.6 | 12/55 | 21.8 | 35/68 | 51.5 | 2.4 | 2.9 | 0.9 | 1.7 | 2.6 | 1.5 | 0.0 | 2.3 | 1.8 | 3.7 |
| NELLY LARRAUD | 19 | 07:02 | 1.4 | 9/26 | 34.6 | 0/1 | 0.0 | 9/11 | 81.8 | 0.7 | 0.6 | 0.6 | 0.6 | 1.2 | 0.2 | 0.0 | 0.9 | 0.2 | 1.0 |
| JOYCE MAGEOT | 15 | 05:54 | 0.3 | 2/9 | 22.2 | 0/9 | 0.0 | 0/2 | 0.0 | 0.5 | 0.3 | 0.1 | 0.4 | 0.5 | 0.0 | 0.0 | 0.8 | 0.1 | -1.1 |
| CAMILLE VIDAUD | 2 | 00:43 | 0.0 | 0/0 | 0.0 | 0/0 | 0.0 | 0/0 | 0.0 | 0.0 | 0.0 | 0.0 | 0.0 | 0.0 | 0.0 | 0.0 | 0.0 | 0.0 | 0.0 |
| Average | | | 58.5 | 422/1083 | 39.0 | 112/421 | 26.6 | 517/340 | 65.8 | 20.8 | 18.8 | 11.5 | 24.3 | 35.8 | 9.2 | 1.6 | 20.0 | 9.7 | 50.7 |
Return to the Ligue Féminine 2 statistics index
Perpignan Basket - Ligue Féminine 2 statistics
| Name | Games Played | MIN | PTS | 2PTS | % | 3PTS | % | FT | % | PF | PV | OR | DR | TR | STLS | BS | TO | AST | Efficiency Rating |
| --- | --- | --- | --- | --- | --- | --- | --- | --- | --- | --- | --- | --- | --- | --- | --- | --- | --- | --- | --- |
| HELENA CIAK | 26 | 23:47 | 12.7 | 127/224 | 56.7 | 0/2 | 0.0 | 77/112 | 68.8 | 2.6 | 4.4 | 2.9 | 6.3 | 9.2 | 0.8 | 2.7 | 2.4 | 1.3 | 19.2 |
| PAULINE LO | 23 | 29:16 | 11.3 | 57/118 | 48.3 | 40/106 | 37.7 | 25/37 | 67.6 | 2.4 | 1.5 | 0.5 | 3.7 | 4.2 | 1.2 | 0.5 | 1.7 | 2.3 | 11.7 |
| AGATHE NNINDJEM YOLEMP | 21 | 17:54 | 10.2 | 79/165 | 47.9 | 0/1 | 0.0 | 57/80 | 71.2 | 2.1 | 3.3 | 2.4 | 5.0 | 7.4 | 0.6 | 0.5 | 2.1 | 0.6 | 12.0 |
| CLEMENTINE SAMSON | 26 | 24:00 | 10.0 | 73/179 | 40.8 | 26/71 | 36.6 | 36/51 | 70.6 | 1.2 | 1.9 | 0.5 | 1.8 | 2.3 | 0.7 | 0.3 | 1.7 | 1.2 | 6.5 |
| LAINA BADIANE | 25 | 26:35 | 9.4 | 71/139 | 51.1 | 25/65 | 38.5 | 19/25 | 76.0 | 2.6 | 1.3 | 2.4 | 3.9 | 6.4 | 1.4 | 0.3 | 2.5 | 1.6 | 12.1 |
| FATOU DIENG | 24 | 30:04 | 8.3 | 31/67 | 46.3 | 35/88 | 39.8 | 31/37 | 83.8 | 1.6 | 1.9 | 0.6 | 2.0 | 2.6 | 1.7 | 0.0 | 2.4 | 4.1 | 10.3 |
| ISABELLE STRUNC | 26 | 25:26 | 7.8 | 48/106 | 45.3 | 23/78 | 29.5 | 37/51 | 72.5 | 1.4 | 2.1 | 0.8 | 2.6 | 3.3 | 0.9 | 0.3 | 1.4 | 2.0 | 8.1 |
| PAULINE THIZY | 18 | 15:42 | 4.2 | 26/54 | 48.1 | 6/15 | 40.0 | 6/8 | 75.0 | 1.7 | 0.3 | 1.2 | 1.5 | 2.7 | 0.2 | 0.2 | 1.1 | 0.4 | 4.5 |
| PRINCESSE GOUBO | 25 | 12:12 | 3.8 | 35/69 | 50.7 | 0/6 | 0.0 | 24/40 | 60.0 | 1.4 | 1.4 | 0.3 | 0.9 | 1.2 | 1.0 | 0.0 | 1.3 | 1.2 | 3.7 |
| LAURETTE YACOUBOU | 1 | 00:46 | 3.0 | 1/1 | 99.9 | 0/0 | 0.0 | 1/2 | 50.0 | 0.0 | 0.0 | 0.0 | 0.0 | 0.0 | 0.0 | 0.0 | 0.0 | 0.0 | 2.0 |
| CAMILLE RUIZ | 20 | 12:10 | 2.7 | 13/25 | 52.0 | 7/23 | 30.4 | 7/12 | 58.3 | 1.5 | 0.6 | 0.6 | 1.2 | 1.8 | 0.4 | 0.0 | 0.3 | 0.7 | 3.6 |
| NZUMBA KAMALANDUA | 3 | 04:29 | 1.0 | 0/0 | 0.0 | 1/1 | 99.9 | 0/0 | 0.0 | 0.0 | 0.3 | 0.0 | 0.3 | 0.3 | 0.0 | 0.0 | 0.0 | 0.0 | 1.3 |
| FATIMA DAHINE | 2 | 08:13 | 0.0 | 0/0 | 0.0 | 0/1 | 0.0 | 0/0 | 0.0 | 2.0 | 0.0 | 0.0 | 0.0 | 0.0 | 0.0 | 0.0 | 0.0 | 1.5 | 1.0 |
| Average | | | 73.9 | 539/1109 | 48.6 | 155/435 | 35.6 | 430/305 | 70.9 | 16.9 | 17.5 | 12.2 | 29.0 | 41.1 | 8.9 | 4.8 | 16.2 | 14.5 | 88.1 |
Return to the Ligue Féminine 2 statistics index
Reims Basket Féminin - Ligue Féminine 2 statistics
| Name | Games Played | MIN | PTS | 2PTS | % | 3PTS | % | FT | % | PF | PV | OR | DR | TR | STLS | BS | TO | AST | Efficiency Rating |
| --- | --- | --- | --- | --- | --- | --- | --- | --- | --- | --- | --- | --- | --- | --- | --- | --- | --- | --- | --- |
| JENNY FOUASSEAU | 25 | 31:34 | 12.4 | 84/212 | 39.6 | 31/78 | 39.7 | 50/62 | 80.6 | 3.7 | 2.6 | 1.0 | 3.7 | 4.7 | 1.6 | 0.0 | 2.6 | 2.3 | 11.0 |
| ANAIS JOMBY | 26 | 32:27 | 12.3 | 68/183 | 37.2 | 53/142 | 37.3 | 26/34 | 76.5 | 2.8 | 1.5 | 0.3 | 1.9 | 2.2 | 2.0 | 0.0 | 2.2 | 2.0 | 8.1 |
| IVA GRBAS | 26 | 28:03 | 12.0 | 98/218 | 45.0 | 19/71 | 26.8 | 60/76 | 78.9 | 2.6 | 3.1 | 1.5 | 3.6 | 5.1 | 0.9 | 0.0 | 3.3 | 0.5 | 8.0 |
| ASTAN DABO | 24 | 26:58 | 11.5 | 118/225 | 52.4 | 0/0 | 0.0 | 39/77 | 50.6 | 3.6 | 3.3 | 4.5 | 8.2 | 12.7 | 1.1 | 1.4 | 2.9 | 0.7 | 18.4 |
| MELISSA MICALETTO | 25 | 32:05 | 9.5 | 65/119 | 54.6 | 24/85 | 28.2 | 35/48 | 72.9 | 2.7 | 2.1 | 0.3 | 1.8 | 2.1 | 1.2 | 0.0 | 2.8 | 3.8 | 8.6 |
| CAROLE LECLAIR | 23 | 25:57 | 5.2 | 45/131 | 34.4 | 1/13 | 7.7 | 26/39 | 66.7 | 2.3 | 1.7 | 1.4 | 2.7 | 4.1 | 1.0 | 0.3 | 1.4 | 1.0 | 5.3 |
| FATIM TRAORE | 22 | 17:57 | 5.0 | 22/61 | 36.1 | 8/38 | 21.1 | 43/51 | 84.3 | 1.8 | 2.0 | 0.4 | 1.7 | 2.0 | 0.9 | 0.1 | 2.0 | 1.4 | 4.0 |
| AWA NIANGANE | 26 | 13:27 | 1.7 | 15/58 | 25.9 | 0/1 | 0.0 | 14/20 | 70.0 | 1.6 | 0.6 | 1.6 | 1.5 | 3.2 | 0.5 | 0.1 | 0.9 | 0.2 | 2.9 |
| MARIEME NIASSE | 12 | 05:19 | 0.3 | 2/6 | 33.3 | 0/0 | 0.0 | 0/2 | 0.0 | 0.7 | 0.2 | 0.2 | 0.4 | 0.6 | 0.4 | 0.0 | 0.3 | 0.1 | 0.6 |
| JESSICA PORET | 6 | 01:23 | 0.3 | 1/1 | 99.9 | 0/0 | 0.0 | 0/0 | 0.0 | 0.0 | 0.0 | 0.0 | 0.0 | 0.0 | 0.0 | 0.0 | 0.2 | 0.0 | 0.2 |
| Average | | | 66.8 | 518/1214 | 42.7 | 136/430 | 31.6 | 409/293 | 71.6 | 20.4 | 16.0 | 11.4 | 26.1 | 37.5 | 9.3 | 1.8 | 18.1 | 11.2 | 66.0 |
Return to the Ligue Féminine 2 statistics index
Roche Vendée Basket Club- Ligue Féminine 2 statistics
| Name | Games Played | MIN | PTS | 2PTS | % | 3PTS | % | FT | % | PF | PV | OR | DR | TR | STLS | BS | TO | AST | Efficiency Rating |
| --- | --- | --- | --- | --- | --- | --- | --- | --- | --- | --- | --- | --- | --- | --- | --- | --- | --- | --- | --- |
| NADJA VICTORIA MORGAN | 26 | 27:23 | 13.3 | 141/270 | 52.2 | 0/11 | 0.0 | 65/109 | 59.6 | 3.2 | 3.3 | 1.9 | 5.7 | 7.6 | 0.6 | 0.2 | 2.3 | 0.5 | 12.8 |
| AMANDINE GRELIER | 1 | 18:57 | 11.0 | 0/0 | 0.0 | 3/7 | 42.9 | 2/2 | 99.9 | 1.0 | 1.0 | 0.0 | 2.0 | 2.0 | 0.0 | 0.0 | 2.0 | 0.0 | 7.0 |
| JOHANNA TAYEAU | 25 | 23:02 | 10.8 | 64/120 | 53.3 | 34/97 | 35.1 | 40/57 | 70.2 | 2.5 | 2.6 | 0.8 | 3.6 | 4.4 | 1.7 | 0.4 | 2.5 | 2.3 | 11.6 |
| GABRIELA KUBATOVA | 26 | 32:35 | 10.0 | 63/123 | 51.2 | 31/90 | 34.4 | 42/52 | 80.8 | 2.6 | 2.4 | 1.2 | 3.0 | 4.2 | 1.7 | 0.0 | 2.4 | 3.8 | 12.3 |
| CHRISTELLE MOREL | 26 | 25:39 | 9.5 | 102/215 | 47.4 | 1/2 | 50.0 | 39/75 | 52.0 | 2.5 | 2.5 | 2.3 | 4.2 | 6.6 | 1.1 | 0.3 | 2.0 | 0.9 | 10.6 |
| ELODIE GERARD | 26 | 25:43 | 8.4 | 32/70 | 45.7 | 38/128 | 29.7 | 40/49 | 81.6 | 2.5 | 2.1 | 0.4 | 1.7 | 2.1 | 1.0 | 0.2 | 1.9 | 1.8 | 6.3 |
| ALEXIA KUSION | 24 | 25:46 | 7.3 | 45/112 | 40.2 | 18/50 | 36.0 | 30/34 | 88.2 | 1.4 | 1.8 | 1.1 | 2.3 | 3.4 | 0.7 | 0.0 | 2.2 | 1.7 | 6.6 |
| STEPHANIE DUFOUR | 19 | 18:24 | 6.8 | 42/95 | 44.2 | 9/31 | 29.0 | 19/26 | 73.1 | 2.2 | 1.2 | 1.4 | 3.1 | 4.5 | 0.7 | 0.2 | 0.7 | 0.8 | 8.1 |
| SYLVAINE GRELIER | 25 | 14:00 | 4.9 | 12/40 | 30.0 | 32/93 | 34.4 | 3/4 | 75.0 | 1.4 | 0.2 | 0.4 | 1.4 | 1.8 | 0.4 | 0.0 | 0.9 | 0.4 | 3.1 |
| KATERYNA PILYASHENKO-NOVOHATNA | 22 | 12:02 | 4.3 | 30/72 | 41.7 | 0/3 | 0.0 | 35/49 | 71.4 | 2.0 | 1.7 | 1.0 | 2.1 | 3.2 | 0.1 | 0.5 | 1.1 | 0.2 | 4.6 |
| BALETA MUKOKO | 9 | 11:52 | 2.4 | 7/20 | 35.0 | 2/10 | 20.0 | 2/4 | 50.0 | 1.7 | 0.4 | 0.6 | 0.4 | 1.0 | 0.6 | 0.0 | 1.1 | 0.7 | 1.0 |
| CHLOE SOULARD | 4 | 03:23 | 2.0 | 2/4 | 50.0 | 0/1 | 0.0 | 4/6 | 66.7 | 0.8 | 1.0 | 0.0 | 0.0 | 0.0 | 0.0 | 0.0 | 0.0 | 0.5 | 1.2 |
| SARAH MARTINEAU | 6 | 04:08 | 1.0 | 2/3 | 66.7 | 0/6 | 0.0 | 2/4 | 50.0 | 0.3 | 0.2 | 0.0 | 0.2 | 0.2 | 0.2 | 0.0 | 0.5 | 0.0 | -0.7 |
| CYNTHIA AUDREY LOUZE | 3 | 01:41 | 0.7 | 1/2 | 50.0 | 0/0 | 0.0 | 0/0 | 0.0 | 0.0 | 0.0 | 0.0 | 0.0 | 0.0 | 0.0 | 0.0 | 0.3 | 0.0 | 0.0 |
| CHARLOTTE CARIOU | 3 | 00:54 | 0.0 | 0/1 | 0.0 | 0/2 | 0.0 | 0/0 | 0.0 | 0.3 | 0.0 | 0.0 | 0.3 | 0.3 | 0.0 | 0.0 | 0.3 | 0.0 | -1.0 |
| Average | | | 73.6 | 543/1147 | 47.3 | 168/533 | 31.5 | 471/323 | 68.6 | 19.9 | 17.4 | 11.5 | 28.0 | 39.5 | 8.4 | 1.7 | 16.6 | 12.4 | 75.9 |
Return to the Ligue Féminine 2 statistics index
Illkirch-Graffenstaden - Ligue Féminine 2 statistics
| Name | Games Played | MIN | PTS | 2PTS | % | 3PTS | % | FT | % | PF | PV | OR | DR | TR | STLS | BS | TO | AST | Efficiency Rating |
| --- | --- | --- | --- | --- | --- | --- | --- | --- | --- | --- | --- | --- | --- | --- | --- | --- | --- | --- | --- |
| CELINE SCHMITT-SENDNER | 26 | 29:47 | 14.8 | 114/233 | 48.9 | 14/46 | 30.4 | 114/157 | 72.6 | 2.5 | 5.3 | 2.2 | 5.6 | 7.8 | 1.2 | 0.2 | 2.5 | 1.6 | 15.7 |
| AMINA NJONKOU | 19 | 28:46 | 13.6 | 87/184 | 47.3 | 5/19 | 26.3 | 70/96 | 72.9 | 2.2 | 3.9 | 3.6 | 5.2 | 8.8 | 1.0 | 0.1 | 2.8 | 1.3 | 14.8 |
| LINA BRAZDEIKYTE | 26 | 29:53 | 11.8 | 68/149 | 45.6 | 37/114 | 32.5 | 59/73 | 80.8 | 1.5 | 2.5 | 0.8 | 1.9 | 2.7 | 1.3 | 0.2 | 1.9 | 1.2 | 8.6 |
| ALINE FISCHBACH | 24 | 21:00 | 8.3 | 26/70 | 37.1 | 38/127 | 29.9 | 33/44 | 75.0 | 1.4 | 1.5 | 0.5 | 2.2 | 2.6 | 0.9 | 0.1 | 1.8 | 0.9 | 5.0 |
| ELOISE CHAPAYS | 26 | 28:37 | 7.2 | 70/165 | 42.4 | 1/12 | 8.3 | 44/79 | 55.7 | 2.3 | 2.9 | 1.3 | 3.0 | 4.3 | 1.0 | 0.0 | 2.4 | 2.1 | 6.8 |
| CAROLINE NESTOR | 21 | 20:59 | 6.4 | 22/54 | 40.7 | 21/83 | 25.3 | 27/35 | 77.1 | 2.3 | 1.7 | 0.5 | 3.0 | 3.5 | 1.4 | 0.1 | 1.9 | 1.2 | 5.9 |
| JUSTINE JEANNELLE | 1 | 10:53 | 6.0 | 0/1 | 0.0 | 2/4 | 50.0 | 0/0 | 0.0 | 0.0 | 1.0 | 0.0 | 1.0 | 1.0 | 1.0 | 0.0 | 1.0 | 0.0 | 4.0 |
| LOUISE DAMBACH | 7 | 14:42 | 3.6 | 3/16 | 18.8 | 5/17 | 29.4 | 4/7 | 57.1 | 0.9 | 1.3 | 0.9 | 0.6 | 1.4 | 0.4 | 0.0 | 1.4 | 0.4 | 0.4 |
| CELIA MAULER | 24 | 12:10 | 2.5 | 16/38 | 42.1 | 6/24 | 25.0 | 9/11 | 81.8 | 0.8 | 0.9 | 0.1 | 0.6 | 0.7 | 0.3 | 0.0 | 1.0 | 0.5 | 1.1 |
| LUCIE BATTAGLIA | 23 | 23:21 | 2.3 | 4/22 | 18.2 | 11/42 | 26.2 | 13/28 | 46.4 | 2.5 | 1.4 | 0.5 | 1.0 | 1.4 | 1.1 | 0.1 | 1.8 | 1.9 | 2.3 |
| BETTINA KADILA | 19 | 12:14 | 2.3 | 16/50 | 32.0 | 0/2 | 0.0 | 11/36 | 30.6 | 1.4 | 1.6 | 0.7 | 2.1 | 2.8 | 0.2 | 0.0 | 0.9 | 0.4 | 1.6 |
| CHLOE WESTELYNCK | 17 | 13:17 | 2.0 | 12/45 | 26.7 | 3/15 | 20.0 | 1/2 | 50.0 | 0.9 | 0.2 | 0.6 | 1.1 | 1.7 | 0.5 | 0.2 | 0.9 | 0.7 | 1.5 |
| CELINE PFISTER | 3 | 12:36 | 0.0 | 0/5 | 0.0 | 0/1 | 0.0 | 0/0 | 0.0 | 1.0 | 0.0 | 1.3 | 0.7 | 2.0 | 0.7 | 0.0 | 0.7 | 1.0 | 1.0 |
| Average | | | 65.0 | 438/1032 | 42.4 | 143/507 | 28.2 | 568/385 | 67.8 | 16.2 | 20.1 | 10.8 | 24.5 | 35.3 | 10.3 | 0.8 | 16.9 | 10.8 | 61.5 |
Return to the Ligue Féminine 2 statistics index
Sports Ouvriers Armentièrois - Ligue Féminine 2 statistics
| Name | Games Played | MIN | PTS | 2PTS | % | 3PTS | % | FT | % | PF | PV | OR | DR | TR | STLS | BS | TO | AST | Efficiency Rating |
| --- | --- | --- | --- | --- | --- | --- | --- | --- | --- | --- | --- | --- | --- | --- | --- | --- | --- | --- | --- |
| MIA FISHER | 26 | 29:43 | 15.4 | 148/276 | 53.6 | 1/10 | 10.0 | 101/131 | 77.1 | 2.0 | 5.0 | 1.3 | 4.2 | 5.5 | 1.2 | 0.1 | 2.5 | 3.4 | 16.7 |
| AURELIE CARMONA | 23 | 28:59 | 14.5 | 106/210 | 50.5 | 23/66 | 34.8 | 52/71 | 73.2 | 3.8 | 3.0 | 1.7 | 6.1 | 7.8 | 1.7 | 0.3 | 2.2 | 1.3 | 16.1 |
| ANDA NEDOVIC | 26 | 32:03 | 11.2 | 100/203 | 49.3 | 11/54 | 20.4 | 59/88 | 67.0 | 2.9 | 3.2 | 1.7 | 3.4 | 5.1 | 0.8 | 0.0 | 1.4 | 0.7 | 9.7 |
| VALERIE LABBE | 26 | 30:34 | 9.3 | 66/139 | 47.5 | 11/56 | 19.6 | 78/114 | 68.4 | 1.3 | 3.3 | 1.3 | 5.0 | 6.3 | 1.5 | 0.1 | 2.3 | 3.8 | 12.7 |
| ANAIS DEAS | 26 | 33:21 | 8.3 | 57/139 | 41.0 | 20/83 | 24.1 | 42/57 | 73.7 | 2.8 | 2.7 | 1.0 | 2.5 | 3.5 | 1.2 | 0.0 | 2.1 | 3.7 | 8.5 |
| HELENA AKMOUCHE | 25 | 23:32 | 8.3 | 74/157 | 47.1 | 12/56 | 21.4 | 23/26 | 88.5 | 1.6 | 1.2 | 0.4 | 1.8 | 2.2 | 0.6 | 0.0 | 2.1 | 1.6 | 5.4 |
| RACHEL GOUTIERE | 23 | 20:29 | 4.3 | 30/77 | 39.0 | 7/38 | 18.4 | 17/19 | 89.5 | 2.4 | 0.8 | 0.6 | 2.5 | 3.1 | 0.4 | 0.2 | 0.6 | 0.7 | 4.6 |
| MANON VIERNE | 25 | 08:09 | 2.9 | 13/26 | 50.0 | 14/29 | 48.3 | 5/6 | 83.3 | 0.7 | 0.2 | 0.1 | 0.4 | 0.6 | 0.0 | 0.1 | 0.5 | 0.4 | 2.3 |
| LAETITIA HUE | 1 | 01:07 | 2.0 | 0/0 | 0.0 | 0/0 | 0.0 | 2/2 | 99.9 | 0.0 | 1.0 | 0.0 | 0.0 | 0.0 | 0.0 | 0.0 | 0.0 | 0.0 | 2.0 |
| MATHILDE CARRE | 1 | 03:24 | 1.0 | 0/0 | 0.0 | 0/0 | 0.0 | 1/2 | 50.0 | 0.0 | 1.0 | 0.0 | 0.0 | 0.0 | 0.0 | 0.0 | 0.0 | 0.0 | 0.0 |
| CLEMENCE HALLARD | 2 | 02:05 | 1.0 | 1/3 | 33.3 | 0/0 | 0.0 | 0/0 | 0.0 | 1.0 | 0.0 | 0.0 | 0.0 | 0.0 | 0.0 | 0.0 | 0.0 | 0.0 | 0.0 |
| MAIWENN CATRIX | 3 | 06:10 | 0.0 | 0/2 | 0.0 | 0/4 | 0.0 | 0/0 | 0.0 | 0.7 | 0.0 | 0.3 | 1.3 | 1.7 | 0.3 | 0.0 | 1.7 | 1.3 | -0.3 |
| Average | | | 71.8 | 595/1232 | 48.3 | 99/396 | 25.0 | 516/380 | 73.6 | 16.9 | 19.0 | 9.4 | 27.4 | 36.8 | 7.5 | 0.8 | 14.2 | 15.5 | 77.1 |
Return to the Ligue Féminine 2 statistics index
Toulouse Metropole Basket - Ligue Féminine 2 statistics
| Name | Games Played | MIN | PTS | 2PTS | % | 3PTS | % | FT | % | PF | PV | OR | DR | TR | STLS | BS | TO | AST | Efficiency Rating |
| --- | --- | --- | --- | --- | --- | --- | --- | --- | --- | --- | --- | --- | --- | --- | --- | --- | --- | --- | --- |
| NINA BOGICEVIC | 24 | 24:19 | 12.8 | 77/198 | 38.9 | 38/97 | 39.2 | 39/44 | 88.6 | 1.2 | 1.5 | 0.4 | 2.0 | 2.5 | 0.6 | 0.1 | 1.4 | 0.5 | 7.4 |
| CARREM LENAY GAY | 26 | 29:27 | 11.9 | 122/236 | 51.7 | 0/0 | 0.0 | 65/100 | 65.0 | 2.7 | 3.8 | 2.6 | 4.5 | 7.1 | 2.5 | 0.5 | 2.3 | 1.2 | 15.1 |
| AGATHE DEGORCES | 26 | 33:53 | 8.8 | 77/152 | 50.7 | 6/34 | 17.6 | 56/73 | 76.7 | 1.7 | 2.9 | 1.5 | 3.2 | 4.7 | 2.7 | 0.0 | 1.5 | 3.2 | 13.2 |
| MAUD MEDENOU | 26 | 23:21 | 8.6 | 91/188 | 48.4 | 0/0 | 0.0 | 41/58 | 70.7 | 2.6 | 1.9 | 2.3 | 3.7 | 6.1 | 1.1 | 0.3 | 1.9 | 1.1 | 10.8 |
| DARLINE NSOKI | 26 | 25:04 | 8.2 | 67/134 | 50.0 | 7/33 | 21.2 | 59/77 | 76.6 | 2.5 | 2.5 | 1.3 | 2.7 | 4.0 | 1.3 | 0.3 | 1.3 | 2.4 | 10.6 |
| EMILIE MAURICE | 26 | 22:08 | 7.9 | 77/218 | 35.3 | 0/2 | 0.0 | 52/72 | 72.2 | 2.8 | 2.5 | 0.8 | 3.2 | 4.0 | 1.2 | 0.2 | 1.8 | 2.0 | 7.2 |
| LORRAINE LOKOKA | 21 | 16:26 | 7.4 | 65/147 | 44.2 | 0/0 | 0.0 | 26/51 | 51.0 | 1.9 | 2.1 | 2.0 | 2.0 | 4.0 | 0.8 | 0.5 | 1.7 | 1.1 | 7.1 |
| JESSIE DE COLO | 23 | 11:10 | 2.5 | 7/24 | 29.2 | 12/61 | 19.7 | 7/9 | 77.8 | 0.7 | 0.6 | 0.2 | 1.3 | 1.4 | 0.4 | 0.0 | 1.4 | 0.9 | 0.9 |
| LOU MATALY | 18 | 08:02 | 2.1 | 4/13 | 30.8 | 8/33 | 24.2 | 5/8 | 62.5 | 1.3 | 0.3 | 0.1 | 0.6 | 0.7 | 0.4 | 0.0 | 0.9 | 0.5 | 0.7 |
| MANON LE GLOAHEC | 5 | 05:28 | 1.6 | 1/3 | 33.3 | 1/1 | 99.9 | 3/4 | 75.0 | 1.2 | 0.4 | 0.2 | 0.2 | 0.4 | 0.2 | 0.0 | 0.4 | 0.4 | 1.6 |
| LOLA DE ANGELIS | 25 | 14:01 | 1.2 | 8/34 | 23.5 | 3/16 | 18.8 | 5/8 | 62.5 | 2.2 | 0.6 | 0.6 | 1.2 | 1.8 | 0.5 | 0.1 | 0.9 | 0.5 | 1.4 |
| CAMILLE FOURCADE | 1 | 09:44 | 0.0 | 0/0 | 0.0 | 0/0 | 0.0 | 0/0 | 0.0 | 1.0 | 1.0 | 0.0 | 0.0 | 0.0 | 2.0 | 0.0 | 0.0 | 1.0 | 3.0 |
| JESSY BOUDENNE | 1 | 01:07 | 0.0 | 0/0 | 0.0 | 0/1 | 0.0 | 0/0 | 0.0 | 0.0 | 0.0 | 0.0 | 0.0 | 0.0 | 0.0 | 0.0 | 0.0 | 1.0 | 0.0 |
| Average | | | 68.3 | 596/1347 | 44.2 | 75/278 | 27.0 | 504/358 | 71.0 | 18.8 | 18.1 | 12.5 | 25.4 | 37.9 | 11.5 | 1.8 | 15.2 | 13.0 | 75.0 |
Return to the Ligue Féminine 2 statistics index
US Laveyron Drôme - Ligue Féminine 2 statistics
| Name | Games Played | MIN | PTS | 2PTS | % | 3PTS | % | FT | % | PF | PV | OR | DR | TR | STLS | BS | TO | AST | Efficiency Rating |
| --- | --- | --- | --- | --- | --- | --- | --- | --- | --- | --- | --- | --- | --- | --- | --- | --- | --- | --- | --- |
| AIDA FALL | 25 | 30:07 | 14.0 | 129/323 | 39.9 | 1/4 | 25.0 | 88/138 | 63.8 | 3.3 | 4.6 | 3.0 | 7.2 | 10.2 | 0.6 | 1.3 | 3.2 | 1.2 | 14.2 |
| ELENA VISHNYAKOVA | 23 | 31:20 | 11.9 | 94/198 | 47.5 | 4/23 | 17.4 | 74/102 | 72.5 | 2.7 | 3.9 | 2.9 | 6.0 | 9.0 | 0.7 | 0.5 | 3.0 | 1.3 | 13.9 |
| CHERYL MALEDON | 26 | 31:22 | 11.5 | 88/167 | 52.7 | 25/90 | 27.8 | 49/62 | 79.0 | 1.8 | 2.2 | 0.5 | 2.2 | 2.7 | 1.5 | 0.0 | 2.7 | 1.6 | 8.6 |
| IRENA MATOVIC | 4 | 22:54 | 11.0 | 8/20 | 40.0 | 7/15 | 46.7 | 7/8 | 87.5 | 1.5 | 1.0 | 0.5 | 2.0 | 2.5 | 0.8 | 0.0 | 0.5 | 1.5 | 10.0 |
| PULCHERIE AYI | 18 | 33:10 | 7.6 | 39/91 | 42.9 | 5/11 | 45.5 | 43/52 | 82.7 | 2.7 | 2.8 | 0.9 | 4.2 | 5.2 | 2.7 | 0.2 | 3.7 | 4.2 | 12.5 |
| LESLIE FOURNIER | 26 | 23:04 | 5.8 | 50/119 | 42.0 | 6/41 | 14.6 | 33/57 | 57.9 | 1.3 | 2.0 | 0.9 | 3.3 | 4.2 | 0.6 | 1.0 | 2.2 | 0.8 | 5.3 |
| MADOU MBENGUE | 23 | 19:21 | 5.5 | 46/103 | 44.7 | 1/5 | 20.0 | 32/49 | 65.3 | 2.0 | 1.7 | 1.0 | 2.3 | 3.3 | 0.4 | 0.2 | 1.7 | 0.7 | 5.0 |
| KATARINA SIMKULAKOVA | 9 | 23:49 | 4.8 | 4/14 | 28.6 | 7/40 | 17.5 | 14/19 | 73.7 | 1.3 | 2.6 | 0.8 | 1.6 | 2.3 | 0.3 | 0.0 | 2.3 | 2.0 | 1.8 |
| CAROLINE MISSET | 26 | 17:41 | 4.7 | 19/46 | 41.3 | 23/76 | 30.3 | 15/24 | 62.5 | 1.3 | 0.8 | 0.2 | 1.8 | 2.0 | 1.1 | 0.0 | 1.9 | 1.5 | 3.9 |
| JENNIFER LAFAURIE | 26 | 18:51 | 4.2 | 32/67 | 47.8 | 6/45 | 13.3 | 27/34 | 79.4 | 2.2 | 1.7 | 0.5 | 1.8 | 2.3 | 1.1 | 0.0 | 1.8 | 1.3 | 3.8 |
| KATIA FOREL | 2 | 12:02 | 1.5 | 1/3 | 33.3 | 0/0 | 0.0 | 1/1 | 99.9 | 0.5 | 0.5 | 1.0 | 4.0 | 5.0 | 0.0 | 0.5 | 1.0 | 0.0 | 5.0 |
| AMEL BABA SAID | 3 | 02:54 | 0.0 | 0/1 | 0.0 | 0/0 | 0.0 | 0/0 | 0.0 | 0.0 | 0.0 | 0.0 | 0.3 | 0.3 | 0.0 | 0.0 | 0.3 | 0.0 | -0.3 |
| ROXANE BRENIER | 1 | 01:11 | 0.0 | 0/0 | 0.0 | 0/0 | 0.0 | 0/0 | 0.0 | 0.0 | 0.0 | 0.0 | 0.0 | 0.0 | 0.0 | 0.0 | 0.0 | 0.0 | 0.0 |
| OPHELIE REBOULLET | 1 | 02:06 | 0.0 | 0/0 | 0.0 | 0/0 | 0.0 | 0/0 | 0.0 | 0.0 | 0.0 | 0.0 | 0.0 | 0.0 | 0.0 | 0.0 | 0.0 | 0.0 | 0.0 |
| AMANDINE DELOBRE | 1 | 00:46 | 0.0 | 0/0 | 0.0 | 0/0 | 0.0 | 0/0 | 0.0 | 0.0 | 0.0 | 0.0 | 0.0 | 0.0 | 0.0 | 0.0 | 0.0 | 0.0 | 0.0 |
| LEILA CROS | 2 | 00:39 | 0.0 | 0/0 | 0.0 | 0/0 | 0.0 | 0/0 | 0.0 | 0.0 | 0.0 | 0.0 | 0.0 | 0.0 | 0.0 | 0.0 | 0.0 | 0.0 | 0.0 |
| STEPHANIE PROUZET | 2 | 00:21 | 0.0 | 0/0 | 0.0 | 0/0 | 0.0 | 0/0 | 0.0 | 0.0 | 0.0 | 0.0 | 0.0 | 0.0 | 0.0 | 0.0 | 0.0 | 0.0 | 0.0 |
| Average | | | 63.8 | 510/1152 | 44.3 | 85/350 | 24.3 | 546/383 | 70.1 | 16.5 | 19.2 | 10.5 | 29.4 | 39.9 | 9.4 | 3.0 | 19.7 | 12.1 | 67.4 |
Return to the Ligue Féminine 2 statistics index
---
Look back at what happened in round 25
Visit LF2 2011-2012 basketball news page
Visit the Ligue Féminine de Basketball news for 2011-2012
Leave Ligue Féminine 2 news and return to home page
Return to the top of Ligue Féminine 2 statistics page
Ligue Féminine 2 statistics picture


La Voix du Nord

Date created: 06 May 2012

---