Ligue Féminine 2
Perpignan Basket are the winners of the regular season
Limoges have one chance of avoiding the drop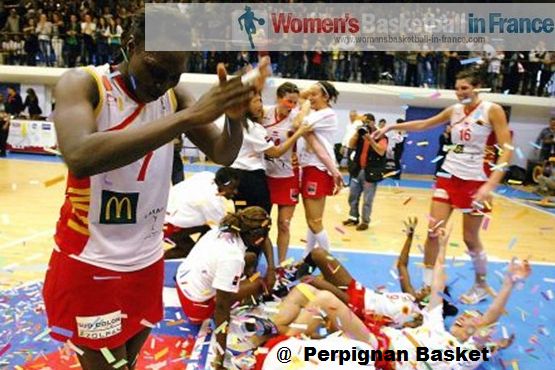 Perpignan Basket have won promotion to the Ligue Féminine de Basketball (LFB) by clinching the regular season title at home with a victory against Léon Trégor.
For Le Havre, the adventure LF2 is over, as they cannot catch any of the teams above the relegation zone, while the fate for Léon Trégor, Limoges and Reims will be decided next week.
Patrick Esteban, the general manager of Perpignan Basket has seen his 25-year project in women's basketball in Perpignan reach its peak with his team taking the regular season title.
After two consecutive defeats on the road, his team had a tricky game against Léon Trégor who are fighting against relegation.
If Léon Trégor had won, then Limoges would have been relegated this weekend.
Pauline Jannaut who is the captain of Perpignan Basket explained after the game, that she joined the club to win promotion so this objective was met. The new focus is to win the title of LF2 Champions of France.
You can watch a video prepared by the local paper with celebration scenes immediately after the game. You may also listen to François Gomez's explanation about some of the difficulties the club experienced with defeats against Toulouse and Calais.
The winners and losers of Ligue Féminine 2 this weekend
Illkirch-Graffenstaden
- without playing this weekend - were the big winners as their place in LF2 for next season has been secured.
US Laveyron kept their chance of picking the last final four place by denying Voiron direct qualification (71-61).
Cheryl Maledon led the visiting team to victory with 23 points which included a perfect 3-of-3 from behind the arc. Elena Vishnyakova chipped in 20 points and took 12 rebounds while Leslie Fournier is finishing her season strong with another solid performance with 14 points and 3 assists.
If Voiron had won this game they would have been celebrating a place in the final four, instead they have dropped to fifth place and now have to win next week and hope that Laveyron lose.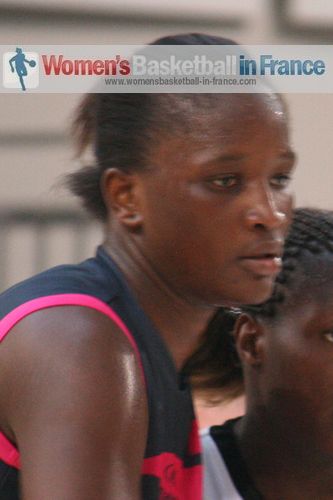 Reims' survival in LF2 has not been secured despite beating Armentières (75-70).
Reims, playing on the road, had four players in double digits. Astan Dabo (in picture) celebrated her WNBA draft with 14 points, 15 rebounds and 5 blocks.
Limoges lost away to Roche Vendée (71-64), so the only chance they have of avoiding the drop NF2 is to win next week.
However the victory will save them only if one of the following scenarios occur:
either Léon Trégor lose,
or if Léon Tregor win and the SIG win and Reims lose (Reims are then relegated)
In the remaining games COB Calais were not brilliant but came out on top against Le Havre (70-64) with 16 points apiece from Mélanie Arnaud and Manon Sinico.
Toulouse rolled into Dunkerque and walked away with a comfortable victory (69-54). It was the turn of Lorraine Lokoka to lead Toulouse in scoring with 17 points.
L2F, round 25 results:
COB Calais 70-64 Le Havre
Perpignan 73-60 Léon Trégor
SO Armentières 70-75 Reims BF
Dunkerque Malo 54- 69 Toulouse
Roche Vendée 71-64 Limoges
Voiron 61-71 US Laveyron
CFBB 58-40 Illkirch-Graffenstaden (Match played 25 March)

---
Look back at what happened in round 24
Visit LF2 2011-2012 basketball news page
Visit the Ligue Féminine de Basketball news for 2011-2012
Leave Ligue Féminine 2 news and return to home page
Return to the top of Ligue Féminine 2 news page
Picture credits:


Perpignan Basket
womensbasketball-in-france.com

Date created: 22 April 2012

---