Round 24 Ligue Féminine 2
Leaders lose again

The Ligue Féminine 2 regular season championship is once again wide open for the leading teams. This week it was the turn of Toulouse to overturn the leaders. However the real drama was at the bottom end of the table with Limoges winning and Le Havre losing with the relegation drama becoming more interesting.
Le Havre are in last position and came into this game knowing that defeat would more or less spell relegation.
They battled with Armentières all through the game. Despite trailing for most of the match they managed to open up a 7-point lead with seven minutes left to play in the final quarter.
The home fans were excited but their team were unable to hold on. With three minutes to play, Armentières took the lead for good from the charity stripe on to win (73-69).
Armentières' Danish international Anda Nedovic was the games top scorer with 20 points. With this victory Armentières still have a chance of qualifying for the Ligue Féminine 2 Final Four.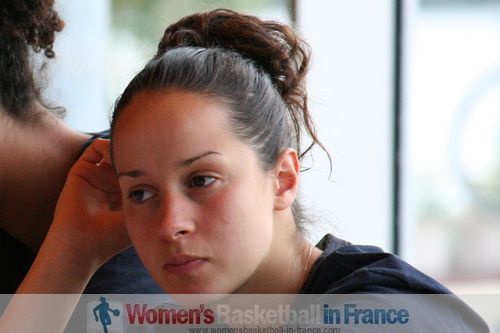 Limoges are in a similar position to Le Havre with having to win their remaining matches to have a chance of avoiding the drop. Linda Bousbaa (right) in her best offensive game for Limoges with 17 points led them to victory over her former club Dunkerque (51-45).
Illkirch-Graffenstaden were in front for more than 28 minutes against Voiron and still came away with nothing as they lost at home (68-70).
The SIG had all the cards in their hands leading (68-64) with 20 seconds to play. A poor pass by Eloïse Chapays was picked up by Magali Mendy who scored while Aline Fischbach took the risk with a foul but lost because it was called as an unsportsmanlike one.
Mendy hit the 2 free throws for the 7th tie of the game. Voiron then restarted the play from the halfway line and executed it to perfection with Faëza Bouderra scoring for the 15th lead change of the match.
Voiron remain in 4th place while the SIG have to sit and wait for the results next week to know if they are cleared of relegation problems.
Mélissa Micaletto was the hero of Reims as her side beat Roche Vendée (78-65) in a match played earlier in March. She finished with 23 points and 3 assists.
Despite this victory Reims find themselves still stuck in the relegation zone while Roche Vendée are eliminated from the race for a place in the Final Four.
Who will win the Ligue Féminine 2 regular season title?
Two weeks ago Perpignan were the clear favourites as they were just one win away from the title. They have since suffered two road defeats to their closest rivals. In the previous round COB Calais smashed them, while this weekend they lost on the road to Toulouse (69-73).
Perpignan still need one win for the title. However if they fail to win again then Toulouse or Calais may sneak past them.
Toulouse won the match at the free-throw line. They hit 22-of-31 attempts while Perpignan went 15-of-21 from the exercise.
Agathe Degorces from Toulouse was the player of the match with 10 points and 6 assists.
US Laveyron remain in fifth place after a comfortable victory against the CFBB (63-44). Madou M'Bengue was the leading scorer for the winners with 16 points.
Olivia Epoupa is winding down her CFBB career with another solid scoring performance with 16 points.
Léon Trégor beat COB Calais in a hotly contested match (88-84). This victory moves Léon Trégor into 10th position.
L2F, round 24 results:
Le Havre 69-73 Armentières
US Laveyron 63-44 CFBB
Illkirch-Graffenstaden 68-70 Voiron
Limoges 51-45 Dunkerque Malo
Toulouse 73-69 Perpignan
Léon Trégor 88-84 COB Calais
Reims BF 78-65 Roche Vendée

---
Look back at what happened in round 23
Visit LF2 2011-2012 basketball news page
Visit the Ligue Féminine de Basketball news for 2011-2012
Leave Ligue Féminine 2 news and return to home page
Return to the top of Ligue Féminine 2 news page
Picture credits:


womensbasketball-in-france.com

Date created: 15 April 2012

---