Round 22 Ligue Féminine 2
First objective reached for COB Calais
For COB Calais, playing in the Ligue Féminine 2 final 4 was their first objective of the season. By beating Toulouse on the road (74-53) they became the third team to qualify for the end-of-season play-off.
COB Calais have beaten Toulouse twice this season and therefore move ahead of Toulouse in the regular season standings despite both teams having the same number of points.
Emilie Duvivier was the top scorer with 21 points. She also finished with 5 assists.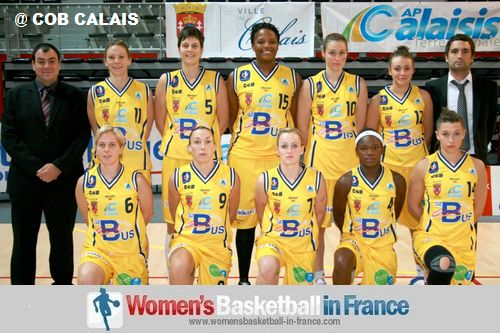 COB Calais and Toulouse are three games behind Perpignan. But with four games remaining it should be hard for either team to catch the leader. This would mean that COB Calais and Toulouse will play each other in the final 4 semi-final.
Perpignan went on a 18-0 run between the second and third quarter to blow Armentières away and then paced themselves to victory (75-49). The player of the match was Héléna Ciak with 25 points (11-of-13 from the floor) and 13 rebounds.
Clémentine Samson followed up with 15 points. Mia Fisher was the only player from Armentières in double figures with 15 points.
Perpignan will clinch the regular season title in round 23 if they win or if COB Calais and Toulouse both lose.
Nobody wants to leave Ligue Féminine 2
The CFBB are putting together their best season in a number of years. With recent victories against Reims and Illkirch-Graffenstaden (round 25 match played early) they failed to make it three straight victories by falling to Le Havre (63-74).
Bintou Dieme's 23 points and 9 assists was the major difference between the two teams in a game where the lead changed 13 times.
Reims BF are on fire at the moment. They had beaten Roche Vendée (78-54) in a round 24 game played early. The previous weekend they followed up with a (99-77) walloping of Dunkerque Malo.
Captain Anäis Jomby (in picture) fired in 24 points while Jenny Fouasseau and Iva Grbas scored 22 points each.
Reims are currently in 8th place and for the moment out of the relegation fight.
Léon Trégor have at last managed to win a match on the road by beating Roche Vendée (65-62). Léon Trégor still remain in last place but with the same point total as the CFBB, Le Havre and Limoges.
For Illkirch-Graffenstaden, this season has been a nightmare, cancelled planes and late trains have been the story of the season.
With a complete roster for the first time in weeks they fell on the road in overtime to US Laveyron (69-75). A place in the final four is still possible for US Laveyron who had to thank Pulcherie Ayi (18 points and 10 assists) and Leslie Fournier for their victory.
Voiron were playing on the road at Limoges and walked away with all the points for the standing (68-52). Voiron and US Laveyron are currently tied for 4th place.
The two teams meet on 21 April 2011 which could be the play-off deciding game.
L2F, round 22 results:
Perpignan 75-49 Armentières
Le Havre 74-63 CFBB
Toulouse 53-74 COB Calais
Reims BF 99-77 Dunkerque Malo
Léon Trégor 65-62 Roche Vendée
Laveyron 75-69 Illkirch-Graffenstaden
Limoges 52-68 Voiron

---
Look back at what happened in Round 21
Visit LF2 2011-2012 basketball news page
Visit the Ligue Féminine de Basketball news for 2011-2012
Leave Ligue Féminine 2 news and return to home page
Return to the top of Ligue Féminine 2 news page
Picture credits:


womensbasketball-in-france.com
Cob Calais

Date created: 6 April 2012

---