Round 21 Ligue Féminine 2
Perpignan Basket take care of business
The CFBB defeat Reims
Perpignan have dominated their opponents in the Ligue Féminine 2 this season that they are now referred to as the "L2F dream team".
This weekend they travelled to Dunkerque without their captain Pauline Lo (not expected back till April) and Laïna Badiane (calf strain) and still came away with a victory (73-54).
Perpignan have some of the best French youth players from the 1990/91 generation: Clémentine Samson (19 points), Isabelle Strunc (11 points), Pauline Thizy (10 points) and Princesse Goubo.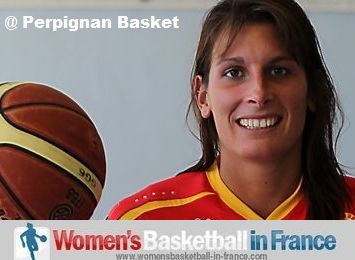 However it is Hélèna Ciak (in picture) from the 1989 generation who never played for France who has been the most consistent player in recent weeks. She picked up 17 rebounds while scoring 20 points in this game. Half her points came from the free-throw line where she finished with 10-from-11.
Fatou Deing was the other player from Perpignan with a double digit score of 10 points. A new name to add to youth players to watch for is Laurette Yacoubou who is 17 years old. She only came on during the last minute but finished the game with 3 points.
Dunkerque kept the game close for 26 minutes (40-39) and then suffered a 2-12 reversal to finish the quarter (41-51) and never recovered.
For Dunkerque home grown players Lucie Carlier shared the scoring honours with Sabrina Scott with 15 points each.
Perpignan's next match is against Bourges Basket in the "Coupe de France".
This was the weekend not to lose in Ligue Féminine 2
The CFBB's fifth victory of the season (79-66) came at the expense of Reims BF.
The CFBB managed to win more rebounds than their guests and also won 29 trips to the charity stripes.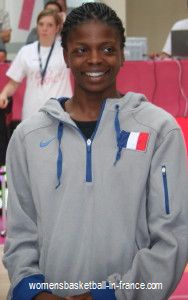 The one statistic that hurt Reims the most was the 6 offensive rebounds of Olivia Epoupa (in picture - 8 points, 10 rebounds) who is at least 30 cm shorted than Astan Dabo from Reims.
Mamignan Touré, Assitan Koné and Valériane Ayayi all from the CFBB scored 18, 17 and 10 points respectively. For Reims this defeat leaves them tied with three teams on 27 points in the relegation zone.
Voiron escaped with the victory at the end (73-72) against Léon Trégor. Voiron were railing by 1 point with one minutes to play. Then Magali Mendy stripped the ball away from her former team-mate from last season Aude Kernevez and went on to score for Voiron to take the lead (71-70).
10 seconds later Kernevez lost the ball again to Mendy who then went on to score what turned into the game winner.
Léon Trégor needed a three-pointer on the buzzer to take the game into overtime. They managed just 2 points and yet again failed to win on the road.
With both Reims and Le Havre losing this weekend Léon Trégor missed the opportunity to move out of the relegation zone.
Roche Vendée still have ambitions for the final four. They cruised past Le Havre (85-54) in a match neither team could afford to lose.
For Illkirch-Graffenstaden have at last something to smile about as they moved away from the relegation zone with a (80-63) victory against Limoges. Former Lithuanian international Lina Brazdeïkyte (in picture) led the way with 20 points.
Illkirch-Graffenstaden were almost back to full strength with the return of Aline Fischbach (14 points), Caroline Nestor and Amina Njonkou (10 points). For Limoges Hillary Klimowicz was the best player in the game with 17 points and 15 rebounds.
Toulouse booked their ticket for the LF2 final four with a road victory against US Laveyron (64-45). Carrem Gay and Nina Bogicevic finished with 18 and 17 points each for the victors. US Laveyron had a bad shooting day with just 26% success rate.
All the same Aïda Fall and Elena Vishnyakova managed to score 13 and 10 points each with a 44% success rate.
Sometimes derby matches can be tough physically and the match between Armentières and COB Calais was such a game. Neither side gave up any space and the match became rough at times in which players with LFB experience shined.
Unfortunately with two minutes to play Aurélie Carmona had to leave the game after being hit in the face. She was taken to hospital. The atmosphere in the hall was tense with both sets of supporters making their feelings known.
COB Calais was the visiting team and edged the match with the victory (79-75). Manon Sinico finished with 21 points and 4 assists. Mélanie Arnaud added 18 points and picked up 13 rebounds while Floriane Herrscher and Aurélie Cibert scored 16 points each.
For the hosts Anaïs Déas had 20 points, Mia Fisher 18 points and 4 assists while Aurélie Carmona added 15 points.
L2F, round 21 results:
Voiron 73-72 Léon Trégor
Roche Vendée 85-54 Le Havre
CFBB 79-66 Reims BF
Illkirch-Graffenstaden 80-63 Limoges
Armentières 75-79 COB Calais
Dunkerque Malo 54-73 Perpignan
US Laveyron 45-64 Toulouse
---
Visit LF2 2011-2012 basketball news page
Visit the Ligue Féminine de Basketball news for 2011-2012
Leave Ligue Féminine 2 news and return to home page
Return to the top of Ligue Féminine 2 news page
Ligue Féminine 2 picture credits:


womensbasketball-in-france.com
Perpignan Basket

Date created: 19 March 2012

---