Will Elan Béarnais Pau Lacq Orthez survive
the demands of Ligue Basket?
Aurélie Lopez
may be a new face to the Ligue Basket (LF2) but she has coached in
the Ligue Féminine de Basketball with Mourenx
when she took over head coach duties during the second half of the 2007-2008 season.
Unfortunately she was unable to save the club from relegation. In addition Mourenx' financial problems resulted in the club disappearing all together.
Lopez then took over the function of head coach for Elan Béarnais Pau Lacq Orthez, a club close to Mourenx. She won promotion from NF3 in 2008-2009 and repeated the feat again in NF2 during the 2009-2010 season.
So since gaining her professional coaching qualifications in 2007, this season marks her fourth division in four years.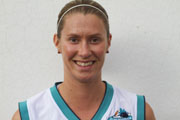 Despite bringing players with LFB experience: Clarisse M'Paka, Ana Perovic and Amandine Lacrabe (in picture), the learning curve for the team has been hard.
Perovic's comeback was short lived due to nagging injury problems that resulted in her leaving Basket Landes. The club signed Katherine Suderman as a medical replacement for her.
With just 2 wins in fourteen games the team went into the Christmas break at the bottom of the league.
Lopez looks to the second phase as a new competition and hopes that everybody has learned from the mistakes of the first phase.
She has already changed things since the players resumed and they played a friendly match in Spain before last weekend's game.
Lopez who played basketball for Mourenx while taking her coaching exams has been responsible for the development of one of the best youth international in France, Agathe Degorces (left) and will be hoping that other players from the Academy programme will step up when given the opportunity.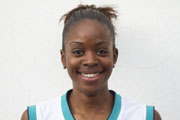 If you ask anybody in the club if they are ready the answer is yes, and they proved with a victory (68-61).
Martha Chrzanowski led the way with 14 points and 9 rebounds while Lacrabe scored 15 points. Also M'Paka (right) and Degorces finished in double digits with 12 and 10 points each.
Playing at home they dominated the match for 37 minutes (67-49) but relaxed a little too much for the final three minutes.
The first victory in five matches does not take them off last place but gives them a good start for 2011.
Ligue Basket: What else is happening?
Poor Candyce Sellars from Lyon was booed by the supporters from Voiron.
Sellars has a habit of flying in the air acrobatically. Unfortunately she collided with Kathleen Bourdin in a manner that did not please the home fans.
Sellars seemed not be bothered and scored 16 points and picked up 8 rebounds. Lyon went on to win the game (94-77), connecting 12-from-23 from beyond the three-point line. With this victory they increase their lead at the top of the table.
Elsewhere Naignouma Coulibaly from Pleyber-Christ battered Roche Vendée with 26 points, 13 rebounds and 7 steals in her team's victory (74-54).
Reims, led by 15 points from youth international Jenny Fouasseau won on the road against Illkirch-Graffenstaden (72-60) to stay in third position.
Nice had the biggest win of the night with a 39-point road win against Dunkerque (85-46) and are now in fourth place alone.
In all the other games, the hosts won.
Mia Fisher was not able to play this weekend because her paperwork was not complete but this did not stop Armentières from winning.
Results of week 16:
Voiron 77-94 Lyon BF
Pau Lacq Orthez 68-61 Rennes
Perpignan 56-43 Limoges
Pleyber-Christ 74-54 Roche Vendée
Armentières 66-50 Angers
Illkirch-Graffenstaden 60-72 Reims
Le Havre 67-55 CFBB
Dunkerque 46-85 Nice


Look back on the previous round from the Ligue Basket.
---
Return to Ligue Basket (LF2) news page
Return to women playing basketball in France Home page
GO Back to the top of the page
---
Ligue Basket picture credits:


Elan Béarnais Pau Lacq Orthez

Date created: 10 January 2011
---