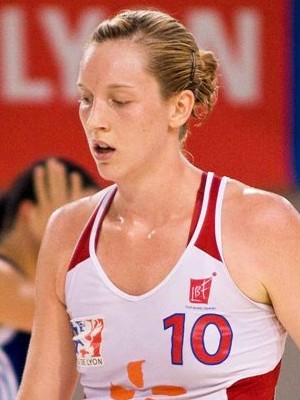 Most of the second division basketball news coverage in France this season has been about Lyon BF and their coach Pierre Bressant.
By beating Reims BF (69-59), they notched their 14th victory of the season and remain alone at the top of the table.
Lyon, playing at home, trailed (47-48) going into the final quarter but regained the lead for good with a trey by Charline Servage with nine minutes remaining to play.
As so often this season Géraldine Bertal came up big down the stretch to help Lyon to win with 15 points. However it was her team-mate Aurélie Carmona (left) who took the player-of-the-match honours with 18 points and 9 rebounds.
Reims remain in third place.
The rest of the basketball news from round 15
Roche Vendée did not have a great game but still ended up beating Angers (63-55) to remain second, just one game behind the leaders.
Roche Vendée put themselves in a strong position with a 10-point lead (24-14) by the end of the first quarter. Despite turning the ball over 25 times they never trailed in this match.
Cavigal Nice remain in fourth place after a comfortable victory against the CFBB (74-58).
After a slow start (1-5), Nice took control and led (28-14) after the first quarter. They more or less ended the game as a contest by the interval (50-28).
With this victory Nice moved up to fourth place.
Limoges dropped to fifth place after losing on the road to Rennes (48-56).
When Abdel Bellouni (left) took over the head coach duties of SO Armentières after the resignation of Stéphane Lalart, he claimed the he was not Harry Potter but he expected the players to give it all.
His first game in charge resulted in a road win against Illkirch-Graffenstaden in November. He then had to wait 14 days for his second win.
His perfect run as head coach has come to an end with a defeat on the road against Pleyber-Christ.
The game was decided during six minutes of the second quarter. Pleyber-Chirst edged the first quarter (13-12) and went 10 points clear (25-15) with 16 minutes on the game clock.
Armentières were unable to reduce the gap and went into the locker room (21-31). Despite matching their hosts for the rest of the game, they never threatened to win the match.
Naignuma Coulibaly was back to her best in rebounding with a total of 21. She also scored 20 points.
With this victory Pleyber-Chirst move up to sixth place while Armentières drop to 14th place.
Elan Béarnais Pau Lacq Orthez' misery continues with a home defeat against Perpignan (46-70) while Illkirch-Graffenstaden ended their negative series with a road win against Voiron (70-67).
The game between Le Havre and Dunkerque Malo was called off because Dunkerque were unable to travel due to bad weather.
Results of week 15:
Avenir de Rennes 56-48 Limoges ABC
Roche Vendée 63-55 Angers (UFAB 49)
Lyon BB 69-57 Reims BF
Nice 74-58 CFBB
Elan Béarnais Pau Lacq Orthez 46-70 Perpignan
Pleyber-Christ 70-58 Armentières
Voiron 67-70 Illkirch-Graffenstaden
Le Havre vs. Dunkerque Malo


Look back on the previous round news for women playing basketball in the second division.
---
Return to LF2 basketball news page
Return to women playing basketball in France Home page
GO Back to the top of the page
---
Basketball news picture credits:

Butterfly.fr
SO Armentières

Date created: 19 December 2010