January young player of the month
Adja Konteh

Adja Konteh from Aix-en-Provence is the wbbif young player of the month for January. The former French youth international averaged 17.67 points per match in the Ligue Féminine de Basketball (LFB).
Veuillez trouver en bas de la page des informations en français sur l'élue meilleure jeune en LFB pour janvier, Adja Konteh.

She was also credited with 7 assists and 9 steals during the month.  However it was her 54% success from the floor (20-from-37) that got everybody excited. She was also steady from the free-throw line making 11-from-17.
Our young player of the month for January also added 15 points to her tally in the French cup victory against the third division team AS Villeurbanne (111-45).
She edged out Emma Meesseman from Villeneuve d'Ascq and Manon Morel from US Laveryron for this month's accolade.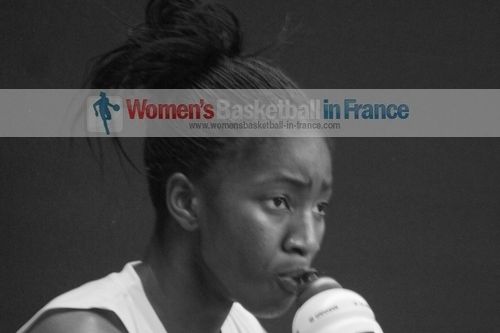 Konteh is in her third season in the LFB. She played for Arras from 2010-2012 and was a member for the 2012 French Cup winning team. She joined her former coach Bruno Blier at Aix-en-Provence this season (2012-13) on a two-year contract.

Prior to joining Arras she spent 2 1/2 years playing for the CFBB.
Konteh had a colourful youth international career: at 15 she was U16 European Champion in 2007 and followed this up with a bronze medal in 2008.
Her last medal came in 2009 when France won silver at the U18 European Championship. She also represented France during the Francophone games in 2009 and at the U19 FIBA World Championship for Women.
In her World U19 participation in 2011 and in her U20 campaign in 2012, France finished sixth and fifth respectively.
Konteh's professional career got off to a good start in 2010-2011. She participated in 27 games in the LFB and in 12 games in the EuroCup Women competition. She also collected an honour, a runners-up medal in the 2011 EuroCup Women while also play games for the Arras U20 team.

Her second season was interrupted with minor injuries playing in 15 games in the LFB and 7 games in the EuroCup Women.
Since the start of this year (2013) she has been on fire and smashed her LFB game record against Lyon BF with 28 points, 3 assists and 5 steals.
Konteh's efforts have been recognised by the readers of wbbif who voted her as young player of the month for January.

Adja Konteh, jeune et coriace

Adja Konteh, la meilleure joueuse jeune pour janvier des lecteurs de womensbasketball-in-france, a montré dès ses 15 ans sa vivacité dans le basketball.
Cette saison Konteh joint son ancien entraineur d'Arras, Bruno Blier à Aix-en-Provence. Et ... elle s'éclate: elle marque 17,67 points par rencontre en moyenne en janvier, 7 passes décisives et 9 interceptions. Mais c'est son pourcentage de succès, voir 54% qui fait fourure.
En 2010 après une formation à l'INSEP, elle rejoint le club d'Arras en LFB. Dans sa première saison en ligue féminine de basketball, elle joue dans 27 matchs en LFB et dans 12 match en EuroCup Women. La deuxième saison en LFB au sein d'Arras, n'est pas si explosive à cause de quelques blessures. Pourtant Konteh participe dans 15 matchs en LFB et 7 en EuroCup Women.

En équipe de France, elle remporte des palmarès: championne d'Europe cadettes en 2007, en 2008 une médaille de bronze. L'année suivante en 2009, elle obtient une septième place au Mondial juniors 2009, puis en 2011 une 6e place au Mondial juniors. En moyenne Konteh marque 10,1 points par match, à 34,7 % et 4,5 rebonds.
---
Like this page / Aimez cette page