Spain are the best at the U18 youth international basketball European championship
---
---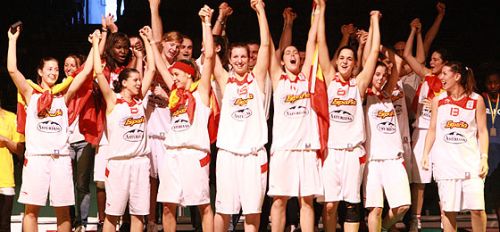 Spain are once again the queen of U18 youth international basketball for women in Europe.
Spain beat France (66-54) to capture their third European crown in a hard fought match against France in Södertälje, Sweden.
France were leading (36-33) with 23 minutes played and failed to score again while conceding 14 points.
Spain went into the final period ahead (47-36). Despite a strong effort by Allison Vernerey and Adja Konteh Spain held their nerve and maintained their advantage till the end of the match.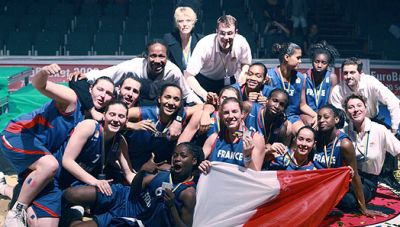 The Spanish team played in a similar way to the senior national team. It was not surprising to see them push for gold during the third period.
Konteh was the top scorer for France with 16 points, while Leonor Rodriguez led the attack for Spain with 22 points.
Some of the players on display in the final will play for their countries during the U19 World Championships at the end of July.
Rodriguez will also be heading to Florida and play in the NCAA next season.
In the third place match Sweden beat the Czech Republic (67-54) to take the bronze medal.
Binta Drammeh led the scoring for Sweden with 19 points. She scored 9 points during the final quarter.
Tournament MVP Cleopatra Forsman-Goga finished with 14 points, 5 steals and 3 blocks.
The other member of the all-tournament team are as follows:
Olesia Malashenko (Ukraine), Sabine Niedola (Latvia), Leonor Rodriguez (Spain) and Allison Vernerey (France).
---
Youth international basketball news from Division A
France and Spain Remain undefeated
France in pole position for qualification round
France already in Qualification round
Division B news
Hungary and Slovenia win promotion
Finland, Greece and Portugal win the last places
Finland, Greece and Portugal join the last 8
Germany and Slovenia qualify quarter-final
Bosnia, Hungary and Israel already in quarter-final
The Netherlands, Norway and Switzerland are out of the competition
Israel make home advantage count
Slovenia, Germany and Greece qualify for next round
Israel open with a win with 28 points from Cohen
U18 European Championship Women Division B 2009 is hosted by Israel
Return to the Youth International Basketball Index page
Youth international basketball picture credits:

FIBA Europe - Ulrich Schulte

Date created: 13 July 2009

hr size="1" width="100%" align="Left" >