Youth international basketball fever in Eilat as Israel top group
---
---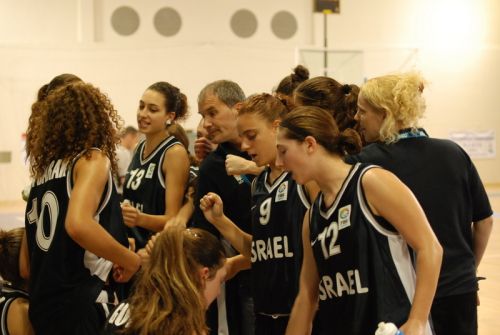 This generation of youth international basketball players from Germany and Israel played against each other at U16 level in Chieti, Italy in 2007 with Germany winning (61-57). As a consequence of this Germany had met Slovenia in the semi-final and Israel had played Italy. Germany had beaten Slovenia and won promotion to U16 Division A while Israel had lost to Italy and finished fourth. Two years later with many players from the 2007 match on the court, it was Israel that ran out winners (63-54).
Avigiel Cohen
finished with her third double-double of the competition with 21 points and 12 rebounds. This win took Israel from potentially finishing third in the group to first. It also ended the dreams of the Netherlands.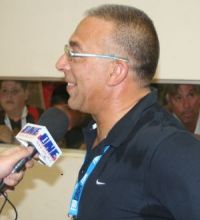 The Israeli head coach,
Edny Dagan
who lost his voice after a series of interviews, explained that his teams worked very hard and that they scored points at the right time. He also praised the second half performance of
Shira Ben Barak
and said that at this age group you had to repeat yourself so many times. His also expressed his delight that Israel took two wins to the second round because of Denmark's victory. You can listen to his comments:
Shira Ben Barak was happy about the way she played but believed that she could still play better. She said that the victory was very important for them and that the game was very emotional.
However the championship was long and this victory gave them a boost for the rest of this youth international basketball championship.
You can listen to her comments:
(Note: If you are using Internet Explorer click twice on the triangle)


Bosnia won the battle of the unbeaten teams in Group D by beating Greece (73-66) in the most technical game of the championship so far. It was a cat and mouse battle from beginning to end.
Bosnia took control of the game during the third period and opened up a 6-point lead going into the final quarter.
Tamara Kapor fired in 24 points and was assisted with 20 points by Matea Tavic.
For Greece Angeliki Nikolopoulou fired in 24 points.
In the rest of the day's action Slovenia maintained a perfect record after beating Finland (65-52) and Portugal pushed aside Switzerland (67-24).
---
Heart break for the Netherlands
Slovenia, Germany and Greece qualify for next round
U18 European Championship Women Division B 2009 is hosted by Israel
Return to the Youth International Basketball Index page
Youth International Basketball picture credits:

womensbasketball-in-france.com
IT Sports - Limor Noah
Date created: 06 July 2009

---