U18 youth international basketball pendulum may change direction
---
---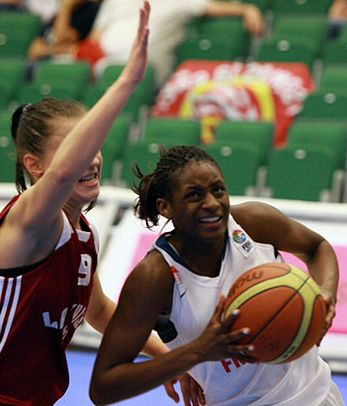 France did not easily pass their first serious test at the U18 youth international basketball event in Sweden.
They managed to qualify for the semi-final against Latvia (55-54) in a nail-biting finish.
France looked to be cruising to victory leading (48-34) late in the third period but then went to sleep for the rest of the game.
Latvia trailed by a single point with 57 seconds left to play (54-55) but were unable to find their way to the basket again.
France had the chance to end the suspense from the foul line in the dying seconds but missed the chance.
However Allison Vernerey picked up the defensive rebound and hung on to the ball for victory. Adja Konteh (above in picture) led the French attack with 15 points.
The Czech Republic ran out winners against Serbia (80-68). The game remained close until late in the third period (53-53).
The Czech Republic stepped on the turbo and finished the quarter with an 8-0 run. They continued to score at the start of the second period and led (68-54) with eight minutes to play.
Serbia attempted to come back but the damage had been done.
Alena Hanusová led the Czech Republic's attack with 19 points and 11 rebounds.
Youth international basketball giants Spain showed no mercy for Ukrane in Södertälje with a (94-63) victory.
This generation of players from Sweden have a habit of late rallies and drama. They appeared to be coasting to victory at the interval in their match against Lithuania (43-26).
Lithuania then reduced the deficit by the end of the third period (44-49).
Up stepped Binta Drammeh from Sweden with 15 points in the final 10 minutes and Sweden knocked out the defending champions (79-60).
---
Youth international basketball news from Division A
France and Spain Remain undefeated
France in pole position for qualification round
France already in Qualification round
Division B news
Germany and Slovenia qualify quarter-final
Bosnia, Hungary and Israel already in quarter-final
The Netherlands, Norway and Switzerland are out of the competition
Israel make home advantage count
Slovenia, Germany and Greece qualify for next round
Israel open with a win with 28 points from Cohen
U18 European Championship Women Division B 2009 is hosted by Israel
Return to the Youth International Basketball Index page
Youth basketball picture credits:

FIBA Europe

Date created: 10 July 2009

---