France youth international basketball programme is looking good in Södertälje
---
---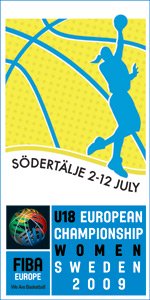 France are in pole position for the next phase of the youth international basketball competition for European division A as the only team from group C and D with a perfect record in Södertälje.
France maintain their perfect record at the U18 European Championship Women Division A in Sweden and are just one win away from qualification for the quarter-final after beating Russia (79-53) in the last game from Group D.
France led (12-4) after four minutes of play and were never seriously threatened by Russia after the first period.
They won comfortably (79-53) with Aix-en-Provence bound Isabelle Strunc leading the scoring with 19 points.
The Slovak Republic lost to Ukraine (62-83) in the other game from Group D and are eliminated from the race for the title.
In Group A Serbia defeated the hosts Sweden (79-48) to win the group while Poland destroyed Bulgaria (82-30).
Bulgaria will join Belarus, Slovak Republic and Turkey in the relegation round.
Italy beat the defending champions Lithuania (57-45) in the surprise of the evening, while the Czech Republic had to work hard in beating Belarus (76-64).
In Group B Spain beat Latvia (81-62) while Belgium secured their Division A status by knocking Turkey into the relegation group (68-49).
We will be following the progress of France during the rest of the U18 European Championship Women Division A in Södertälje, Sweden.
---
France already in Qualification round
Division B news
Slovenia, Germany and Greece qualify for next round
Israel open with a win with 28 points from Cohen
U18 European Championship Women Division B 2009 is hosted by Israel
Return to the Youth International Basketball Index page
Picture credits:
Fiba Europe
Date created: 05 July 2009

---