2012 FIBA Europe
player of the year nominees

FIBA Europe have announced the start of the public voting for the player of the year awards: senior men, senior women, young men and young women.
The public voting ends on 31 Janaury 2013. Every person who votes is automatically entered in the draw with the chance to win exclusive prizes, including tickets to EuroBasket 2013.
Players in all categories have been selected by FIBA Europe for their performances and special achievements during the calendar year.
The following French players have been nominated in the different categories: Tony Parker (men), Céline Dumerc (women), Isabelle Yacoubou (women), Léo Westermann (young men) and Olivia Epoupa (young women).
This marks the eighth year this award has been held and Sandrine Gruda is the only French player to have ever won it. She was Young Player of the Year in 2006 and FIBA Europe Player of the Year in 2009.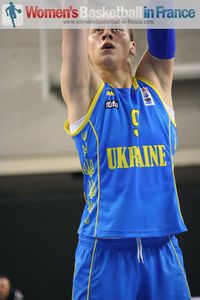 The candidates for the 2012 young player of the year award are for players born on and after 1 January 1992: Alina Iagupova (Ukraine - in picture), Artenmis Spanou (Greece), Astou Ndour (Spain), Emma Meesseman (Belgium), Farhiya Abdi (Sweden), Ksenia Tikhonenko (Russia), Mariya Papova (Belarus), Nika Baric (Slovenia), Olivia Epoupa (France) and Queralt Casas (Spain).
All the players nominated are known to us at wbbif and we have included links to our articles or interviews with them.
In order to vote you have to visit the site of FIBA Europe by clicking on the link below:

Vote Here For Young Women's Player Of The Year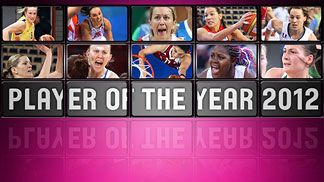 All the players nominated played in the EuroLeague Women competition last season and have never won the player of the year award. 
Ann Wauters from Belgium was the only player not to play for her national team during the summer. At least one player from the five European teams at the 2012 Olympic Games has been nominated, with France having two players.
The 10 players in the race for the title of player of the year are: Anastasiya Verameyenka (Belarus), Ann Wauters (Belgium), Becky Hammon (Russia), Céline Dumerc (France), Eva Viteckova (Czech Republic), Frida Eldebrink (Sweden), Isabelle Yacoubou-Dehoui (France)
Iva Perovanovic (Montenegro), Nevriye Yilmaz (Turkey) and Sandra Mandir (Croatia).

Vote Here For Women's Player Of The Year
For fans of men's basketball the players in competition for the Young Player award are: Alejandro Abrines, Dario Saric, Davis Bertans, Jonas Valanciunas, Klemen Prepelic, Léo Westermann, Mario Hezonja, Nikola Ivanovic, Nikola Jankovic and Sergey Karasev.
Vote Here For Young Men's Player Of The Year
In the men's competition the following players are nominated: Andrei Kirilenko, Danilo Gallinari, Goran Dragic, Marc Gasol, Marcin Gortat, Nikola Pekovic, Omer Asik, Pau Gasol, Tony Parker and Vassilis Spanoulis.

Vote Here For Player Of The Year 
---
Visit our 2012-2013 EuroLeague Women page

Visit our home page
Visit our "What's New" page
picture credits:
womensbasketball-in-france.com / FIBA Europe

Date created: 20 December 2012
Like this page / Aimez cette page