Will Arras continue playing basketball in the Ligue Féminine de Basketball
Winning the French Cup in 2012 was a dream come true for Arras but playing basketball in LF2 next season (2013-2014) will be a nightmare.
Their defeat at home to Toulouse (45-64) means that their survival is now out of their hands.

Elsewhere Aix-en-Provence eased their relegation problems with a hard fought victory against USO Mondeville (62-60). 
The wbbif LFB February player of the month Cayla Francis scored the winning points from the free-throw line with 20 seconds to play.
Bourges Basket had no problems is pushing over Tarbes after a (21-11) opening quarter. Bourges played their usual defensive game the rest of the way to win (61-48).
Despite the defeat Tarbes move in 4th place, while Bourges remain in second position in the LFB regular season table.
With all the results in from round 20, Lattes Montpellier are guaranteed to be playing basketball for the Ligue Féminine de Basketball championship title in the post season.
Bourges Basket just need one more victory to join Montpellier while the two other places are still up for grabs.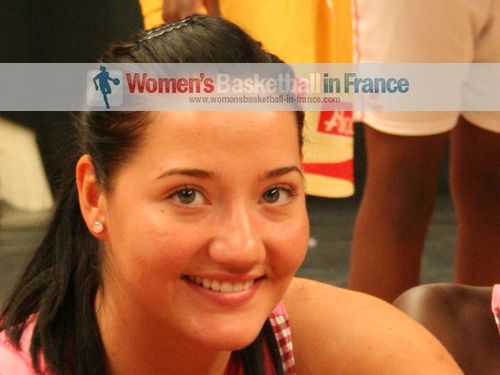 Arras had the chance of moving above Hainaut Basket and keeping their chances of playing basketball in the LFB alive by beating Toulouse at home.
Everything was going well for Arras in the first quarter leading (23-19).
However with Olesia Malashenko (in picture) and Dawn Evans scoring all the points during the first quarter with 12 and 11 points each, Toulouse were not out of the game.
Mattieu Chauvet, the coach from Toulouse, made his players defend harder on Malashenko and Evans for the rest of the match. The result was that those two players scored just 7 points between in the remaining three quarters.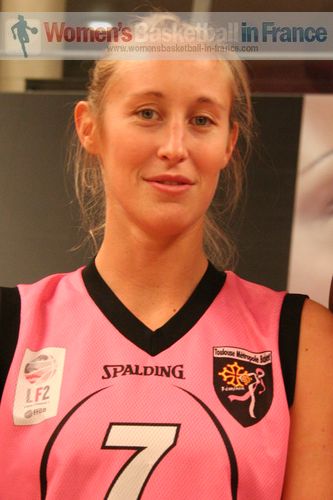 Julie Legoupil (in picture) with 4-of-5 from behind the three-point line led the way with 15 points for Touoluse. Inesa Visagaudaite and Carrem Gay added 13 and 12 points respectively as Toulouse cruised to victory (64-45).
With one more victory from the five remaining games, Toulouse should be mathematically save for another season of LFB basketball.
Arras on the other hand need to win all their remaining games to stand any chance of leaving the relegation zone.
However a defeat against Perpignan in their next game and victories for USO Mondeville and Charleville-Mézières may likely seal their fate to finish in the relegation zone.
In addition Arras should for the rest of the season be without recent signing Tatsiana Likhtarovitc (stress fracture) - who has hardly played since her arrival in January.
Arras also quietly released Sasha Goodlett in January without any explanation. She was supposed to be the medical replacement for Astan Dabo.

Marc Silvert, the new coach of Arras, has to act quickly if the club are to sign an a replacement player.
Bourges Basket's only issue at the moment is about when Jo Leedham (picture) can start playing basketball again. With the EuroLeague Women Final 8 approaching her fitness is a concern.
Tarbes, playing home, had a first quarter to forget as they failed to hit their shots and to pick up any rebounds. Bourges on the other hand were quickly into their stride and led (21-11) at the end of the first quarter. By half time they had an advantage of 15 points (38-23).
Tarbes huffed and puffed but failed to trouble Bourges. Styliani Kaltsidou, Marrisa Coleman and Céline Dumerc were the top scorers with 12, 11 and 10 points apiece.
For Tarbes Gabriela Ocete and Kristen McCarthy had 14 and 10 points each.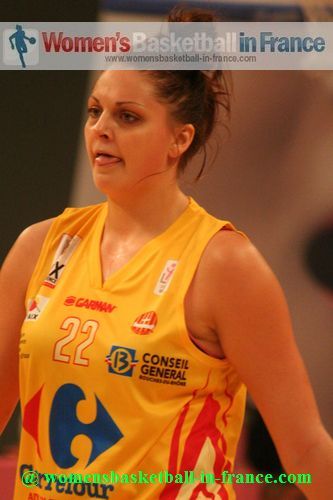 Aix-en-Provence's 9th victory of the season has more or less ended their relegations worries. 
Cayla Francis (in picture) had a difficult time against USO Mondeville but ended up being the hero with a pair of free throws 20 seconds from the end of game. She then got back in defense and made sure that K. B. Sharp could not get a clear shot off.
For Mondeville who are still without Laëtitia Kamba, the defeat (60-62) leaves them in 12th place.
Aix-en-Provence were led by Sandra Ygueravid who top scored with 18 points while Adja Konteh and Francis contributed 11 and 10 points.
For Mondevillle Ingrid Tanqueray had 19 points.
On the first day of round 20, Charleville-Mézières, Lattes Montpellier and Villeneuve d'Ascq all came away with victories while on day 2 Lyon beat Basket Landes.
Hainaut Basket are also not sure of playing basketball in the LFB next season either. They need to also win all their remaining games.
Amanda Jackson's season came to an end during the weekend game. She has been replaced by Izabela Piekarska (in picture) who played for the club last season.
All the results from round 20:
Villeneuve d'Ascq 64-46 Perpignan
Charleville-Mézières 90-75 Hainaut Basket
Nantes Rezé 70-72 Lattes Montpellier
Lyon BF 69-53 Basket Landes
Tarbes 48-61 Bourges Basket
Aix-en-Provence 62-60 USO Mondeville
Arras 45-64 Toulouse Métropole

It is important for Arras and Hainaut to continue battling in order to avoid finishing in 14th place because for the moment only Cavigal Nice have confirmed that they accept promotion.
So the question remains which club will not be playing basketball in the LFB for the coming season.

This is the regular season table after 21 games:
| | | | | | | | | | |
| --- | --- | --- | --- | --- | --- | --- | --- | --- | --- |
| POS | Team Name | PLD | W | P | L | SF | SA | SD | PTS |
| 1 | Lattes Montpellier | 21 | 18 | 0 | 3 | 1501 | 1266 | 235 | 39 |
| 2 | Bourges Basket | 21 | 17 | 0 | 4 | 1347 | 1156 | 191 | 38 |
| 3 | Perpignan Basket | 21 | 14 | 0 | 7 | 1392 | 1287 | 105 | 35 |
| 4 | Tarbes | 21 | 12 | 0 | 9 | 1392 | 1335 | 57 | 33 |
| 5 | Lyon BF | 21 | 12 | 0 | 9 | 1343 | 1278 | 65 | 33 |
| 6 | Basket Landes | 21 | 11 | 0 | 10 | 1296 | 1274 | 22 | 32 |
| 7 | Nantes-Rezé | 21 | 10 | 0 | 11 | 1387 | 1442 | -55 | 31 |
| 8 | Villeneuve d'Ascq | 21 | 9 | 0 | 12 | 1383 | 1491 | -108 | 30 |
| 9 | Aix-en-Provence | 21 | 9 | 0 | 12 | 1437 | 1499 | -62 | 30 |
| 10 | Toulouse Métropole | 21 | 9 | 0 | 12 | 1281 | 1359 | -78 | 30 |
| 11 | Charleville-Mézières | 21 | 8 | 0 | 13 | 1229 | 1316 | -87 | 29 |
| 12 | USO Mondeville | 21 | 8 | 0 | 13 | 1360 | 1313 | 47 | 29 |
| 13 | Hainaut Basket | 21 | 5 | 0 | 16 | 1257 | 1407 | -150 | 26 |
| 14 | Arras | 21 | 5 | 0 | 16 | 1234 | 1416 | -182 | 26 |
---
Like this page / Aimez cette page