EuroCup Women round 3:
not kind to teams from Belgium
Elitzur Ramla's EuroCup Women participation ended before the start of the third round because of financial difficulties. The club has been officially withdrawn and their results removed from the competition.
With the exception of Basket Landes, it was another perfect round for the French clubs. Union Hainaut had no problems in rolling over Belgium club side Lotto Young Cats (86-42).
The EuroCup Women match was over by half time with Union Hainaut leading (57-24). Marie-Frédérique Ayissi led the way with 21 points (she was a perfect 7-of-7 from the floor in the first half) while Laura Garcia filled the stat sheet with 13 points, 12 rebounds and 8 assists.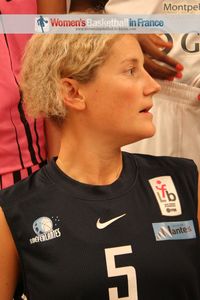 Nantes-Rezé also had no troubles in beating their Belgium opponents BBC-Sint-Katelijne-Waver (110-63). Caroline Aubert (in picture) had a perfect shooting evening. She went 8-of-8 from the floor and 2-of-2 from the free-throw line for 20 points. She also credited with 3 assists and 4 steals.
However she was outscored by Viktoria Mircheva who finished with a game high 21 points. Four other players from Nantes-Rezé finished with double digit scores. For BBC-Sint-Katelijne-Waver Daphne Van Dessel and Sara Leemans led the scoring with 13 points each.
In the third match between France and Belgium, Tarbes made hard work of beating Belfius Namur (82-72). Paoline Salagnac fired in 22 points for Tarbes while Julie Wojta helped herself to 28 points.

Lattes Montpellier had a comfortable victory against SISU (91-65) with Gaëlle Skrela scoring 25 points.
These four French clubs should book their tickets for the second phase with a victory in their next game.

Basket Landes have not been solid this season and saw, with two minutes to play, a 6-point lead turn into a 2-point loss to VS Prague (69-71). With their Group G rivals Dynamo Moscow beating
Partizan Galenika (70-65) Basket Landes drop to the bottom of the group.

What else happened during EuroCup Women round 3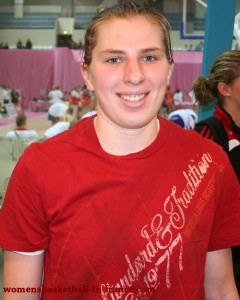 BC Chevakata keep their qualification hopes alive in Group A, being behind Lattes Montpellier. They crushed Satu Mare (74-38). Katsiaryna Snytsina led the scoring with 17 points. But her team-mate Glory Johnson was the player of the match with 12 points, 19 rebounds and 6 assists
Former Villeneuve d'Ascq player Jolene Anderson (in picture), now with Homend Antakya, had the best statistic line for the round with 32 points, 12 rebounds and 5 assists in Antakya's road victory against MBK Ruzomberok (70-62).
Ted Ankara played Olimpia twice this week. In game one they won (63-55) but they lost in the game for round 6 (54-69). This was the first victory for Olimpia in this competition.
The EuroCup Women competition starts to become more interesting from the next round of games as the leading contenders then fight for ranking positions for the knock-out phase.

Results from round 3
Ted Ankara 63-55 Olimpia
BC Chevakata 74-38 Satu Mare
SISU 65-91 Lattes Montpellier
TSV Wasserburg 55-72 Dynamo-GUVD
Dynamo Moscow 70-65 Partizan Galenika
Tarbes 82-72 Belfius Namur
Nantes-Rezé 111-63 BBC Sint-Katelijne-Waver
Basket Landes 69-71 VS Prague
Spartak Noginsk 46-50 Mersin
MBK Ruzomberok 62-70 Antakya
Dunav 8806 70-99 Dynamo Kursk
Telge Basket 71-69 BC Horizont
Hainaut Basket 86-42 Lotto Young Cats
Round 6

Olimpia 69-54 Ted Ankara
---
Visit our EuroCup Women 2012-2013 section

Visit our home page
Visit our "What's New" page
picture credits:
womensbasketball-in-france.com

Date created: 9 November 2012
Like this page / Aimez cette page