MBK Ružomberok qualify for the
2013 EuroCup Women semi-final

MBK Ružomberok (13th seed) could be the aspiring 2013 EuroCup Women champions. They have been beaten four times at home but are undefeated on the road with four victories.

It was not a surprise that MBK beat Nantes-Rezé, however the winning margin (79-57) was. Nantes -Rezé (5th seed) came into the second leg of the match with a 5-point lead from game one and yet ended up losing the series (113-130).

Nadia Parker was the hero of the night with a game high 28 points while Katarina Tetemondová and Dominika Baburova added 13 and 10 points each.
For Nantes-Rezé Marielle Amant was the only player on top of her game with 16 points and 11 rebounds while Yuliya Andreyeva chipped in 11 points.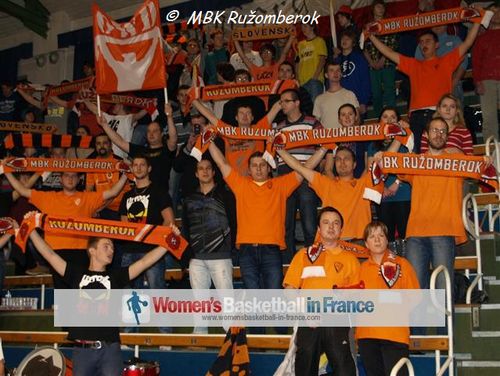 It all started to go wrong for Nantes-Rezé with the departure of Sarah Michel at the seven-minute mark. She appeared to have dislocated a finger on her dribbling hand and had to leave the game for good.
Nantes were leading at the time (16-9). By the end of the quarter their advantage was down to 5 points (20-15).
The pendulum started to swing in favour of the visitors. 150 seconds into the second quarter the teams were on equal terms (22-22).
For a couple of minutes both sides traded baskets before MBK went into the lead for good with a three-pointer by Tetemondová (31-22).
Nantes-Rezé started to fall apart. By half time they trailed (41-34).
MBK put the contest out of reach for Nantes with an 8-0 run to start the third quarter to then pace themselves the rest of the way.
For Emmanuel Coeuret, the defeat was hard. He took his frustration out on his foreign players who combined for a total of 4-for-18 while Parker shot 12-of-17 for MBK.
It has been a wonder turn-around for MBK Ružomberok because just 12 months ago the club had lost its most important sponsor and had not been sure of continuing.

---
Visit our EuroCup Women 2012-2013 section

Visit our home page
Visit our "What's New" page
Picture credits:
MBK Ružomberok
Date created: 24 January 2013
Like this page / Aimez cette page