2013 EuroCup Women Final
Dynamo Moscow win game one

2007 EuroCup Women Champions Dynamo Moscow from Russia beat Kayseri Kaskispor from Turkey (66-61) in the first game of the two-leg aggregate score final.

Dynamo Moscow failed to make home advantage really count despite a lively opening quarter (24-15).
During the second quarter Kayseri Kaskispor were able to apply defensive pressure that restricted the hosts to just 8 second-quarter points.
Dynamo Moscow led by just a single point (32-31) at the break. But three minutes into the third quarter they trailed by 5 points.
Neither side was making many shots and by the end of the third quarter the game was tied (45-45).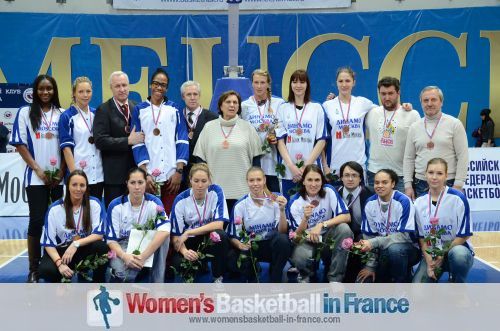 A three-pointer by Svetlana Abrosimova with nine minutes to play broke the deadlock and Dynamo took hold of the match for good.
Kristi Toliver exploded offensively in the final quarter with 9 of her 16 points as Dynamo fought to open up a significant advantage.
However with Lara Sanders (11 points) and Evanthia Maltsi (17 points) hitting free throws down the stretch of the last four minutes the Turkish side minimised the damage and trailed by just five points at the end of the game. 2012 EuroLeague Women Final 8 MVP Asjha Jones led the way with a game high 18 points.

For Dynamo Moscow the following players finished in double-digit scores: Toliver 16, Crystal Langhorne 13 (13 rebounds), Tatiana Vidmer 10, Abrosimova 10.
You may watch the full game with Russian commentary:

Play-off round / Knock-out stage
14 February 2012: Dynamo Moscow & Kayseri Kaskispor qualify for EuroCup final

08 February 2012: Dynamo Moscow & Kayseri Kaskispor lead semi-final series
25 January 2012: No luck for all French clubs
24 January 2012: Nantes-Rezé fall at home and are eliminated

17 January 2012: Nantes-Rezé's victory was the only high point for French clubs

13 December 2012: EuroCup Women adventure continues for Nantes-Rezé, Lattes Montpellier and Hainaut Basket
13 December 2012: Nantes-Rezé defeated by Olimpia Grodno
07 December 2012: French clubs have the advantage going into game two
---
Like this page / Aimez cette page