Les 24 heures du sport fémin
A special event for the LFB

For the LFB the first "Les 24h du Sport Féminin" event was marked with a live match on Sport+. Furthermore all baby girls born on the 1 February 2014 receive a basketball as a gift.
The top three teams in the women's basketball league pull away from the rest by winning their matches respectively.

Veuillez trouver des informations en français en bas de la page sur la seizième journée de la ligue féminine de basket 2013-14.
Bourges Basket may have lost Jo Leedham for about six weeks with a stress fracture but they have regained Stylianí Kaltsídou who has been signed for the rest of the season.
Bourges were also without Cathy Joens for their visit to Nice. But it made no difference as they cruised to victory against Cavigal Nice (80-47).

Nwal-Endéné Miyem led the scoring with 21 points. Céline Dumerc dished out 7 assists and scored 12 points just as she did in the last round of games.
Bourges remain alone at the top while Cavigal Nice remain alone at the bottom.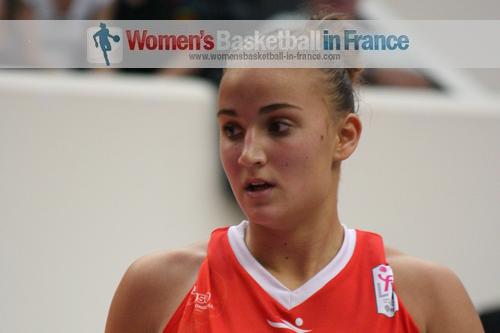 The clutch shooting by Marine Johannes (in picture) paved the way for USO Mondeville to beat Charleville-Mézières (68-59). She went 4-of-5 from the floor for her 9 points. Lorena Infantes Nunez had a perfect shooting day with 10 points and 7 assists while Courtney Hurst led the way with 18 points. Despite their 19 turnovers Mondeville connected with 56% of their shots. Charleville-Mézières never really got going. They just hit 19 shots from open play. If not for their 17-from-19 free throws they would have been blown away.

Lattes-Montpellier avenged their LFB round three defeat in style with a (86-68) victory against Lyon BF. Géraldine Robert (22 points) and Gunta Basko-Malnbarde (17 points) were impressive hitting 15-of-19 from the floor for Montpellier while Lyon captain Mistie Mims had 19 points in defeat.
Although Lyon BF shot a respectable 43% from the floor, Montpellier hit 60% and beat their hosts after a poor first-quarter performance.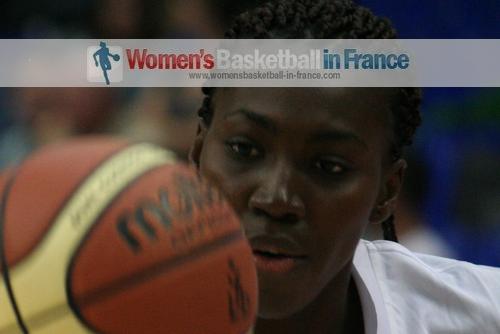 Villeneuve d'Ascq huffed and puffed their way to victory against Tarbes (79-74) with a double-double by Malian international Djéné Diawarra (in picture) who scored 19 points and picked up 10 rebounds. Jovana Rad led the Tarbes attack with 30 points.
Hainaut Basket won their derby match against Arras (86-79). Astou Traore and Pauline Akonga-Nsimbo were yet again the leading scorers with 25 and 22 points each while Laura Garcia (18 points) dished out 4 assists.
Ta'Shauna Rodgers who replaced Dawn Evans at Arras finished with 29 points. This is the 9th straight defeat for Arras who drop to one of the two relegation places.

Nantes Rezé eased their way to victory against Toulouse Métropole (74-63) with Cayla Francis (9 rebounds) and Sarah Michel (7 rebounds and 6 assists) knocking down 22 points each.
Basket Landes never trailed in the match while taking 10 shots more than their hosts Anger to  win (77-72). A three-pointer by Anaïs Le Glucher Cano with 90 seconds to play ended the fightback from the hosts. Danielle Page led  the Basket Landes attack with 15 points while lva Sliskovic had 20 points for Angers.
La seizième journée de la LFB :
les top 3 se confirment

Tango Bourges Basket, Lattes-Montpellier et Villeneuve d'Ascq creusent l'écart dans le haut du tableau pendant que Cavigal Nice est joint par Arras dans la zone de relégation.

USO Mondeville sort de la zone de relégation après une victoire contre Charleville-Mézières (68-59). Marine Johannes (9 points), Lorena Infantes Nunez (10 points, 7 passes décisives) et Courney Hurst (18 points) sont le moteur de cette victoire pendant que les Flammes Carolo ne s'enflamment pas dans cette rencontre.
Cavigal Nice, la lanterne rouge dans le classement, logiquement perd contre Tango Bourges Basket (47-80) avec Nwal-Endéné Miyem (21 points) en bonne forme.
Lattes-Montpellier reverse sa défaite contre Lyon BF de la journée 3 en LFB avec Géraldine Robert (22 points) et Gunta Basko-Malnbarde (17 points) dominant leurs adversaires pour s'imposer (86-68).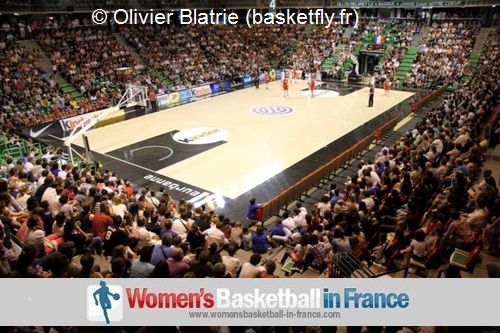 Villeneuve d'Ascq arrache une victoire (79-74) à Tarbes avec Djéné Diawarra (19 points, 10 rebonds) meilleure marqueuse pour les Nordistes pendant que les 30 points de Jovana Rad ne suffisent pas de inverser le résultat.
C'est Basket Landes qui retourne dans le top 4 après sa victoire contre Angers (77-72) dans un match ou les Landaises ont toujours l'avantage.
Sarah Michel pour Nantes Rezé continue à émerveiller. Michel et Cayla Francis avec 22 points chacune ne laissent aucune chance à Toulouse (74-63).
C'est Ta'Shauna Rodgers (29 points) pour Arras qui s'incline à Hainaut Basket (79-86) dont la prestation de Astou Traoré (25 points) est remarquable.
---
Picture credits:
womensbasketball-in-france.com
Date created: 02 February 2014
Like this page / Aimez cette page