Back to normal in the LFB
Top 3 win, bottom 2 lose

Everything is back to normal in the LFB. The leaders keep on winning while those at the bottom losing. However the battle for a place in the challenge round (for the teams placed 5th to 8th) at the end of the season is becoming more interesting.

Veuillez trouver des informations en français en bas de la page sur la quinzième journée de la ligue féminine de basket 2013-14.
Bourges Basket controlled their visitors Lyon BF for their 14th domestic win of the season (64-57). Céline Dumerc helped herself to 7 assists and 12 points in leading the French Champions to victory. Mistie Bass led Lyon with 16 points and 10 rebounds.

Despite the defeat Lyon remain in 4th place while Bourges stay on the top.
Lattes-Montpellier needed a wake-up call after a poor first quarter (14-23) to finally blow away Angers (87-56) to keep their second place intact.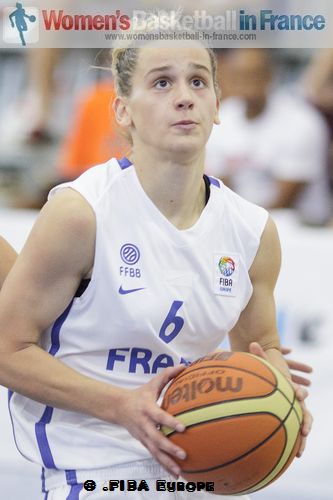 For the first time this season all three youth players from Montpellier played and scored. Lidija Turcinovic (in picture) helped herself to 9 points in her 21 minutes on the court while Fleur Devillers and Mélanie Riondet added 5 and 2 points respectively.
Villeneuve d'Ascq were not brillant but still too strong for USO Mondeville (56-31). Olayinka Sanni kept out of foul problems and finished the game with 13 points to lead all scoring. Mondeville hit just 27% of their shots.
Basket Landes showed no mercy to Cavigal Nice with a crushing victory (84-59). Valériane Ayayi  put up another strong performance for those thinking of voting for FIBA Europe young player of the year award. She led with 23 points.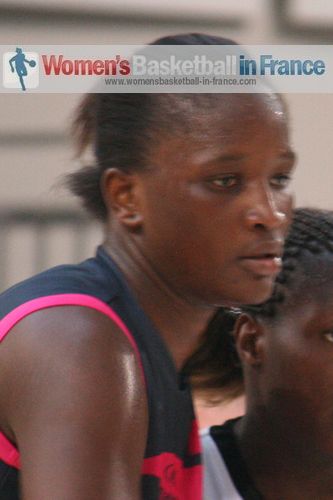 The only good news to come out of the game for Cavigal Nice was the return of Astan Dabo (in picture) after her 13-month lay-off due to an ACL injury.
Charleville-Mézières ended their losing streak with a victory against Nantes Rezé (79-67). The hard working Ekaterina Dimitrova (13 points) and Geidre Paugaite (19 points) were the deciding elements in the victory.
Arras suffered their eighth straight LFB defeat. They lost at home (59-63) to Tarbes. The game was decided at the free-throw line during the last five seconds of the game. Former Arras player and French Cup hero Sabrina Reghaïssia condemmed her former club with the last 2 free throws of the game.
Toulouse continue their climb away from the LFB relegation zone with a victory against Hainaut Basket (68-60).
Cavigal Nice and USO Mondeville are out of the regular season title chase if they do not win all their games and current leader Bourges Basket lose all their remaining games. 
La quinzième journée de la LFB :
top 6 sont les mêmes

Tous les locaux gagnent leurs rencontres sauf Arras qui perd pour la huitième fois consécutive.
Tango Bourges Basket et quatre d' autres équipes du haut du tableau, Lattes-Montpellier, Villeneuve d'Ascq, Basket Landes et Charleville-Mézières s'imposent pendant que Lyon BF préserve sa quatrième place même après sa défaite.
Les Tango dominent les visiteurs, Lyon BF et gagnent (64-57).
Céline Dumerc contribue 7 passes décisives et 12 points à la victoire pendant que les 16 points et 10 rebonds de Mistie Bass pour Lyon sont en vain.
Angers échoue après un début prometteur de son match contre Lattes-Montpellier (56-87) pendant que Villeneuve d'Ascq bat Mondeville (56-31). Mondeville est maladroit au tir avec 27% de réussite.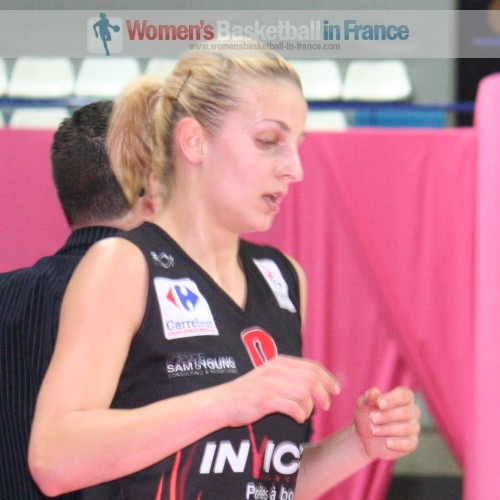 Basket Landes écrase Cavigal Nice (84-59) emmené par Valériane Ayayi  (23 points) pendant que Charleville-Mézières bat Nantes Rezé (79-67) dont les performances de Ekaterina Dimitrova (13 points) et Geidre Paugaite (19 points) sont déterminantes pour la victoire.
Toulouse sort de la zone de relégation après une victoire contre Hainaut Basket (68-60) pendant que Arras perd à nouveau. Sabrina Reghaissïa assure la victoire pour Tarbes (63-59) à la ligne de lancer franc dans les dernières secondes.
---
Picture credits:
womensbasketball-in-france.com
Date created: 19 January 2014
Like this page / Aimez cette page