Big night for foreign internationals
in LFB round 14

Lattes Montpellier started the second phase of the LFB season in the same manner as in the Open LFB with a convincing victory over Toulouse.
Elsewhere Hainaut Basket and Villeneuve d'Ascq ended 2012 on a high while Gunta Baško-Melnbārd put together her best game of the season.

USO Mondeville had to call Naignouma Coulibaly up for action despite her fractured cheekbone because Kadidia Minte was away on compassionate leave.
Coulibaly wore a special face mask and played for 26 minutes scoring 6 points and picking up 10 rebounds. Her efforts were in vain because Hainaut Basket were able to avenge their opening day loss in Paris with a (62-57) victory.
Hainaut Basket also played with a reduced roster due to the absence of injured Emilie Silbande and the departure of Vera Perostiyska.
Laura Garcia was again on fire scoring 23 points and picking up 12 rebounds. Ashley Houts followed up with 18 points.
Mondeville finish 2012 on a LFB losing streak of five games. The club are likely to sign a couple of players as medical cover for Aminata Konate and Coulibaly.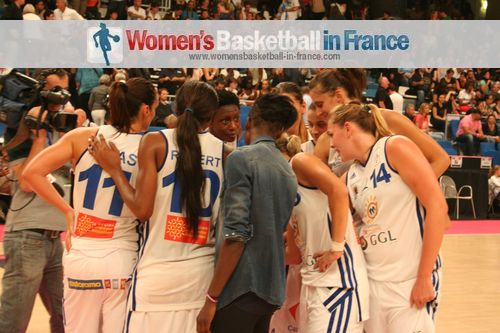 Lattes Montpellier did not give Toulouse much of a chance as they strolled to another victory (72-56). Fatimatou Sacko was the most dominant player in the game with 17 points while Géraldine Robert filled the statistics sheet with 13 points, 10 rebounds and 4 assists.
18-year old Lidija Turcinovic made the most of the seven minutes she got to play by going a perfect 2-of-2 from the field.
This is the fourth straight defeat for Toulouse who are still without captain Darline Nsoki - who was hurt in a car accident a few weeks ago.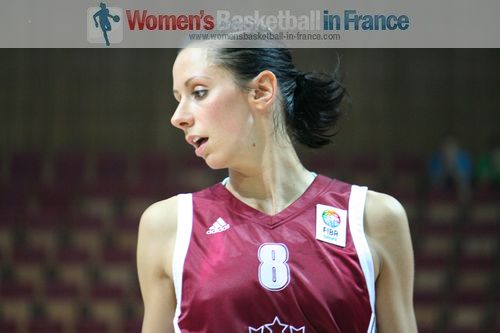 Gunta Baško-Melnbārd (in picture) single-handedly guided Nante-Rezé to victory against Aix-en-Provence (75-70). She scored 24 points, drew 7 fouls, dished out 5 assists and picked up 11 rebounds.
Marielle Amant was also effective with 19 points while Viktoria Mircheva and Isis Arrondo had 10 points each. Sylvie Gruszczynski was the leading player for Aix-en-Provence with 22 points.

This was the first time Emmanuel Coeuret visited Aix-en-Provence since his departure as head coach in October 2011.
Arras find themselves back in the relegation zone after losing at home to Lyon BF (49-55). Sasha Goodlett who is the medical replacement for Astan Dabo (ACL) made her début for Arras and scored 6 points in 11 minutes.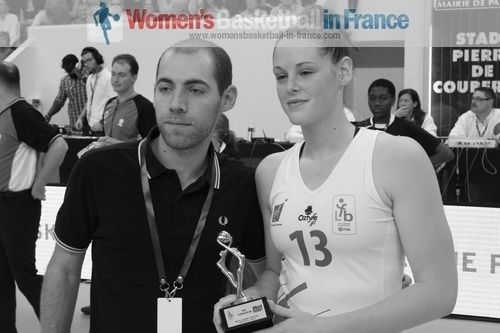 Audrey Sauret was back in action for Lyon after a four-week lay-off, playing for 20 minutes. However the player of the match was Sara Chevaugeon (in picture) who top scored with 19 points.
The remaining two games played were streamed live. Charleville-Mézières were beaten at home by Villeneuve d'Ascq (59-64) in front of the cameras of Ardennes TV.
Emma Meesseman showed why she is considered to be one of the best 1993 born players in Europe. She scored 24 points and pulled down 9 defensive rebounds while Lenae Williams in a perfect night from beyond the arc followed up with 16 points.
Double-doubles by Djéné Diawara (10 rebounds) and Aurélie Bonnan (11 rebounds) with 17 and 14 points respectively were not enough for the hosts to win this time.
You may soon watch the LFB game of the week between Tarbes and Basket Landes Landes below. Tarbes won the match (66-58) with a balanced scoring attack.
Tarbes: Joyce Cousseins-Smith 12, Paoline Salagnac 15 (6 assists), Gabriela Ocete 5, Laurie Datchy 0, Naura El Gargati 2, Jovana Rad 8, Kim Smith 11, Charlotte Preiss 0, Angelica Robinson 13

Basket Landes: Olivia Epoupa 10, Carmen Guzman 12, Tamara Abalde 8, Kamila Stepanova 3, Anaïs Le Gluher-Cano 2, Valériane Ayayi 5, Sabrina Reghaïssia 11, Jennifer Humphrey 7 (11 rebounds)

LFB round 14 results:
Tarbes 66-58 Basket Landes
Mondeville 57-62 Hainaut Basket
Aix-en-Provence 70-75 Nantes Rezé
Charleville-Mézières 59-64 Villeneuve d'Ascq
Arras 49-55 Lyon BF
Toulouse Métropole 56-72 Lattes Montpellier
---
Like this page / Aimez cette page