LFB takes Christmas break with
Tango Bourges Basket leading

With the 2013-14 LFB regular season at half way, five teams have pulled away at the top. At the bottom end of the table the fight to avoid the relegation places is heating up with six teams sharing the last couple of places.

Veuillez trouver des informations en français en bas de la page sur la treizième journée de la ligue féminine de basket 2013-14.
Tango Bourges Basket ended the first part of the season with a comfortable road victory against Nantes Rezé (79-60). Céline Dumerc (in picture above) was unstoppable with 20 points and 7 assists. Paoline Salagnac and Nwal-Endéné Miyem chipped in 14 and 13 points each.
For Nantes Rezé Isis Arrondo had to fill in for the absent Caroline Aubert at the point guard position, while Marielle Amant, Yuliya Andreyeva and Cayla Francis scored 16, 14 and 13 points each.

Lattes-Montpellier finished the first half of the season in second place after coming away with a victory (79-66) on the court of Basket Landes. Fatimatou Sacko (in picture) started the game from the bench. Yet she led Montpellier to victory, hitting 9-from-11 shots from open play and 4-of-5 from the free-throw line for a game high 22 points and 9 rebounds.
Basket Landes find themselves in fifth place, one game behind Lyon BF.
Villeneuve  d'Ascq had a potentially tricky match against Cavigal Nice. But they came away with flying colours (76-60) thanks to a high shooting percentage of 52% compared to 37 from their hosts. Djéné Diawara was the best player for Villeneuve with 15 points and 9 rebounds in her 23 minutes off the bench.
For the Niss'Angels K. B. Sharp and Margaux Galliou-Loko led the way with 19 and 16 points.

Lyon have had their problems this season with salary cap restrictions by the LFB. With all the players back on the roster and healthy, they flew past Charleville-Mézières (75-57) and move into 4th place alone. Lyon went 7-of-15 from beyond the arc with five players in double digits. Amel Bouderra was the game's leading scorer with 19 points in defeat.

Tarbes won the big match at the bottom end of the table against Toulouse Métropole (66-56). The game was not pretty and only came to light during the last ten minutes.
With the teams tied (46-46), it took back to back three-pointers by Joyce Cousseins-Smith (19 points) and 4 points by Alex Montgomery for Tarbes to pull away (56-46) with six minutes to play. Toulouse did not recover and lost for the 10th time this season.

If you talk about Elise Prodhomme (in picture) in Angers, then you think about three-pointers. This weekend she went 5-of-8 from beyond the arc to score 15 points. Lizanne Murphy had an even better percentage with 5-of-6 from three-point land. Murphy also went a perfect 6-of-6 from the free-throw line in finishing the day with 29 points as Angers fired past Arras (91-81).
Emilie Gomis has signed with Hainaut Basket for the rest of the season. However her presence was not required as her new team won on Mondeville's court (63-53). Astou Traore was once again decisive with 21 points and 13 rebounds.
Toulouse Métropole, USO Mondeville and Cavigal Nice all have three wins so far. But they occupy the bottom three places in the LFB regular season table. Angers, Tarbes and Arras are immediately above them with four wins each. This is the closest the relegation battle has ever been since the LFB became a 14-team championship.
Find the league table in the right margin.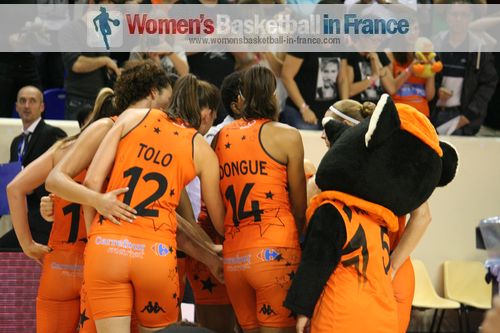 La treizième journée de la LFB
avant la trêve

Tango Bourges Basket se vengent à Nantes Rezé après leur défaite contre les Déferlantes dans la 24ème journée en 2012-13 et est seul en haut du tableau. Lattes-Monpellier et Villeneuve d'Ascq ont aussi du succès à l'extérieur pendant que Lyon BF gagne à domicile. En bas du tableau de classement, Hainaut Basket, Tarbes et Angers enregistrent des précieuses victoires.

C'est à Céline Dumerc de faire danser les Tango Bourges Basket avec 20 points et 6 passes décisives pour aussi terminer en beauté son règne de sportif français. L'adversaire Nantes Rezé, encore sans Caroline Aubert, succombe (60-79). Les efforts de Marielle Amant, Yuliya Andreyeva et Cayla Francis sont en vain.

Lattes-Montpellier clôture le premier part de sa saison dans l'image d'une Fatimatou Sacko en gala (22 points, 9 rebonds) et Gunta Basko (8 points, 5 passes décisives) avec une victoire à Basket Landes (79-66).
Villeneuve d'Ascq domine les rebonds pour battre les Niss'Angels (76-60) avec de belles prestations de Djéné Diawara (15 points, 9 rebonds), Olayinka Sanni (15 points) et Emma Meesseman (6 passes décisives, 2 contres).

Charleville-Mézières perd à Lyon (57-75). Leur problème aux rebonds (seulement 12) leur coûte cher. Pourtant Amel Bouderra (19 points) de l'équipe perdante émerveille avec son adresse à trois points (5 sur 7).
Tarbes gagne seulement dans le dernier quart après que Toulouse Métropole craque complètement. Les Toulousaines ont pourtant creusé un écart important pour finalement succomber (56-66).
36 points au tir à trois points par Elise Prodhomme (15 points), Lizanne Murphy (29 points) et Romana Hejdova (11 points) font la différence pour que Angers s'impose contre Arras (91-81). 
Devant les caméras de la Normandie-TV, Hainaut Basket bat Mondeville (63-53) avec une Astou Traore en bonne forme avec 21 points et 13 rebonds pour aussi sortir pour la première fois de la zone de rélégation.

---
Picture credits:
womensbasketball-in-france.com
Date created: 22 December 2013
Like this page / Aimez cette page