2013 LFB regular seasons champions
Lattes Montpellier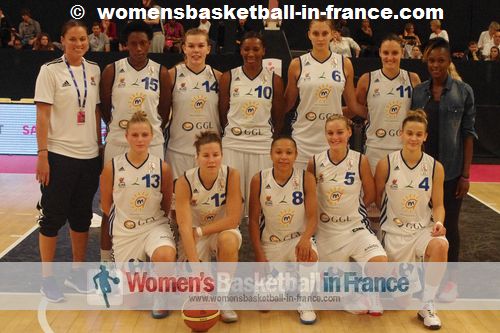 The winners of the 2013 LFB regular season are Lattes Montpellier. They achieved this landmark by beating USO Mondeville (71-62).
Bourges Basket, despite losing for the first time in their history to Nantes-Rezé, are assured a second place finish. However the battle for the remaining two places in the top 4 is wide open with five teams still in the hunt.

Lattes Montpellier completed a wonderful week. They had qualified for the 2013 French Cup final and by seeing off USO Mondeville (71-62) they won their first LFB regular season title.
Fatimatou Sacko with 18 points and 9 rebounds was the pick of players from Montpellier. Captain Gaëlle Skrela chipped in 11 points and 5 rebounds while Emilie Gomis added 10 more points to her season tally. With Virginie Brémont absent, Edwige Lawson-Wade concentrated more on point guard duties and dished out 6 assists.
USO Mondeville are still in danger of relegation.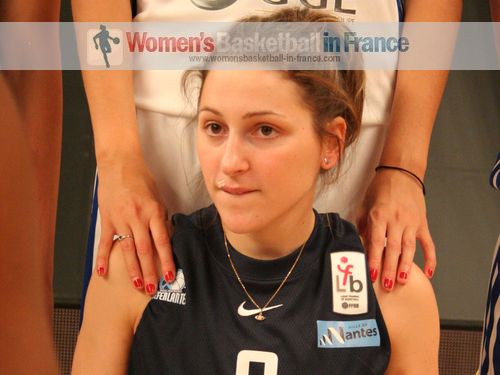 Nantes-Rezé beat Bourges Basket for the first time in the club's history (64-5) and remain in the chase for a top 4 finish. Isis Arrondo (in picture) was the leading scorer for Nantes-Rezé with 16 points.
Bourges Basket's defeat came about with poor three-point shooting (1-of-15) and the fact that they allowed their opponents 15 offensive rebounds.
Bourges remain in second place while Nantes are in 7th place just two points behind the teams in fourth place.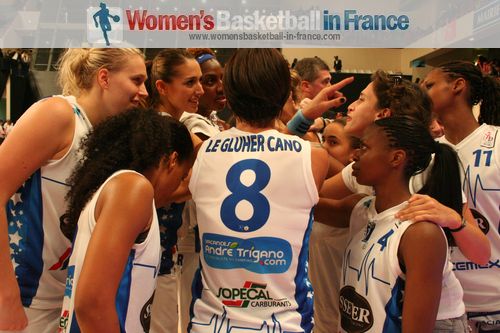 Basket Landes had to battle hard for their victory against Perpignan Basket (76-68). It was a real team effort with all eight players scoring at least 4 points. 
Perpignan who will finish the season without Abby Bishop were in control for the first ten minutes (22-12). But a 0-10 reversal at the start of the second quarter put them on the back foot for the rest of the game.
Diandra Tchatchouang led the scoring for Perpignan with 20 points while Carmen Guzman scored 22 for Basket Landes.

Mistie Mims had her best LFB game of the season with 30 points leading Lyon BF to victory over Hainaut Basket (75-60).
Tarbes were also in impressive form with a comfortable victory against Aix-en-Provence (83-64).
All these results mean that with two games to go, Perpignan, Tarbes and Lyon are tied in third place with 14 wins and 10 defeats. Whereas Basket Landes are next just one game behind.
While all five teams are sure of post-season play, only two of the teams will qualify for the Ligue Féminine de Basketball Championship play-off series.

In the remaining games, Villeneuve d'Ascq beat Toulouse (67-66) with a free throw by Olayinka Sanni in the last second while Charleville-Mézières were crushed at home by Arras (55-77).
Arras need to win their last two games and hope for Charleville or USO Mondeville to keep on losing in order to escape relegation.
Results from round 24
Lattes Montpellier 71-62 USO Mondeville
Basket Landes 76-68 Perpignan Basket
Lyon BF 75-60 Hainaut Basket
Villeneuve d'Ascq 67-66 Toulouse Métropole
Aix-en-Provence 64-83 Tarbes
Charleville-Mézières 57-77 Arras
Nantes Rezé 64-56 Bourges Basket
---
Like this page / Aimez cette page