Basketball news
Lauren Neaves

Last season (2011-12) in our basketball news section we covered the pregnancy news announcements for Elodie Bertal, Geraldine Bertal, Bineta Diouf-Diongue and Pauline Akonga-N'Simbo.
With Bernadette N'Goyisa also missing the season due to pregnancy, this was the first time in the history of the Ligue féminine de basketball that so many players were on maternity leave.
However with  the soap opera at Tarbes, one pregnancy was completed missed from our reports.
Lauren Neaves who was on the roster at Tarbes last season and played in the first nine games averaging 9.3 points was the sixth player in the LFB for the 2011-12 season to have had a baby.
Neaves had missed most of the 2010-11 season after an ACL injury while playing for Aix-en-Provence. When it was reported in December of 2012 she was having problems with her meniscus and had to have a break, it did not come as a surprise.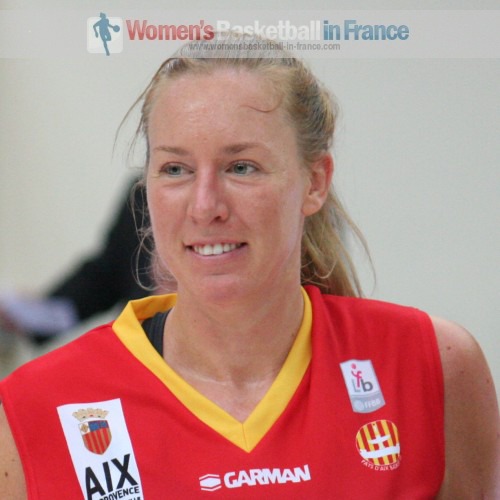 In the basketball news articles at the time, it was not clear on the contract status of Neaves but she did not play for the club again. Later on it was confirmed that Alex Montgomery was signed as her medical replacement.

Neaves had played in 78 games for COB Calais in the seasons from 2007 until 2010 and scored a total of 953 points. In 2010-11, she moved to Aix-en Provence and played in seven games before injury ended her season.
Prior to coming to France she had attended Rice University and played on the basketball team from 2003 until 2007. She scored a total of 1711 points and was credited with 1190 rebounds. She also finished with a school record of 289 blocks.

Since 27 October 2012 she is the mother of a beautiful girl.
---
Like this page / Aimez cette page