LFB basketball news
Un heureux événement pour Géraldine Bertal
The LFB (Ligue Féminine de Basketball) has set a new record with the announcement of a third player on contract ending her season due to pregnancy within a month of the opening day.
Veuillez trouver en bas du page des informations en français sur Géraldine Bertal.
In August it was announced that Bernadette N'Goyisa from Nantes-Rezé would be out for the season as she was expecting her first child.
In September it was the turn of French international Elodie Bertal from Villeneuve d'Ascq to announce her happy event.
With the basketball season in full swing it was then Géraldine Bertal, the senior sister of Elodie to step away from the basketball court.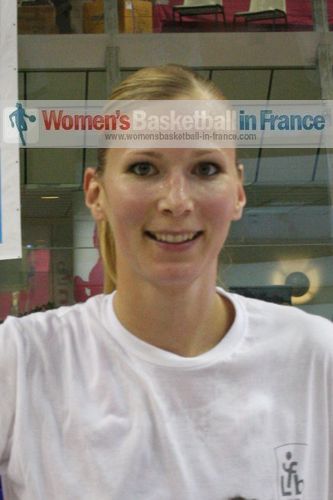 Géraldine Bertal had her first child in December of 2008 and by August of 2009 restarted her basketball career with Lyon BF in NF1.
Bertal's professional basketball career started in 1998 with the Stade Français Versailles (today called L'Entente Le Chesnay Versailles 78 Basket or ELCV 78 Basket). She then moved into the LFB with Lattes Monpellier in 1999.
She also played for Aix-en-Provence (2001-2003) and EV Roubais (2003-2004) in the LFB before leaving to play in Spain with Burgos in 2004-2005.
She returned to France and Montpellier in 2005 and stayed at the club until the end of the 2007 season.
She played briefly in 2008 in Germany with Herner TC before taking time off to have her first child. Bertal had represented France at youth level and was a member of the Aix-en-Provence team that won the first ever EuroCup Women trophy in 2003.
Elodie and Géraldine are the daughters of the former French international Françoise Quiblier-Bertal who played 134 times for France between 1970-1978.
Une fin de saison anticipée
Géraldine Bertal (1,90 m, 31 ans), l'ainée de l'internationale Elodie Bertal suit sa petite soeur pour aussi préparer à un heureux événement. Géraldine Bertal s'est arrêtée à jouer avant la victoire du promu lyonnais à Saint-Amand, le 22 Octobre 2011 (61-52), et elle ne jouera plus de la saison.
Elle commence le basket à l'âge de 12 ans dans la région parisienne, d'où elle est originaire.
Après l'équipe de France Cadettes, elle poursuit sa carrière en Nationale 3 et Nationale 1 et obtient également son bac.
Après un stage avec l'équipe de France A' en 1999, à l'âge de 19 ans elle signe à Montpellier en LFB où elle joue pour deux saisons. Bertal continue en ligue féminine pour deux ans en Aix-en-Provence. C'est à cette période où elle célèbre avec son équipe la Fiba Cup et obtient son BTS en même temps.
En 2003, elle évolue à Roubaix, promu en LFB pour rejoindre une saison après Burgos (1ère division espagnole) avant de revenir pour deux saisons à Montpellier à partir de 2005 en jouant avec sa soeur Elodie Bertal.
Durant cette superbe période elle rencontre son futur fiancé, Dominique Daquin.
Après elle est pige de quelques mois à Herner (1ère division allemande) et tombe enceinte de sa fille.
Après une courte pause d'une saison, elle rejoint en 2009 Lyon BF en NF1 pour mieux accomplir son rôle de maman et basketteuse et voit sa formation être promue en ligue féminine.
Géraldine et Elodie Bertal sont des filles d'ancienne internationale française Françoise Quiblier-Bertal qui a joué 134 four pour la France entre 1970-1978.
---
Go to Ligue Féminine de Basket 2011-2012 page
Leave LFB basketball news - Season 2011-2012 page and return to home page
Return to the top of Ligue Féminine de Basketball page
Picture credits:


womensbasketball-in-france

Date created: 26 October 2011
---