Ligue Féminine de Basketball news, round 5
Lyon win at last
For the fifth round of basketball news from the Ligue Féminine de Basketball we have changed the format of analysis. This page is split into three sections: section 1 in English with analysis and news from the Saturday games; section 2: a summary of the weekend in French.
The third section which is new is the full box scores with all the statistics from the games in the international format and a summary in the French format, the "Fiche technique".
Ligue Féminine de Basketball recap
At the moment Bourges Basket are not reporting basketball news but instead are issuing medical bulletins. Cathy Joens was fit enough to play this weekend and played for 31 minutes scoring 12 points. However the bad news is that
Céline Dumerc
was unable to finish the game against Montpellier after rolling her ankle.
Bourges Basket suffered their second home defeat in the LFB this season (71-72) against Montpellier. Yet the duel between French internationals Edwige Lawson-Wade and Céline Dumerc lived up to its promise.
Cathy Joens marked her return from injury by scoring the first points of the game. But former Bourges Basket player Ana Lelas equalised from the free-throw line and the game was on.
Bourges Basket's direct play enabled them to overcome the disciplined high-press defensive system of Montpellier to edge the first quarter (25-20).
Montpellier put a stop to the Bourges scoring with tallying 11 unanswered points to take hold of the game (31-25) after 15 minutes.
Styliani Kaltsidou finally broke the Bourges' deadlock with a couple of free throws. But it was the guests from Montpellier that went into the locker room leading (35-33).
Bourges lost Dumerc during the third quarter and also allowed Lawson-Wade and Stephany Skrba (in picture) to run riot. The result was Montpellier opening up a 13-point advantage (54-41) with 25 minutes played.
The match became rather technical with the home fans giving the officials a hard time, which appeared to spark Bourges into action.
Kiesha Brown and Marielle Amant reduced the deficit to 6 points going into the final quarter.
Montpellier's poor free-throwing percentage in the last quarter with 5-from-12 almost cost them the LFB match as Bourges came to within 1 point of saving the match.
For Montpellier Skrba led the way with 16 points while Lawson-Wade finished with 15 points, 6 assists and was fouled 8 times. Most of Lawson-Wades' points came from the free-throw line with 12-from-14.
For Bourges Basket Nwal Endéné-Miyem led the scoring with 15 points while Amant and Brown had 11 points each.
Montpellier join Challes-les-Eaux on top of the table and now look forward to a column in the FIBA Europe basketball news of the weekend.
---
Last week Amel Bouderra (left) had said that when Ardennes TV came for their matches they normally won. This weekend Ardennes TV covered the match between Charleville-Mézières and Nantes-Rezé.
Nantes-Rezé dominated the first half and went into the locker room leading (33-27).
But after the break the hosts went on a 14-0 run (40-33) to the delight of the home fans. However Nantes-Reze was able to wrestle the advantage back with 11 points coming from Aminata Diop in her first game for the club. So her side went into the last quarter (46-45).
Nantes-Rezé's inside players continued their dominance inside the paint to stay in front. However Charleville-Mézières' three-point shooting and never-say-die attitude enabled them to sneak back in front in the last three minutes.
The last two minutes were played out on the charity stripes with Amel Bouderra holding her nerve going 3-of-4 to set up the victory (69-66). However there was still time of drama.
With 0.8 seconds to play Bouderra hit her final free throw. As Nantes went to inbound the ball the arena coordinator anticipated the final buzzer and dimmed the lights to signify the end of the match.
A mistake was made and after several minutes the final 0.8 seconds were played. Nantes managed to get the ball to Sarah Michel who fired a "hail Mary" which was not far off.
---
Surprisingly the official basketball news broadcast communiqué did not mention that Saint Amand Hainaut would be showing their match against Lyon BF live.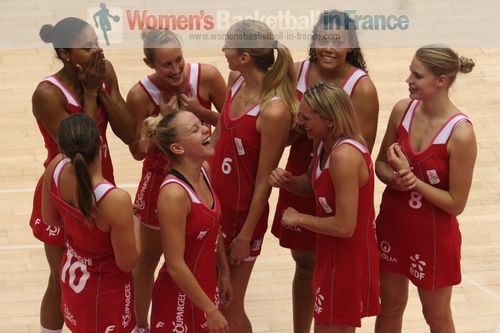 For Lyon BF it was almost a perfect match because they recorded their first ever victory in the Ligue Féminine de Basketball.
For Lyon Leigh Aziz was back and had a good game with 12 points and 8 rebounds. But she spoilt her performance by picking up a technical foul after showing a sign of dissent after a battle for a defensive rebound with two minutes to play.
Her action cost her team 4 points as Hainaut Basket hit the 2 free throws for the original foul and 2 more for the technical.
Mame-Marie Sy-Diop with a double-double of 16 points and 11 rebounds was the match winner while four of her team-mates finished in double digits. For the hosts with the exemption of Petra Stampalija with 25 points and Clémence Beikes with 10 points the team was absent. Playing at home and managing 18-from-31 shots tells the story of the match.
---
Baskeball news: Tarbes' calm was all that counted in the end
Arras lost in overtime (75-76) to Tarbes in what turned out to be the match of the weekend.
Arras had the worst start possible (4-20) after eight minutes. They were not able to reduce the deficit by the end of the first quarter (8-24).
Arras went all out in the second quarter and made up their handicap to lead briefly before going into the locker room trailing (34-35).
The teams traded baskets all the way through the third quarter with Tarbes holding on to the lead at the start of the fourth quarter (51-49).
Tarbes accelerated their play and went 9 points clear with just under eight minutes to play. Yet thanks to a three-ball by Joyce Cousseins-Smith (in picture) who scored 23 points the teams were back on level terms (61-61).
Arras were 10 seconds away from winning the game when Lauren Neaves (21 points) struck from the land of many to tie the game (68-68).
Tarbes' experience saw them through as Arras once again missed the chance to seal their victory.
---
Marion Laborde in the basketball news again
Basket Landes without Katarina Manic were happy for the return of Amélie Pochet as they held off Villeneuve d'Ascq (75-70).
Olayinka Sanni's problems in staying in the game continues as she fouled out once again for Villeneuve d'Ascq. Emilie Gomis, Kathy Wambe were once again on form for the guests from the North.
However 23 points by Marion Laborde and an aggressive Bineta Diouf in money time helped Basket Landes to win their fourth straight game.
Return to the top of basketball news page
Lyon BF célèbre leur première victoire en ligue féminine de basketball
A domicile, Bourges Basket tombe contre Lattes Montpellier après un premier quart plutôt promettant. Mais les Héraultaises dominent le deuxième et troisième quart avec une Edwige Lawson-Wade et Stephany Skrba creusant l'écart.
Bourges presque rattrapent le retard - même sans Céline Dumerc (blessée à la cheville au troisième quart) mais échouent à 1 point (71-72). Les efforts de Nwal Endéné-Miyem sont en vain.
Charleville-Mézières arrache la victoire de Nantes-Rezé à la dernière minute. Quoique les Nantaises dominent dans la raquette avec Diop et Tahane et une Gomis en feu c'est Amel Bouderra qui décide le match avec des aller-retour à ligne des lancers francs (69-66).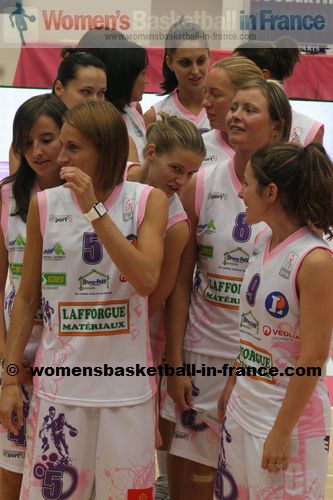 Lyon BF s'impose contre Saint Amand (61-52) creusant l'écart dans la première mi-temps avec 16 points et 12 rebonds de Sy-Diop. Malgré les efforts de Beikes et Stampalija, Saint Amand n'arrive pas à rattraper leurs adversaires avec le reste de l'équipe presque invisible.
Tarbes Gesperre prend l'avantage au prolongation contre Arras avec leur expérience pour gagner (76-75). Le trio bigourdan, Neaves (21pts à 9/11), Salagnac (14pts) et Lepron (8pts, 10rbds, 6pds) joue face au trio d'Arras Cousseins-Smith (23pts à 70%), Akonga-N'Simbo' (19pts, 8rbds) et Marginean (24pts).
Basket Landes gagne quatre fois affilée avec une Marion Leborde s'illustrant avec 23 points contre Villeneuve d'Ascq (75-70) et le retour d'Amélie Pochet pour leur meilleur début de saison en championnat.
Return to the top of basketball news page
Section 3: LFB basketball news box scores
The basketball news and statistics for the following matches can be found by clicking on the link: Aix-en-Provence vs. Challes-les-Eaux and USO Mondeville vs. Nice Cavigcal
The abbreviations used in the basketball news statistical tables are as follows:
MIN: Minutes played, PTS: Points, FG: Field Goals, 3PTS: 3-point Field Goals, FT: Free Throws, OR: Offensive Rebounds, DR: Defensive Rebounds, TR: Total Rebounds, STL: Steals, TO: Turnovers, AST: Assists, BS Blocks, PF: Personal fouls, FO: Fouled ON, ER: E Efficiency rating
Bourges Basklet 71-72 Lattes Montpellier
| Teams | QT1 | QT2 | QT3 | QT4 |
| --- | --- | --- | --- | --- |
| Bourges | 25 (25) | 8 (33) | 19 (52) | 19 (71) |
| Lattes Montpellier | 20 (20) | 15 (35) | 23 (58) | 14 (72) |
Basketball news fiche technique:
BOURGES 26/55 (47.3%) aux tirs, 21/43 (48.8%) à deux points, 5/12 (41.7%) à trois points, 14/21 (66.7%) aux lancers-francs, 30 rebonds (Amant 9), 13 passes décisives (Brown 4),8 interceptions, 5 contres, 21 fautes provoquées, 18 balles perdues, 16 fautes.
Les marqueurs: Amant 11, Brown 11, Digbeu 5, Dumerc 4, Joens 12, Kaltsidou 9, Kublina 4, Lithard 0, Miyem 15, Diallo 0, Galliou-Loko 0
LATTES MONTPELLIER 26/52 (50%) aux tirs,23/48 (47.9%) à deux points, 3/4 (75%) à trois points, 17/24 (70.8%) aux lancers-francs, 26 rebonds (Skrba 5), 11 passes décisives (Lawson-Wade 6), 15 interceptions, 2 contres, 15 fautes provoquées, 18 balles perdues, 21 fautes.
Les marqueurs: Blatrie 2, Bremont 4, Dijon-Gérardin 4, Lawson-Wade 15, Lelas 10, Mann 7, Sacko 6, Skrba 16, Skrela 8
Return to the top of basketball news box score section
Charleville-Mézières 69-66 Nantes-Rezé
| Teams | QT1 | QT2 | QT3 | QT4 |
| --- | --- | --- | --- | --- |
| Charleville-Mézières | 16 (16) | 10 (26) | 19 (45) | 24 (69) |
| Nantes Rezé | 16 (16) | 17 (33) | 13 (46) | 20 (66) |
Basketball news fiche technique :
Evolution du score: 16-16, 10-17 (26-33), 19-13 (45-46), 24-20 (69-66)
CHARLEVILLE-MEZIERES 23/48 (47.9%) aux tirs, 22/37 (59.5%) à deux points, 1/11 (9.1%) à trois points, 22/33 (66.7%) aux lancers-francs 21 rebonds (Diawara 7), 13 passes décisives (Bouderra 4), 4 interceptions, 1 contres, 24 fautes provoquées, 5 balles perdues, 20 fautes.
Les marqueurs: Berezhynska 14, Bouderra 12, Diawara 13, Dimitrakou 11, Dimitrova 4, Pagnier 0, Séné 15, Desprez 0, Dinalle 0, Pelissou 0
NANTES REZE 20/51 (39.2%) aux tirs,16/32 (50%) à deux points, 4/19 (21.1%) à trois points, 22/23 (95.7%) aux lancers-francs, 35 rebonds (Narr Diop 12), 9 passes décisives (Aubert 3), 2 interceptions, 0 contres, 20 fautes provoquées, 11 balles perdues, 24 fautes.
Les marqueurs: Andreyeva 0, Aubert 10, Gomis 18, Michel 2, Narr Diop 15, Palusna 0, Tahane 12, Williams 9, Melois 0
Return to the top of basketball news box score section
Saint Amand Hainaut Basket 52-61 Lyon BF
| Teams | QT1 | QT2 | QT3 | QT4 |
| --- | --- | --- | --- | --- |
| Hainaut Basket | 11 (11) | 10 (21) | 14 (35) | 17 (52) |
| Lyon | 19 (19) | 14 (33) | 9 (42) | 19 (61) |
Basketball news fiche technique:
Evolution du score: 11-19, 10-14 (21-33), 14-9 (35-42), 17-19 (52-61)
HAINAUT BASKET 18/61 (29.5%) aux tirs, 17/49 (34.7%) à deux points, 1/12 (8.3%) à trois points, 15/15 (100%) aux lancers-francs, 29 rebonds (Beikes 9), 11 passes décisives (Beikes 2),12 interceptions, 1 contres, 22 fautes provoquées, 17 balles perdues, 23 fautes.
Les marqueurs: Ayissi 2, Beikes 10, Carter 4, Houts 0, Paul 4, Silbande 0, Solopova 7, Stampalija 25, Albicy 0, Jacotot 0
LYON 23/55 (41.8%) aux tirs, 18/43 (41.9%) à deux points, 5/12 (41.7%) à trois points, 10/19 (52.6%) aux lancers-francs; 43 rebonds (Sy-Diop 11), 12 passes décisives (Sauret 4), 6 interceptions, 2 contres, 23 fautes provoquées, 23 balles perdues, 22 fautes.Les marqueurs: Ardon 12, Aziz 12, Legoupil 10, Ouerghi 0, Sauret 10, Servage 0, Sy-Diop 16, Thomas 1, Arfelis 0
Return to the top of basketball news box score section
Arras 75-76 Tarbes
| Teams | QT1 | QT2 | QT3 | QT4 | OT |
| --- | --- | --- | --- | --- | --- |
| Arras | 8 (8) | 26 (34) | 15 (49) | 19 (68) | 7 (75) |
| Tarbes | 22 (22) | 13 (35) | 16 (51) | 17 (68) | 8 (76) |
Basketball news fiche technique :
Evolution du score: 8-22, 26-13 (34-35), 15-16 (49-51), 19-17 (68-68)
ARRAS 25/65 (38.5%) aux tirs, 21/57 (36.8%) à deux points, 4/8 (50%) à trois points, 21/23 (91.3%) aux lancers-francs, 29 rebonds (Akonga-N'simbo 8), 15 passes décisives (Akonga-N'simbo 4), 8 interceptions, 1 contres, 19 fautes provoquées,12 balles perdues, 19 fautes.
Les marqueurs: AKONGA-N'SIMBO 19, BADE 3, Cousseins-Smith 23, Grishaeva 2, Lucet 4, MARGINEAN 24, MITCHELL 0, Rol 0, TCHANGOUE 0, Konteh 0
TARBES 32/61 (52.5%) aux tirs, 29/48 (60.4%) à deux points, 3/13 (23.1%) à trois points, 9/13 (69.2%) aux lancers-francs, 36 rebonds (Lepron 10), 12 passes décisives (Lepron 6), 5 interceptions, 2 contres, 19 fautes provoquées, 16 balles perdues, 19 fautes.
Les marqueurs: Arrondo 0, CATA-CHITIGA 6, DRLJACA 10, EL GARGATI 10, Guillenteguy 0, LEPRON 8, Mieloszynska 7, Neaves 21, Preiss 0, SALAGNAC
Return to the top of basketball news box score section
Basket Landes 75-70 Villeneuve d'Ascq
| Teams | QT1 | QT2 | QT3 | QT4 |
| --- | --- | --- | --- | --- |
| Basket Landes | 20 (20) | 17 (37) | 20 (57) | 18 (75) |
| Villeneuve d'Ascq | 23 (23) | 19 (42) | 14 (56) | 14 (70) |
Basketball news fiche technique:
Evolution du score: 20-23, 17-19 (37-42), 20-14 (57-56), 18-14 (75-70)
BASKET LANDES 26/58 (44.8%) aux tirs, 22/45 (48.9%) à deux points, 4/13 (30.8%) à trois points, 19/24 (79.2%) aux lancers-francs, 36 rebonds (Humphrey 16), 12 passes décisives (Aubert 3),6 interceptions, 1 contres, 23 fautes provoquées, 15 balles perdues, 14 fautes.
Les marqueurs: AUBERT 7, Barennes 0, DIOUF DIONGUE 10, HUMPHREY 20, LABORDE 23, Lacaule 0, LE GLUHER-CANO 4, Pochet 11, Borde 0, Deyres 0, Dubrasquet 0, Ousfar 0
VILLENEUVE D'ASCQ 29/58 (50%) aux tirs, 23/46 (50%) à deux points, 6/12 (50%) à trois points, 6/9 (66.7%) aux lancers-francs, 22 rebonds (Sanni 9), 14 passes décisives (Gomis 3), 8 interceptions, 1 contres, 14 fautes provoquées, 14 balles perdues, 23 fautes.
Les marqueurs: Bouzenna 0, BREITREINER 2, GOMIS 20, KRAAYEVELD 14, Nayo 2, Palie 2, SANNI 19, WAMBE 11, Datchy 0
Return to the top of basketball news box score section
---
Basketball News: Challes-les-Eaux and USO Mondeville win first games of LFB round 5
Go to Ligue Féminine de Basket 2011-2012 page
Leave Ligue Féminine de Basket - Season 2011-2012 page and return to home page
Return to the top of basketball news page
Basketball news picture credits:


womensbasketball-in-france

Date created: 24 October 2011
---