Arras Basket already changing
their team roster

Arras Basket Féminin have already made a change to their LFB team roster for this season (2012-13) by releasing Katerina Dorogobuzoba and bringing in Radoslava Bachvarova.
Veuillez lire en bas du page des informations en français sur la nouvelle recrue Radoslava Bachvarova pour Arras.

Not a lot of information has been made about the departure of Dorogobuzoba. But it is common in France that players' contracts have an eight-week trial period.
As Dorogobuzoba was not reported injured and was not around for the second game of the season, it was clear that her time was already up, which was confirmed by the coach Thibaut Petit after the game against Basket Landes.

She played for just seven minutes at the Open and unfortunately went 0-of-2 from beyond the arc while committing a couple of fouls.
Arras Basket did not take long to sign a new player although wbbif has no information on the terms of the contract.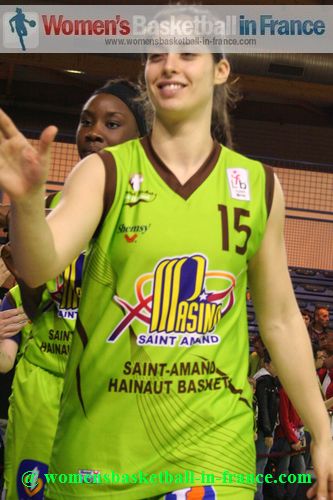 Dorogobuzoba's replacement is Radoslava Bachvarova (in picture), a Bulgarian international, who played at Hainaut Basket in 2011-12 on a medical replacement contract for Clémence Beikes.
She was also injured during her time with Hainaut Basket and then replaced by Aleksandra Vujovic for a while.
Bachvarova eventually returned but had to sit out the second game in the LFB Challenge Round final because Beikes played.

Bachvarova was in action for Bulgaria this summer in the EuroBasket Women 2013 qualifyers. She also participated in the FIBA 3x3 World Championships where she finished second in the Samsung Shoot Out Contest.
Petit commence la deuxième journée
avec un changement

Thibaut Petit annonce après la défaite contre Basket Landes que le contrat de Katerina Dorogobuzoba - n'y ayant pas joué - a été résilié.
La remplacente est l'internationale bulgare, Radoslava Bachvarova (1,83 m) qui a été le joker médical pour Clémence Beikes au Hainaut Basket en 2011-12 en jouant dans 14 matchs en LFB.

Pendant l'été 2012, Bachvarova a joué pour l'équipe nationale senior de Bulgarie en participant dans les matchs qualificatifs d'EuroBasket.
Après elle a représenté la Bulgarie dans le FIBA 3x3 Championnat du monde.
Le coach arrageois espère donc trouver une joueuse déjà en forme pour le championnat en France et pour l'Euroligue.

---
Visit our 2012-2013 Ligue Féminine de Basket section

Visit our home page
Visit our "What's New" page
picture credits:
womensbasketball-in-france.com


Date created: 05 October 2012
Like this page / Aimez cette page