LFB basketball news
Radoslava Bachvarova is the new player for Hainaut Basket
While Clémence Beikes' planned surgery was making the basketball news headlines in Hainaut, the club has signed Radoslava Bachvarova to cover for Beikes on a medical replacement contract, the "joker médical".
Veuillez trouver un résumé en français sur Radoslava Bachvarova en bas du page.
Bachvarova will turn 25 in January and was an active youth international for Bulgaria from 2002 until 2006. From 2007 until 2009 she attended Virginia Commonwealth University in America and was also a member of the basketball team.
She played alongside Quanitra Hollingsworth who besides playing in the WNBA is a regular visitor to Europe. This season she is playing in Hungary for Uni Seat Györ.
After Bachvarova's university career with the Rams she returned back to Bulgaria and played for Dunav Econt Rouse until January 2011.
She finished last season with Levski Sofia and signed for them for 2011-2012. Her statistics in the Bulgarian league this season are impressive with an average of 17.3 points and 4.8 rebounds.
She is expected to join the Hainaut Basket on Monday, 28 November and is expected to make her début for the club in the EuroCup Women campaign against Flying Foxes.
Bénintendi espère avoir trouvé un joker médical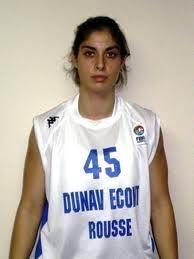 La pigiste Radoslava Bachvarova remplace Clémence Beikes jusqu'à sa convalescence. Avec ses 24 ans (1m80), elle a déjà vécu beaucoup d'exploits en terme de basketball.
Elle a été jeune internationale pour la Bulgarie de 2002 à 2006. De 2007 à 2009 elle a évolué à côté de Quanitra Hollingsworth dans une université américaine (NCAA), Virginia Commonwealth University.
Après ses études supérieures, elle est revenue dans son pays natal où elle a poursuit sa carrière avec les clubs de Dunav et depuis Janvier 2011 elle a évolué avec Levski Sofia.
Ses statistiques de cette saison avec Levski Sofia prouvent que cette ailière est une bonne shooteuse:
17,3 points de moyenne à 50,7 % et 33 % à trois-points, 4,8 rebonds en 35 minutes.
Corinne Bénintendi espère de l'intégrer le plus vite que possible dès son arrivée, lundi, le 28 Novembre, pour qu'elle soit prête pour une victoire en Euro Coupe Women contre les Flying Foxes.
---
Go to Ligue Féminine de Basket 2011-2012 page
Leave LFB basketball news - Season 2011-2012 page and return to home page
Return to the top of Ligue Féminine de Basketball page
Basketball news picture credits:


Bulgarian Basketball Federation

Date created: 25 November 2011
---