Playing basketball in Paris
Tango Bourges Basket make it
10-out-of-10 on day 1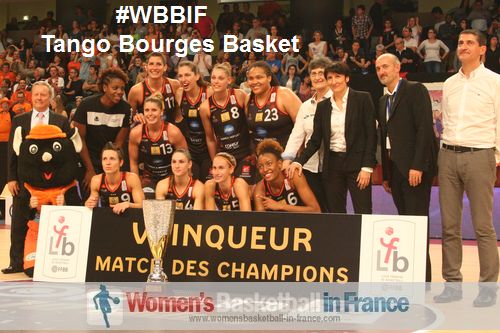 Playing basketball in the Open LFB for the 10th time, the women of the Ligue Féminine de Basketball were back in Paris. This year only six games count towards the LFB standing because a Super Cup match, known in French as the "Match Des Champions" was introduced.
The winners of last season's LFB and the French Cup met in a one-off match with the winner taking away the Super Cup.
Veuillez trouver en bas de page des informations en français sur la première journée de la 10e Open LFB.

With all the games now being live and with extended video highlights available for free views, wbbif gives you her views from the games played from day 1.

Tango Bourgs Basket lifted the first ever Super Cup by beating Lattes Montpellier (77-62), while Héléna Ciak picked up the player-of-the-match award for her 9 points and 9 rebounds.
Bourges Basket scored the first 6 points of the game and were never in any danger of losing.
Lattes Montpelier found the going tough and had nobody who could physically match Danielle Adams.
It was only when Bourges dropped their guard towards the end of the second quarter that Montpellier were able to draw level briefly (35-35).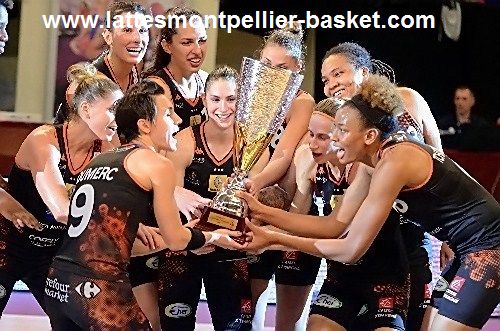 Bourges Basket are already looking like a well oiled machine while Montpellier resemble work in progress.
Mistie Mims who now plays for Montpellier had to wait for 32 minutes to score her first points of the game. By then it was too late. Céline Dumerc and her team mates were already on their way to adding another line to their honour's list. The stade Coubertin has become the second home for Bourges Basket when it comes to playing basketball.

Playing basketball for 40 minutes is all that counts

Something never changes in the Ligue Féminine de Basketball (LFB): If you do not play to your full potential or drop your guard for a moment, you will end up losing.
Lyon BF led by 19 points at the break (45-26) against USO Mondeville but ended up losing the match (78-70). wbbif thinks that the turning point for Mondeville was when Sandra Dijon-Gérardin knocked down a shot from well beyond the arc during the third quarter.
Then the action of Marine Johannes (above in picture) with her three-point shooting and her end-of-third-quarter buzzer beater set Mondeville up for victory. Just watch the video highlight clips to appreciate her finishing skills.
Tarbes opened their 2014-2015 season with a hard fought victory against Hainaut Basket (83-72). Hainaut Basket paid the price for a poor first quarter (12-27). Kalis Loyd was Tarbes' best players with 26 points.
It is safe to say that when Arras are playing basketball this season, one should watch their coach Cécile Piccin who was so active that she talked her way into a technical.
While she pushed from the sideline, Maggie Lucas and Michelle Plouffe with 15 and 14 points respectively, scored at the right moments to hold off Angers in a nail biting finish (66-61).

---
Open LFB - Photo Gallery  Day one
Les joueuses de LFB enflamment Paris ce weekend à
l'Open LFB

Pendant que Bourges Basket gagne son match des champions contre Lattes-Montpellier et célèbre ainsi sa dixième victoire dans le 10e Open LFB, ce sont Arras, Montpellier et Tarbes qui prennent le dessus contre leurs adversaires dans la première journée de ce weekend.

Le premier quart est décisif dans la rencontre entre Hainaut Basket et Tarbes. Les Nordistes souffrent un (12-27) et consécutivement paient pour leur pauvre investissement pendant les dix premières minutes.
Les 26 points de Kalis Loyd (en image) sont précieux dans la victoire pour Tarbes Gesperre (83-72).
Le duel entre Angers et Arras est gagné de justesse par les Arrageoises (66-61). A la fin de la rencontre, ce sont Maggie Lucas et Michelle Plouffe (avec 15 et 14 points respectives) qui assurent que Arras arrache sa première victoire pour une nouvelle saison dans la ligue féminine de basket.
Lyon BF succombe à USO Mondeville (70-78) après avoir mené ce match bien disputé par 19 points (45-26) à la mi-temps. Les tirs primés de Marine Johannes et - à un moment crucial - le trois-point par Sandra Dijon-Gérardin revivent les Mondevillaises pour dépasser les Lyonnaises.
Regardez les résumés filmés et savourez entre outres l'adresse et l'exécution des tirs primés de Johannes.
A l'enjeu, une victoire au match des champions, Bourges Basket joue avec de la discipline et de l'ordre pour défier Lattes-Montpellier (77-62).
Des moments d'inattention des Tangos permet à Montpellier d'égaliser à la mi-temps (35-35). Mais au retour des vestiaires, Céline Dumerc remet les bretelles à son équipe pour dominer cette rencontre.

---
Like this page / Aimez cette page