Tango Bourges Basket
take command of the LFB

Tango Bourges Basket are alone at the top of the LFB after a convincing win against Hainaut Basket (83-39). At the bottom end Angers join three other teams with with just one victory to their name after seven rounds of basketball.

Veuillez trouver des informations en français en bas de la page sur la septième journée de la ligue féminine de basket 2013-14.
Tango Bourges Basket picked themselves up from their EuroLeague Women defeat against Beretta Famila with a blow-out victory against Hainaut Basket. Bourges dominated the second half of the match 47-13 to claim the biggest winning margin of the round with 44 points (83-39).
Cathy Joens led the scoring with 18 points while Nwal-Endéné Miyem chipped in 16 points and had 9 rebounds. Céline Dumerc filled the stat sheet with 12 points, 9 assists and 7 rebounds.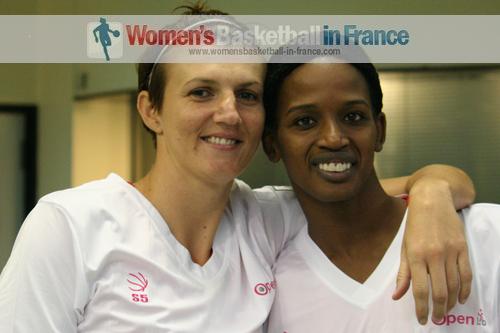 Lyon BF ended the perfect season of Villeneuve d'Ascq (76-58) with a third-quarter run 20-7. Bintou Dieme who played for Villeneuve d'Ascq last season silenced the home fans with her game high 22 points. Mistie Bass was also back to her efficient best hitting 9-of-12 shots from the floor with 20 points.

Villeneuve were hit by turnovers, 24 in total which Lyon converted into  20 points.
Lattes-Montpellier were made to work hard before overcoming Nantes Rezé in the final quarter 17-8 to win the match (80-65). Lattes-Montpellier had five players in double digits.

Nantes Rezé who have not won a league match since the Open LFB in October also have off the court issues with Claire Stievenard having to leave the game with an injury.

Arras beat Charleville-Mézières in a scrappy game (45-44) that neither coach would want to remember for long. Naignouma Coulibaly gave a demonstration in rebounding with 23 for Arras while scoring only 4 points.

While the top seven teams are pulling away at the top of the regular season table, the more interesting battle is at the bottom. Three teams are tied with two wins, while the remaining four teams have just one victory.

Angers ended their negative series to claim their first victory of the season (67-64) against Tarbes. Lizanne Murphy who has been a driving force for Angers knocked down 23 points.
Cavigal Nice put on a complete team display to beat USO Mondeville (66-57) while Basket Landes without Valériane Ayayi (concussion) outscored Toulouse Métropole (67-56).
La septième journée de la LFB :
   De A, Angers à V, Villeneuve d'Ascq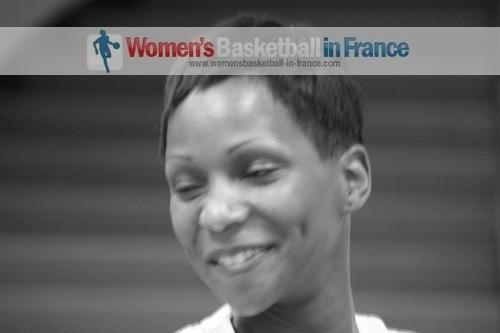 La lanterne rouge, Angers a enfin la satisfaction de gagner un match pendant que Tango Bourges Basket se met seul en haut du tableau, chassée par un pack de trois équipes pendant qu'en bas du tableau il y a Angers, Hainaut, Nantes Rezé et Toulouse avec qu'une victoire à leurs comptes.

Arras, à domicile, prend le match par 1 point contre Charleville-Mézières (45-44) sous l'oeil d'Ardennes TV. C'est sa quatrième victoire dans cette saison. A remarquer sont les 23 rebonds de Naignouma Coulibaly pour Arras et Aurélie Carmona qui gagne le match avec le dernier panier.
La prestation de Lizanne Murphy avec 23 points porte cette fois-ci ses fruits pour Angers qui bat Tarbes (67-64).
Les Tangos reprennent la danse après leur défaite en Euroligue contre les Italiennes de Schio et gagnent facilement contre Hainaut Basket (83-39), emmenées par Cathy Joens (18 points), Nwal-Endéné Miyem (16 points et 9 rebonds) et leur capitaine Caps Dumerc (12 points, 9 passes décisives et 7 rebonds).
Les Niss'Angels prennent le dessus contre USO Mondeville (66-57) pendant que Basket Landes - sans Valériane Ayayi - gagne contre Toulouse Métropole (67-56).

Nantes Rezé se bat, reste coude à coude, mais à la fin laisse échapper une possible victoire dans le dernier quart quand Lattes-Montpellier prend enfin l'avantage pour gagner (80-65).
Les Lyonnaises mettent fin aux sans fautes des Nordistes, Villeneuve d'Ascq. Pendant le troisième quart, avec un 20-7, elles creusent l'écart avec Bintou Dieme (dans l'image) dans une forme excellente (22 points), épaulée par Mistie Bass (20 points).

---
Picture credits:
womensbasketball-in-france.com
Date created: 11 November 2013
Like this page / Aimez cette page