Back to normal in the LFB
for the new season

After the glamour of the Open LFB in Paris it was back to normality in the Ligue Féminine de Basketball with teams playing in their own sports hall.

Veuillez trouver des informations en français en bas de la page sur la deuxième journée de la ligue féminine de basket 2013-14.
Lyon BF hosted Tango Bourges Basket in what was billed as the game of the week. Lyon held their own for 15 minutes leading (27-20).
Bourges then changed gears to finish the quarter with a 16-0 run to walk into the locker room with an 11-point advantage (36-27).
By the time Lyon scored again with two minutes into the third quarter Bourges were already in defensive mode and out of sight.
Bourges, without the injured Jo Leedham, won comfortably (64-52) with Paoline Salagnac leading the way with 15 points, 5 rebounds and 2 assists.

Angers were on top for most of their match against Lattes Montpellier. Yet they ended up losing (62-66). Once again Gaëlle Skrela rescued Montpellier in the closing minutes with assists, points and provoked fouls while Héléna Ciak and Ingrid Tanqueray iced the victory from the free-throw line.

Charleville-Mézières were more aggressive from the tip-off than their hosts Nantes Rezé. They pulled off the surprise of the weekend with a road victory (73-56).
With just 9 turnovers in a controlled performance the Flammes Carolo are looking to end their LFB reputation as bad travellers.

Jacinta Monroe (in picture above) fired in 20 points and picked up 8 rebounds and 3 steals in 24 minutes for Charleville. On the other hand Giedre Paugaite and Amel Bouderra followed up with 17 and 14 points each.
For Nantes Rezé Shamela Hampton scored 17 points.
Tarbes made light work or Arras (90-66) with an amazing shooting percentage of 65%. Jovanna Rad took the match award for best player with her 21 points and 6 assists. Their captain Joyce Cousseins-Smith dished out 9 assists.

The hosts Cavigal Nice missed an opportunity to record a victory against Basket Landes with Anaïs Le Cano-Gluher and Marion Laborde combining for just 5 points (with 2-of-13 althogether).
However their 24 turnovers resulting in 17 points against them proved to be decisive as they lost (54-70). Olivia Epoupa and Valériane Ayayi scored 16 and 19 points from the bench for the visitors.
Hainaut Basket held off Toulouse (69-63) at home on the back of 21 points from Astou Traore, while USO Mondeville lost at home to Villeneuve d'Ascq (56-70).

La deuxième journée de la LFB
se déroule sans complication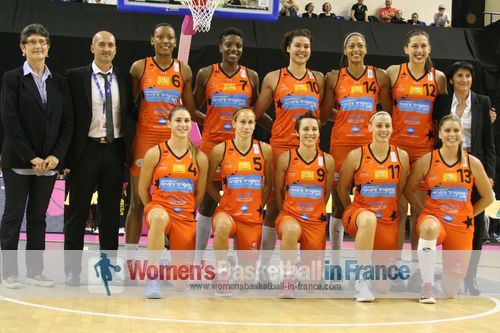 Les Tangos continuent à waltzer pour emporter le match contre Lyon (64-52). Pourtant trainant par 7 points après le premier quart, c'est avec une Paoline Salagnac omniprésente avec 15 points, 5 rebonds et  2 passes décisives, Bourges commence à mener la danse.
Les Tangos passent un 16-0 et après c'est du sens unique utilisant une forte défense.

Jusqu'au quatrième quart, les Angevines auraient presque eu leur première victoire en LFB. Mais grâce aux 19 points, 6 passes décisives et 4 rebonds, Gaelle Skrela porte Montpellier pour donner le coup de grâce à son adversaire pour échapper à leur première défaite (66-62).

Tarbes n'a rien laisser brulé et a dominé Arras avec cinq joueuses contribuant 10 points ou plus dont Jovana Rad à 21 points et 6 passes décisives. Joyce Cousseins-Smith à la mène avait 7 points et 9 passes décisives.
Comme à l'Open, l'américaine de Arras Dawn Evans avec 20 points a pu que constater les dégâts (66-90).

Et pour Charleville-Mézières: Les Flammes Carolo sont en train de aussi conquérir les terrains extérieurs. Enflammées, au troisième quart, elles sont adroites aux tirs à 3 points et brulent les ailes des Nantaises (73-56) avec un presque sans faute aux tirs de Jacinta Monroe.
Union Hainaut, bien dans leurs baskets, gagnent (69-63) contre Toulouse avec des performances impressionnantes de Astou Traore et Pauline Akonga N'Simba.
Logiquement Mondeville perd à domicile contre Villeneuve d'Ascq (56-69).

---
Picture credits:
womensbasketball-in-france.com
Date created: 13 October 2013
Like this page / Aimez cette page