Lattes-Montpellier and Angers
strike in LFB

The LFB Ardennes TV show has become a permanent fixture on the women's basketball scene in France since the promotion of Charleville-Mézières in 2010.

Veuillez trouver des informations en français en bas de la page sur la douzième journée de la ligue féminine de basket 2013-14.
This weekend the fans of women's basketball were given a treat as Charleville-Mézières took on Angers in a match that turned into classic.
It was a fast tempo game with just 6 lead changes but 10 ties. It was really a case of cat and mouse. Both teams handled the ball well with just 13 turnovers between them.
In the end Angers' better free-throw shooting (15-from-20) compared to their hosts (10-from-18) proved to be a big factor.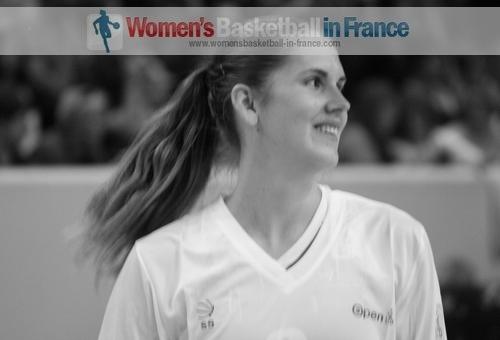 The game went down to the wire. Giedre Paugaite split a pair of free throws to level the score (68-68) with about 12 seconds to play, leaving Angers with the last play.
Angers rushed down the court and in a messy finish Lizanne Murphy got the ball in basket. Although there were still two seconds to play, the coaching staff from Charleville did not call their last time-out with the opportunity for a higher percentage shot being gone.
Angers won (70-68) and Romana Hejdova (in picture) took the LFB player of the match award with 21 points.
In the remaining three games played on Saturday, USO Mondeville lost at home to Nantes-Rezé (86-101). Touty Gandega was on fire for Mondeville with 26 points. But Nantes, back to full strength, had six players in double digits. Marielle Amant led the way with 21 points while Caroline Aubert chipped in 19 points and had 6 assists.
Cyril Sicsic, the coach from Tarbes, has not won games at Union Hainaut. The series continues with a defeat (60-75). For Jimmy Ploegaerts things are starting to look good with his team connecting from 54% of their shots.
Cavigal Nice may struggle at home. Yet on the court of Arras they were in command early in the first quarter to maintain their advantage to win (62-51).
In the first game on Sunday, Géraldine Robert visited her old hunting ground Villeneuve d'Ascq. She hit them with 17 points, 5 steals and 4 assists in leading Lattes-Montpellier to victory (68-52).
The match-up between Lyon BF and Toulouse Métropole went in favour of the guests with a (82-79) win while Tango Bourges Basket made home court advantage count to win against Basket Landes to end their opponent's LFB winning streak.
Marianna Tolo (20 points) had an almost perfect shooting day. She was joined in double digits by Nwal Endéné Miyem (12 points). Carmen Guzman's 23 points for Basket Landes were not enough as her side could not dominate in the paint.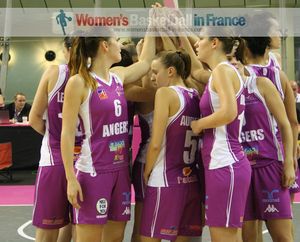 La douzième journée de la LFB
est dédiée aux équipes promues

Angers et Cavigal Nice font de beaux exploits pendant que Lattes-Montpellier s'impose contre Villeneuve d'Ascq.
Entre outre, Lyon BF ne chôme pas pour supprimer son adversaire qui est à ses trousses pendant que Tango Bourges Basket et Union Hainaut gagnent à domicile.
La rencontre entre Angers et Charleville-Mézières se déroule avec beaucoup de suspense et le chassé-croisé se termine avec une défaite pour le hôte Charleville (68-70). Romana Hejdova (21 points) de Angers est la meilleure joueuse de ce match avec 21 points.
Quoique Touty Gandega (26 points) a la main chaude pour USO Mondeville, ce n'est pas assez pour vaincre Nantes-Rezé (86-101). Nantes est emmené par Marielle Amant (21 points) pendant que Caroline Aubert (19 points) contribue aussi 6 passes décisives.
Tarbes souffre une défaite contre leur hôte Union Hainaut (60-75) pendant que l'autre équipe du Nord tombe à domicile contre les Niss'Angels (62-51).
Grace à une bonne prestation de Géraldine Robert (17 points, 5 interceptions, 4 passes décisives), Lattes-Montpellier bat Villeneuve d'Ascq (68-52).

Lyon BF n'arrive pas à creuser un écart important et s'échappe avec justesse (82-79) contre Toulouse Métropole. Emiljia Podrug est en forme (21 points, 18 rebonds, 4 passes décisives) pour Lyon.
Le prado est son terrain de chasse. Tango Bourges Basket, plus adroit au shoot et dans l'image de Marianna Tolo (20 points), gagne la rencontre contre Basket Landes (83-66).
---
Picture credits:
womensbasketball-in-france.com
Date created: 15 December 2013
Like this page / Aimez cette page