Le basket pro
n'a pas de secrets pour
Jimmy Ploegaerts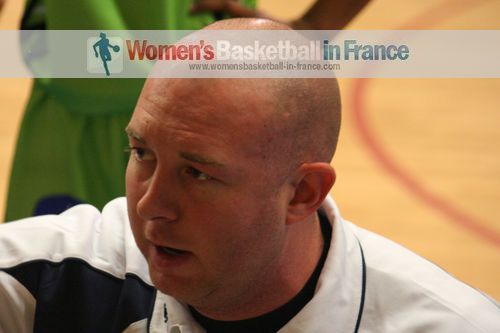 Sa passion, c'est le basket depuis plus que 16 ans, le basket pro féminin et le centre de formation au sein du club Hainaut Basket depuis six ans. Devenir entraîneur des pros de UHB pour la saison 2013-14 lui laisse pousser des ailes.

Click on this link for information in English about the one on one with Jimmy Ploegaerts.

Il vit le basket, il aime entraîner les filles de UHB. Ploegaerts avoue à wbbif ce qui lui a fait devenir coach. Nous allons découvrir sa philosophie sur la gestion d'une équipe pro:
Pas de problème pour Ploegaerts de prendre en main l'équipe 1 en tant qu'entraîneur! Pas de problème de faire jouer les jeunes du centre de formation à côté des pros! Pas de problème de gérer le stress des matchs en LFB! Posé, réfléchi et à l'esprit ouvert, il offre aux fans de UHB une nouvelle dimension du basket pro féminin.

Cette vidéo vous montre son investissement dans le basket féminin.

Jimmy Ploegaerts' art
is pro ball coaching

Jimmy Ploegaerts is among the new generation of coaches that set out to become a professional coach while still in high school. He took up his first training position when he was 13 years old. 16 years later he is the head coach of Union Hainaut Basket in the Ligue Féminine de Basketball (LFB).

Ploegaerts cannot be considered the "new kid on the block" as  he is well known on the coaching circuit in France. Yet this is his first season on the hot seat of head coach.

In the video Ploegaerts explains that he always wanted to be a coach. So he made sure he did his coaching exams while doing an apprenticeship in sport education.
In 2007 when he was employed by Fabrice Courcier in what can only be described as his dream job, he ended his own basketball career (NM2 - Division 2).
He has remained at the club and climbed the ranks. This included three years as head of the basketball academy as well as performing the functions of assistant head coach.
In the second part of the interview he shares his views on his training methods for experienced professionals and the young players from the basketball academy.
(You can follow the interview in English by turning on the youtube caption editor for subtitles.)

---
Basket pro picture credits:
womensbasketball-in-france.com
Date created: 17 October 2013
Like this page / Aimez cette page