Another LFB TV disappointment
for Lattes-Montpellier

The LFB TV game of the week between Lattes-Montpellier and Tango Bourges Basket went to overtime. Whereas Basket Landes, Lyon BF and Villeneuve d'Ascq dominated their opponents.

Veuillez trouver des informations en français en bas de la page sur la onzième journée de la ligue féminine de basket 2013-14.
Lattes-Montpellier hit 10 shots from open play during the first ten minutes to lead Bourges (23-17) at the end of the first quarter. For the remaining 35 minutes, they managed to hit just 12 baskets and ended up losing the game (60-64) despite leading for more than 30 minutes.
This is only the second defeat of the season for Lattes-Montpellier. However like their defeat against Lyon, it was in front of the cameras of LFB TV.
In a hyper-defensive game, Lattes-Montpeller missed the chance of victory with a poor shooting from the free-throw line: they went 14-of-28 while Bourges were almost perfect with 14-of-15.
Despite the efforts of Céline Dumerc (6 assists) and Nwal-Endéné Myiem with 11 points each and free running Jo Ledham (15 points), it was Cathy Joens (in picture) who was the match hero. Although having a quiet game until the 43th minute, it was her who knocked down a long jumper to tie the game for the last time (57-57).
With 30 seconds left to play she then hit a dagger three-pointer (just the second one for her team) for their largest lead of the game (62-57).
Jo Leedham iced the victory with a pair of free throws before Virginie Bremont (11 points) from Montpellier concluded the scoring with a spectacular drive to the basket.

Villeneuve d'Ascq were on fire during the second half of their match, outscoring Hainaut Basket 53-31 to win the match (93-72). Olayinka Sanni finished with 19 points while Johanne Gomis-Halilovic had a double-double of 17 points and 10 assists. Djéné Diawara, Lenae Williams, Elin Eldebrink and Emma Meesseman scored 16, 14, 11 and 10 points respectively.
For Hainaut Basket Pauline Akonga-N'Simba had a game high 29 points while Astou Traore knocked down 20 points.

Basket Landes are flying at the moment and blew away Arras (100-63) with 19 points each by Valériane Ayayi, Anaïs Le Gluher-Cano and Danielle Page.
Tarbes used a 16-point first-quarter cushion to hold off USO Mondeville (72-66) for their third LFB victory of the season. Katelan Redmonn was the leading scorer with 19 points.

Lyon BF, back to a full roster, were too strong for Nantes Rezé (73-47) who were without Caroline Aubert and Sarah Michel. Both players were injured in midweek during their EuroCup Women victory against Villeneuve d'Ascq. Romy Bär led the way with her best performance of the season with 20 points and 5 assists.
Jérôme Fournier and Xavier Noguéra (both in picture), the coaching staff of Toulouse Métropole, had something to smile about with their second consecutive victory. They sneaked past Angers (67-62) with 14 points coming from Kristen Mann. Angers had a poor shooting day, with just 29 percent of their shots hitting the target.
With this defeat Angers drop back to the bottom of the regular season table.

Cavigal Nice fell at home to Charleville-Mézières (51-63). In a match that neither team shot the ball well, it was at the free-throw line that the game was decided. Charleville-Mézières hit 23-from-25 while the Niss Angels were 9-from-12.
Jacinta Monroe had a miserable day despite scoring 10 points. She picked up a technical foul early in the fourth quarter and then with eight minutes to play got herself ejected from the game.

---
Une onzième journée de la LFB
avec beaucoup d'élan

Avec des défaites respectives, Angers et Cavigal Nice sont joints lanternes rouges du classement pendant que Tango Bourges Basket reste calme à la ligne de lancer franc pour nier la victoire à Lattes-Montpellier.
Entre outre, Villeneuve d'Ascq, Lyon BF et Basket Landes dominent leurs adversaires pour confirmer leurs ambitions pendant que Tarbes et Toulouse arrivent à s'imposer.
Quoique c'est Lattes-Montpellier qui a l'avantage pendant une 30ème de minutes, c'est l'adresse au lancer franc de Tango Bourges Basket, et en prolongation la performance de Cathy Joens avec un tir à 2 points pour égaliser et un trois-points pour creuser l'écart pour enfin emporter ce match serré (64-60).
Emmenées par Jo Leedham (dans l'image, 15 points), Céline Dumerc (11 points, 6 passes décisives) et Nwal-Endéné Myiem (11 points), les Berruyères viennent s'imposer contre les co-équipières de Virginie Bremont (11 points).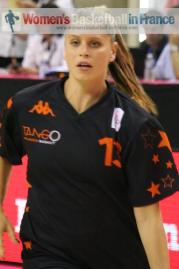 Les 29 points de Akonga-N'Simba et les 20 points de Astou Traore sont en vain pour défendre les couleurs de Hainaut Basket. Ce sont les Nordistes de Villeneuve d'Ascq qui s'imposent facilement (93-72), surtout avec une bonne prestation de 53-31 pendant le deuxième mi-temps.
Les meilleures joueuses de Villeneuve sont Olayinka Sanni (19 points), Johanne Gomis-Halilovic (17 points, 10 passes décisives) suivies par Djéné Diawara, Lenae Williams, Elin Eldebrink et Emma Meesseman avec 16, 14, 11 et 10 points chacune.
Basket Landes fait mouche et bat Arras (100-63), emmené par Valériane Ayayi, Anaïs Le Gluher-Cano et Danielle Page avec 19 points chacune.
Sa victoire contre USO Mondeville (72-66), donne Tarbes son troisième succès dans cette saison en LFB pendant que Lyon BF, avec une belle prestation de Romy Bär (20 points, 5 passes décisives) bat Nantes Rezé (73-47), privé de Caroline Aubert et Sarah Michel, blessées pendant la compétition en EuroCoupe féminine en mi-semaine. 
Aussi Toulouse Métropole peut respirer un peu dans le classement après une deuxième victoire pendant cette saison en gagnant contre Angers (67-62) avec une bonne prestation de Kristen Mann avec 14 points.
Hôte Cavigal Nice succombe à Charleville-Mézières (51-63) dans un match avec une maladresse générale au shoot.

---
Picture credits:
womensbasketball-in-france.com
Date created: 08 December 2013
Like this page / Aimez cette page