The ups and downs of
the LFB in round 10

Tango Bourges Basket suffered their first loss in the LFB this season while Toulouse Métropole and USO Mondeville get important victories.
Veuillez trouver des informations en français en bas de la page sur la dixième journée de la ligue féminine de basket 2013-14.
Under the new name of Tango Bourges Basket, the club suffered its first domestic loss of the season in the Ligue Féminine de Basket (59-64).
At the moment Bourges are not shooting the ball well. With just 38 percent success rate they were going to struggle.
Villeneuve d'Ascq are just as turnover prone as Bourges with 18 turnovers. However they used the 17 turnovers from Bourges to score 24 points while Bourges only scored 13 points themslves.

In fact Bourges dominated all the hustle stats but ended up losing the game on the free-throw line. They finished with 8-from-14 while Villeneuve were a solid 12-from-13.
Céline Dumerc had 10 assists but was just 1-of-11 from open play while Jo Leedham and Cathy Joens scored 13 and 11 points each.
Johanne Gomis-Halilovic (in picture) was the leading player for Villeneuve d'Ascq with 16 points and 3 assists. Djéné Diawara also had a productive evening with 10 points coming from 5-of-7 shooting.
Mondeville were patient and once Lyon ran out of steam in the final quarter (with only five professionals), they hit them 17-2 to win their third match of the season. Lorena Infantes had a great début for Mondeville with 14 points and 4 assists. She missed just one shot all evening.
Toulouse made an interesting tactical change with Antonija Misura not having to worry about ball handling. The result was that she kept out of foul problems while knocking down 17 points in the victory against Cavigal Nice (77-51).
On their home court Arras had no answer for Géraldine Robert and Gaëlle Skrella who combined for 32 points, 10 assists and 5 steals. Montpellier had a total of five players in double digits in their win against Arras (81-60).
Hainaut Basket confirmed that their victory in round 9 against Lyon was not a fluke by beating LFB newcomers Angers (72-60) in the final game on Saturday evening. Pauline Akonga-N'Simba led the way with 19 points.
On Sunday Charleville-Mézières lost at home (84-88) in overtime to Basket Landes. It was a case of double bad luck for the hosts. They appeared to have had the game won in regulation time. But just before the buzzer Danielle Page (18 points) knocked down a three-pointer to  force overtime.

Then in overtime it took a three-pointer by Anaïs Le Gluher-Cano (16 points) with 35 seconds to play to finally break the hosts. She put Basket Landes on the road to victory.

Afterwards Carmen Guzman iced the victory with a split pair from the free-throw line.

For the Carolos Ambrosia Anderson and Jacinta Monroe had 25 and 20 points each while Amel Bouderra had 11 points and 10 assists in defeat.

Kamila Stepanova with 20 points was the top scorer for Basket Landes.
Although Nantes Rezé started the game well, their guests from Tarbes gave them a hard time. But their collective game helped them increase their advantage in the second half to finally beat Tarbes (71-56).
Cayla Françis was leading the scorer for the victors with 16 points while Yuliya Andreyeva and Aurélie Bonnan had 11 points each. For Tarbes Jovana Rad top scored with 17 points.
---
La dixième journée de la LFB
Pas de joie pour les Tango

Perdre à domicile, ça fait mal, surtout en LFB! Tango Bourges Basket est détrôné par Villeneuve d'Ascq. Maintenant ce sont les Nordistes qui se mettent en haut du tableau à côté des Tangos et Lattes Montpellier.
USO Mondeville et Toulouse revisitent le côté des vainqueurs.

Dimanche se clôture la 10ème journée avec des victoires pour Basket Landes et Nantes Rezé.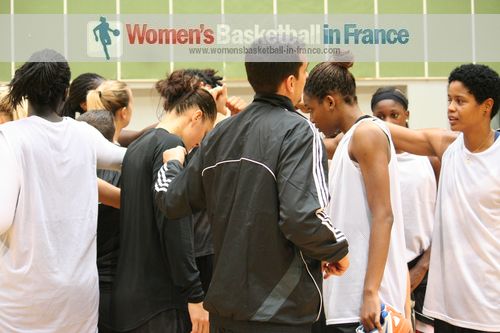 Il n'y a pas une 10ème victoire consécutive en LFB pour les Berruyères. Villeneuve d'Ascq s'impose (64-59) au Prado. Pendant que les deux équipes ont tant de balles perdues, ce sont les Nordistes qui les transforment en plus de points. La maladresse est au menu pour Bourges. Pourtant les Berruyères reviennent au score et même dépassent leur adversaire avec moins de deux minutes à jouer. Mais les Nordistes se reprennent pour emporter cette victoire.

Ce sont Johanne Gomis-Halilovic (16 points, 3 passes décisives), Olayinka Sanni et Djéné Diawara (10 points chacune) qui mènent la danse à Bourges!
La patience se paie. Lyon joue qu'avec cinq professionnelles et quand elles sont épuisées, Mondeville les attaque dans le dernier quart 17-2 pour emporter cette rencontre (70-58). Courtney Hurt (18 points), Lorena Infantes et Hhadydia Minte (14 points chacune) sont les marqueses dans ce match en LFB.
Toulouse gagne contre Cavigal Nice (77-51) avec une Antonija Misura en bonne forme (17 points) pendant que Hainaut Basket renoue aussi avec la victoire s'imposant (72-60) contre Angers. C'est le jour de Pauline Akonga-N'Simba avec 19 points pour sauver l'honneur de son équipe.
Arras perd à domicile (60-81) contre Montpellier, emmené par Géraldine Robert (17 points, 6 passes décisives) et Gaëlle Skrella (15 points, 4 passes décisives).
Le dimanche les locales de Charleville-Mézières semblent d'avoir gagnées leur rencontre contre Basket Landes. Mais c'est Danielle Page (18 points) qui - avec un tir à trois points - égalise le match (78-78) pour forcer une prolongation. Les Flammes Carolo, à nouveau, prennent l'avantage pour finalement perdre par un tir prime par Anaïs Le Gluher-Cano (16 points) à 35 secondes de la fin, suivi par un lancer franc par sa co-équipière Carmen Guzman. Le score final est (88-84).
Finalement, Nantes Rezé s'impose à domicile contre Tarbes Gespe Bigorre (71-56), emmené par Cayla Francis (16 points), Yuliya Andreyeva et Aurélie Bonnan (avec 11 points chacune). Le jeu collectif des Déferlantes fait écarter leur adversaire dans le deuxième mi-temps.
---
Picture credits:
womensbasketball-in-france.com
Date created: 01 December 2013
Like this page / Aimez cette page