Astou Traore sets an LFB high
for the season with 35 points

Tango Bourges Basket continue to dominate the LFB with their 9th victory of the season. However there was drama elsewhere with Lyon BF losing on the buzzer to Hainaut Basket and Angers downing USO Mondeville.

Veuillez trouver des informations en français en bas de la page sur la neufième journée de la ligue féminine de basket 2013-14.
Tango Bourges Basket did not need to get out of second gear in their victory against Arras (76-49). Leading 23-8 at the end of the first quarter, Bourges ended the game as a contest three minutes into the third quarter with an 18-point advantage.
All 10 players scored at least 4 points. Céline Dumerc dished out 9 assists. Jo Leedham (11 points) came away with 5 steals while Nwal-Endéné Miyem led the way with 14 points. 
Dutch international Chatilla Van Grinsven had her best offensive game with 10 points in 13 minutes on the court.
Bourges are the only team in the LFB not to have suffered a domestic loss so far this season.

Lyon BF were once again deprived of Alexia Plagnard and Mélanie Plust due to the club's salary cap issues with the FFBB.
This time their absence was felt as Lyon were beaten at home on the buzzer with a three-pointer by Astou Traore (in picture) who finished with 35 points. She went 15-of-20 from the floor, which included a perfect 4-of-4 from the three-point line. It was a tough loss for Lyon who had led all through the second half until the final shot.
Lattes-Montpellier are now alone in second place after another collective performance in beating Charleville-Mézières (66-52). Géraldine Robert came off the bench and finished with 13 points and 9 rebounds. Charleville-Mézières were without Jacinta Monroe who picked up an injury in their previous game.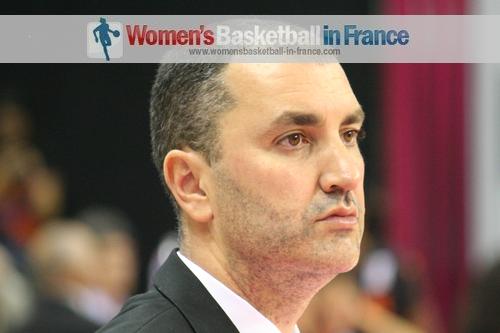 David Girandière (in picture) from Angers finally has something to smile about because for the first time this season his team are not in last position in the regular season table. Angers dominated USO Mondeville from the tip-off and won comfortably (79-61). 
Lizanne Murphy was the top scorer of the game with 14 points. But her team-mate Johanna Cortinovis put on her best offensive performance with 11 points.
Villeneuve d'Ascq did not allow Toulouse to settle wile opening a first-quarter advantage (21-7). Villeneuve pushed their advantage to 36 points before taking their foot off the accelerator (73-51). Antonija Misura who was the top scorer of the match with 15 points was yet again to foul out for Toulouse.
Basket Landes won their south-west derby against Tarbes (75-69). Valériane Ayayi hit 7-from-10 shots in her game high 20 points for the winners. For Tarbes Najet Quardad made her first appearance in France after seven years in America.
Caroline Aubert was yet again the driving force for Nantes Rezé. She scored 22 points and dished out 7 assists to help her team win on the court of Cavigal Nice (75-68).
---
La neuvième journée de la LFB :
   35 points par Astou Traoré

Les Nordistes s'imposent à Lyon - avec une Astou Traoré gagnant le match dans les dernières secondes - et réalisent donc un exploit précieux. Les Tangos, encore une fois, mènent et gagnent confortablement contre Arras. D'ailleurs Tabes subit contre Basket Landes, comme les Toulousaines contre Villeneuve d'Ascq pendant que Mondeville reçoit une raclée par Angers. Nantes Rezé reste confiant et remporte une victoire à Nice. Charleville-Mézières perd contre leur hôte Lattes-Montpellier.

Quand une équipe mène tout au long du deuxième mi-temps et perd dans la dernière seconde, ça fait mal. Astou Traoré (dans l'image) donne le coup de grace avec un tir à trois points pour que Hainaut Basket puisse célébrer une victoire (81-79) contre des Lyonnaises, celles-ci, encore une fois, privées de Mélanie Plust et Alexia Plagnard.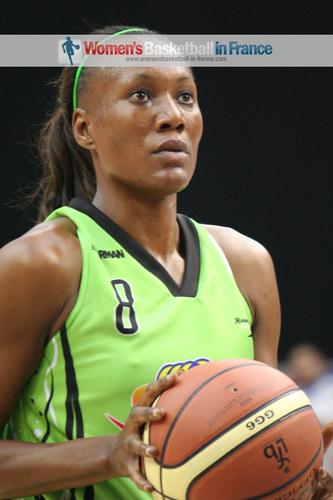 Aussi Angers fait un bon exploit en s'imposant (79-61) contre USO Mondeville. Menant tout au long de la rencontre, les co-équipières de Lizanne Murphy (14 points) et Johanna Cortinovis (11 points) ont fait le plein pendant ce weekend.
Lattes-Montpellier, emmenées par Géraldine Robert (13 points, 9 rebonds) gagne à domicile (66-52) contre les Flammes Carolo.

Et Basket Landes remporte une nouvelle victoire (75-69) avec cinq joueuses contribuant 10 points ou plus: Valériane Ayayi (20), Anaïs Le Gluher-Cano (14), Olivia Epoupa (12), Danielle Page (11) et Kamila Stepanova (10). Tarbes a dorénavant que deux victoires sur leur compte.
Bourges Basket continue leur dance et bat - avec un effort collectif dans l'image de Nwal-Endéné Miyem (14 points) - Arras (76-49).

Avec une Caroline Aubert en forme avec 22 points et 7 passes décisives, Nantes Rezé remporte cette rencontre contre les Niss'Angels (75-68). Et Toulouse subit à nouveau une défaite en LFB, leur 8ème. Leur adversaire Villeneuve d'Ascq les écrase au début du match pour logiquement gagner (73-51).
---
Picture credits:
womensbasketball-in-france.com
Date created: 24 November 2013
Like this page / Aimez cette page