Poinçonnet youth international basketball
2012 Tournoi International Cadettes au Poinçonnet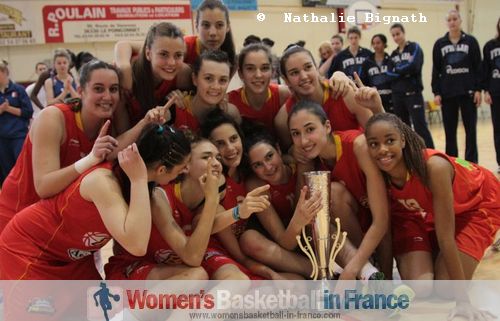 The 10th edition of the youth international basketball tournament in Poinçonnet brings back three teams from the 2011 edition. France, Spain and the Netherlands. They will be joined by the Czech Republic for this three-day round robin competition for the under 16 age group.
This competition is also considered as an official preparation tournament for the U16 European Championship.
Although the organisers are flexible in allowing the teams to travel down with more than 12 players, only a maximum of 12 players can be played per match.
The match timetable is as follows (time given is local time in France):

7 April: 14:00 - Czech Republic vs. Spain; 16:30 France vs. Netherlands
8 April: 15:30 - Spain vs. Netherlands; 18:15 France vs. Czech Republic
9 April: 14:00 - Netherlands vs. Czech Republic; 16:30 France vs. Spain

Spain had won this competition last year and also went on to become the U16 European champions.
This new generation of Spanish players (born in 1996 and later) have already won against France during last summer's U15 partnership tournament.
The Spanish team will be coached by Evaristo Pérez again. His team is made up from the following player: Laia Flores (UE Mataró), Ángela Salvadores (Siglo XXI), Claudia Quevedo (CB Canterbury), Maite Cazorla (Siglo XXI), Elena Capella (CB Almeda), Cristina Molinuevo (Abaroa), Paula Vicente (CDU Ponce), Laura Quevedo (Real Canoe), Laia Clavero (Siglo XXI), Ana Begoña Calvo (Siglo XXI), Itsaso Conde (Abaroa), Helena Orts (Femení Sant Adriá), Nogaye Lo (CTEIB), Carla Romeu (Siglo XXI), Sara Zaragoza (CB Pozuelo), Marta García (Presentación Málaga)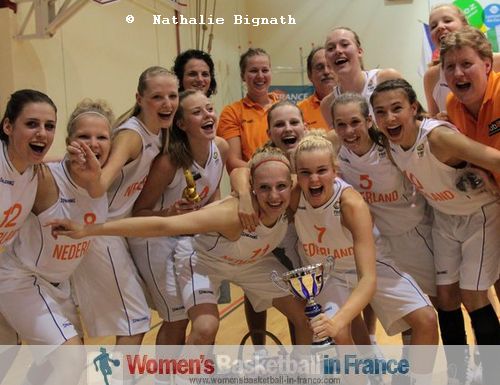 The Netherlands' coach Bart Sengers has selected the following players: Laura Cornelius (CTO Amsterdam), Fenne van der Wielen (Lekdetec.nl Batouwe), Fleur Kuijt (STOL-Grasshoppers), Saskia Berends (STOL-Grasshoppers), Anke Rikhof (Eurosped Twente), Esther Fokke (BV Hoofddorp), Deborah Vos (STOL-Grasshoppers), Emese Hof (UBALL), Charlotte van Kleef (Lekdetec.nl Batouwe), Laura Steggink (Eurosped Twente), Janis Ndiba (Celeritas-Donar), Asa Kantebeen (STOL-Grasshoppers). It is likely that some players from the Netherlands will also play in the U17 World Championship later this year.
Unfortunately at the time of writing this article we do not have an official list of players from the Czech Republic. All we know is that the following players have been called up for training camps: Gabriela Andělová, Sarah Beránková, Lucie Červenková, Michaela Kaňuková, Eva Kopecká, Jolana Krejčová, Klára Křivánková, Aneta Mainclová, Eliška Mircová, Michaela Potočková, Kateřina Prachařová, Julia Reisingerová
The French roster will be made up of players from the first U16 training camp of 2012.
The French players selected from the training camp are as follows: Mathilde Combes (Bourges), Maimouna Ba, Désirée Bakabadio, Carla Blatrie,Camille Cirgue, Katia Clanet, Marylie Limousin, Marie-Michelle Milapie (CFBB), Dégane Balle Bonza (Challes-les-Eaux), Ornella Bankole (Châlon-sur-Saône), Leila Bouderra and Louise Dambach (Illkirch-Graffenstaden), Alix Duchet (Le Coteau), Angelina Turmel (Angers)
Youth basketball international stories from the tournament
08 April 2012: Czech Republic and the Netherlands start well on day 1
09 April 2012: Spain overturn the Netherlands in the best game of day 2
09 April 2012: France regain Poinçonnet title
---
Visit our U16 FIBA Europe youth basketball European Championship history page
Visit our France U16 youth international basketball section
Return to the top of the youth international basketball pagee
---
Youth international basketball picture credits:


Nathalie Bignath

Date created: 6 April 2012
Last Updated: 9 April 2012
---