The U16 international youth basketball tournament in Poinçonnet, France will tip-off on Saturday, 3 April with a match between Belgium and Spain and will end on Monday, 5 April with France taking on Spain.

The full timetable is as follows for the 2010 tournoi International du Poinçonnet:

Saturday: 14:30 Belgium vs. Spain; 17:00 France vs. Poland
Sunday: 14:30 Spain vs. Poland ; 17:00 Belgium vs. France
Monday: 13:00 Belgium vs. Poland; 15:30 France vs. Spain

In France a training camp was held in March and the 12 players selected to represent France are:

Valériane Ayayi, Marième Badiane, Imane Brahmi, Lisa Cloarec, Olivia Epoupa, Aby Gaye, Assitan Kone, Axelle Koundouno, Céline Pfister, Awa Sissoko, Mamignan Toure, Lidija Turcinovic.
The Belgium roster will be made up of 13 players. The two players in bold were on the silver medal winning team at the last European Championship and are candidates to play at the U17 World Championship. The team roster is as follows:


Heleen Adams, Josephine Anseeuw, Hind Ben Abdelkader, Axelle Bernard, Saar Bogaert, Antonia Delaere, Jolien Goyvaerts, Malon Humblet, Camille Lebrun, An-Katrien Nauwelaers, Janne Roggemans, Jille Van Meerbeeck, Nette Van Oeckel.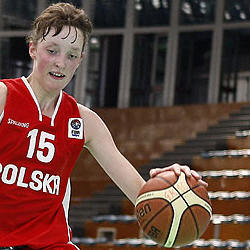 The team from Poland will have seven players who represented Poland at the last U16 Europeans champions:

Beata Jaworska (right), Katarzyna Jaworska, Dominika Miloszewska, Dominika Owczarzak, Karolina Puss, Wioletta Wisniewska, Kinga Wozniak. They are joined by seven more players for this competition:

Julia Adamowicz, Elzbieta Giedrojc, Daria Marciniak, Malwina Rudzka, Maja Rynkiewicz, Monika Skrzecz, Paula Swiatowska, Anita Trzeclak.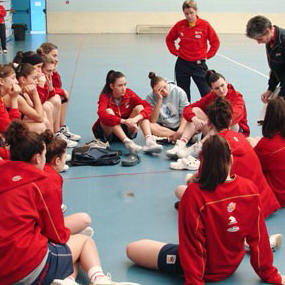 Spain have two members from the U16 2009 European Champions in their roster of 14 players.
Jose I. Hernández who coached the squad to the championship title last season is the new coach for the senior team. So Anna Junyer and Betty Cebrián are the new coaches for this season.
The players are: Elena de Alfredo, Rocío Torcal, Leticia Romero, Gala Mestres, Laura Marín, Marta Pérez, Deborah González, Marta Montoliu, Laura Aliaga, Belén Arrojo, Marles Balart, Ana Carlota Faussurier, Laura Correa, Patricia Soler.
---
Go to French international youth basketball page
Go to Women Playing Basketball In France Home Page
GO Back to the top of youth basketball news
---
Youth basketball picture credits:
womensbasketball-in-france.com
FEB - FEDERACION ESPAñOLA DE BALONCESTO
FIBA Europe

Date created: 02 April 2010
---