Poinçonnet 2011, day 2
youth basketball players suffering in the heat
The first 20 minutes between the Netherlands and
Spain
were typical for youth basketball at this age group.
It was exciting, fast and aggressive with a mixture of great plays and poor execution.
While the neutrals were enjoying the games the two coaches were not happy.
The Netherlands got off to the best start and led (13-4) after five minutes. They then became a little excited and dropped their guard defensively and Spain started to hit their shots.
All the same the Netherlands led (22-19) at the end of the first quarter.
The fireworks continued in the second quarter although both teams dropped their pace.
Belén Arrojo Jiménez from Spain was starting to mark her authority on the game as Spain finished on level terms at the interval (39-39).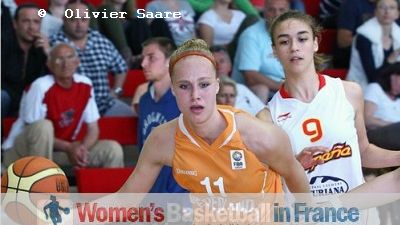 Although Isabella Slim (right), Janine Guyt and Merlin Lammerink combined for 36 points for the Netherlands they were not able to do much during the second half of the game.
Spain stepped up a gear and for a split second they could have been mistaken for the EuroBasket Women team of 2007.
The Netherlands were on the back foot, exhausted and managed just 3 points in the third quarter.
Spain were leading at the beginning of the final quarter (54-42) and then went into overdrive to win the game (79-51).
Arrojo Jiménez led the way with 22 points while Rebecca Navarro and Leticia Romero added 11 and 10 points each.
---
The second match between France and Italy did not provide so much excitement.
The Italians played much better than on day one but they still were unable to match France in the paint.
Despite a high number of turnovers France paced themselves to victory (76-45).
---
Go to the international youth basketball page for France
Go to Women Playing Basketball In France Home Page
Return to the top of page
---
Youth basketball picture credits:
Olivier Saare

Date created: 25 April 2011
---