International youth basketball demonstration
by Spain and France
The purpose for U16 international youth basketball tournaments is for coaches to test the waters before the serious training starts later in the summer.
Although it is far too early to judge how teams will perform later in the summer it is clear that Italy have a lot of work to do.
Spain are nowhere near the finished product but they blew away the Italians (42-9) in the first 20 minutes.
Evaristo Pérez was kind enough to remember that this competition is also a training exercise and allowed the Italians to play during the second half of the game.
Renato Nani, the coach from Italy, was able to execute some offensive actions which gave an interesting finish to a one-sided match.
All the same the final score (88-36) was a much larger margin of victory between these generations of players compared to their last meeting in July of 2010.
Spain: Romero 14, Lizarazu 14, Arrojo 19, Navarro 9, Cotano 2, Pujol 2, Peña 8, Del Santo 2, Mongomo 6, Solé 6, Pérez 2.
Italy: Smaldone 4, Djedjemel 9, Mistò 5, Cassani 2, Marangoni, Mosetti 4, Crudo 0, Zagni 3, Miccoli 0, Nicolodi 0, Ercoli 5, Vanin 4.
France not bothered by Oranje Fever
France were quickly into their stride and led (17-8) with eight minutes played.
The Dutch players had problems getting into the paint and spent their time shooting from beyond the arc with little success.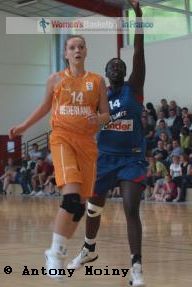 France pushed their advantage into double digits early in the second quarter (21-10) and went into the interval leading (32-18).
The match as a contest came to an end midway through the third quarter with France leading (51-25).
Julien Egloff, the coach from France, decided to turn his bench more often for the remaining 15 minutes.
It was not vintage performance by France with 32 turnovers but with 20 points from Aby Gaye (in picture in blue) defeat was never on the cards.
For the Netherlands Isabella Slim and Janine Guyt with 14 and 10 points were the leading players.
France: Devillers 1, Dinga Mbomi 2, Djalbi Tabdi 8, Elenga 10, Gaye 20, Guapo 5, Héro 0, Irabe 0, Koné 9, Lacaule 4, Mane 2, Morateur 10
The Dutch roster with the points scored:

Fleur Kuijt 4,Laura Cornelius 5, Anke Rikhof 0, Janine Guyt 10, Kinou Kanbier 0, Elske Heerschop 4, Lisanne de Jonge 5, Isabella Slim 14, Britt Zappeij 4, Lanette Kempers 1, Merlin Lammerink 3 (above in picture), Emese Hof 5
---
Go to the international youth basketball page for France
Go to Women Playing Basketball In France Home Page
Return to the top of page
---
Youth basketball picture credits:
Antony Moiny

Date created: 24 April 2011
---