On the second day of the Open LFB Aix-en-Provence' strong comeback was not enough to take away the victory from Nantes Rezé
The second day of the Open LFB started well for Nantes-Rezé and Laurent Buffard (left) as the they left with a victory.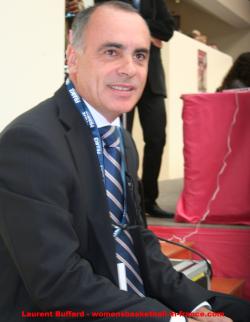 Buffard was quick to point out during the after-match press conference that they were already half way on last season's total of two wins.
You will find some after-match comments from Kathleen MacLeod and Lindsay Taylor who top scored with 23 points from Nantes-Rezé.
Julie Page from Aix-en-Provence also commented on the match and then spoke about her camp with Great Britian's new coach.
---
Lindsay Taylor (below right) made an immediate impact for Nantes-Rezé. She was on the score sheet within 10 seconds as she beat Ivona Matic inside the paint to score and draw the foul. Matic's task was guarding Taylor but she picked up her second foul within the first two minutes.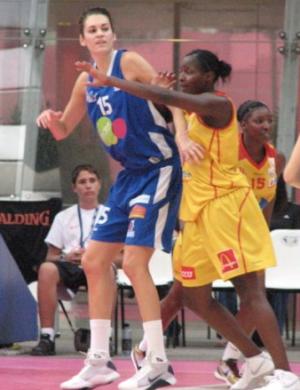 Before leaving for the bench Matic scored the first points for Aix, from beyond the arc.
Taylor was the central point of Nantes' attack as she drew foul after foul. However Nantes were unable to take advantage. The two teams were level (8-8) after Guiday Mendy was left open and fired in trey for Aix with four minutes played.
Laurent Buffard, the coach of Nantes-Rezé, decided to change tactics with Kathleen MacLeod starting to run the plays. Nantes went on to score 9 unanswered points (17-8).
The run was broken by a pair of free-throws from Tiffany Stansbury.
Aix' problems were made worse when Claudia Das Neves picked up her second foul forcing Emmanuel Coeuret to make some changes. Unfortunately Anaïs Déas turned the ball over 3 times so Das Neves was quickly back on the court.
Aix were struggling and Nantes Rezé finished the quarter with three 3-pointers by Yuliya Andreyeva, Camille Aubert and Natalia Bogdanova to lead (30-12) after the first period.
Within 45 seconds of the start of the second period Stansbury picked up 2 quick fouls and had to return to the bench after losing out in the battle against Taylor.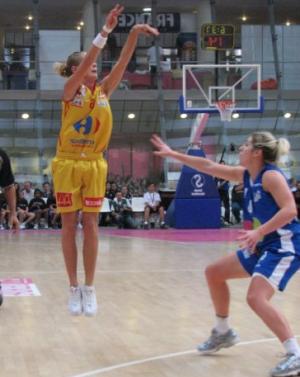 The game lost its shape and both teams made simple plays complicated and missing easy shots.
However Nantes managed to control the pace and with Taylor (13 points), Doriane Tahane (11 points) and MacLeod (11 points), they went into the locker room leading (56-34).
Stansbury was not having any luck despite scoring the first points of the third quarter as she then picked up her 4th foul after another contest with Taylor.
Taylor added a couple more free-throws to her account and Nantes were on their way. Mélanie Plust fired a shot in from beyond the arc and then MacLeod fired one in from down-town (66-36).
The match resembled a training session as both teams exchanged three-pointers. Deas was first for Aix from the top of key when the 24-second buzzer sounded. Andreyeva then responded with a baseline jumper for Nantes (73-39).
Stansbury returned to the game and was back in the battle in the paint and drew a foul. This resulted in trips to the free-throw line. She split the pair.
Nantes continued to stretch their lead with Bogdanova scoring 3 points (76-40).
Nantes, too relaxed, allowed their opponents to score 9 unanswered points at the end of the third quarter (76-49) as Laurent Buffard turned his bench.
Aix had not abdicated and Stansbury scored quickly before fouling out of the game 9:28 to play in the final quarter. Mendy was to follow seconds later with her 5th foul.
The loss of two players did not seem to disturb Aix as they completed an 18-0 run (59-76).
Tahane from Nantes also had to leave the game with 5 fouls. Buffard required a time-out to calm his players down. Although Nantes finally scored, they struggled and were not able to take advantage although the third Aix player Matic was to foul out.
Aix were more aggressive. With the game entering money-time they trailed by just 10 points (73-83) as Déas intercepted a wayward pass and layed up.
Nantes once again failed to get a shot off in 24 seconds and Aix took advantage with Margaux Okou Zouzouo muscling her way to the basket to score.
Aix were then winning all the battles as they contested every ball. However once again Taylor came up strong to win a couple of free-throws (90-77) with a minute left to play.
The rest of the game was played out at the free-throw line with Nantes hanging on to win (90-77).
Open LFB: Game Statistics and play by play
Open LFB: Box Score
Watch the game here: Pays d'Aix 77 - 90 Nantes Rezé
---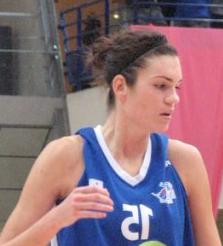 Lindsay Taylor is playing in France for the first time and was very eager for the Open LFB to come around so that the season could start. The training has been tough with two sessions a day as well as a serious of 8 friendly games. She concluded by saying that they needed to work on finishing teams off when they were ahead in the final quarter and not allow them back.
---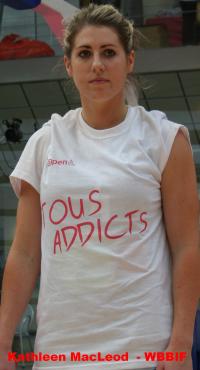 Kathleen MacLeod is the only Australian at the Open LFB this season and she is happy with everything so far.
The most important thing for the weekend was the win, she went on to say that the team played well together and that there was plenty of rotation which she believed was good.
On a personal level she added that she was happy to be in France and Nantes was a nice place, her team-mates were nice, practice was hard and the coach was good.
---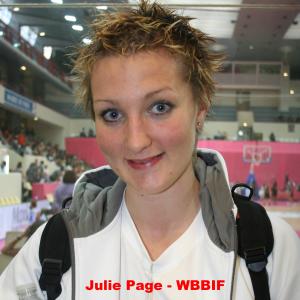 Julie Pages comes from England but since completing her University education in America she had played basketball in Germany and Italy.
Although her first match at the Open LFB did not end the way she would have liked, she was looking forward to the rest of the season. She explained that the French League was very physical which she believed would suit her game.
She liked what she had seen so far and the standard of play was high.
Julie Page missed three months of last season after injuries sustained in a car crash. But she recovered in time to finish the season and attend a 3-week national training camp with Great Britain.
It gave her the opportunity to meet Tom Maher, the new coach and participate in his programme as GB were preparing for next year's EuroBasket qualification.Playing basketball in France
Playing for Great Britain:

---
Return from Open LFB 2009 game report to LFB news
Open LFB 2009 picture credits:
Womensbasketball-in-frannce.com
Date created: 27 September 2009
Like this page / Aimez cette page