Nantes Rezé end LFB misery
Basket Landes are playing well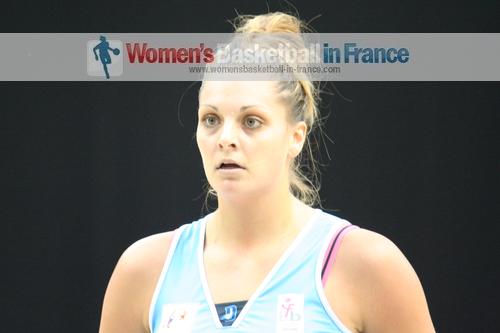 Nantes Rezé and Cayla Francis (in picture) ended their negative LFB series with a victory in the "Pays de la Loire" derby against Angers (84-65). Hainaut Basket were the second team to break a long losing streak with a home win against Cavigal Nice.

Veuillez trouver des informations en français en bas de la page sur la huitième journée de la ligue féminine de basket 2013-14.
Aurélie Bonnan joined Nantes Rezé this week and already her presence has a positive effect on the team. Cayla Francis had her best offensive performance of the season with 22 points while Sarah Michel picked up 7 steals.
Caroline Aubert finished with 10 points and 7 assists while Marielle Amant came up with 10 rebounds and 14 points to help Nantes Rezé beat Angers (84-65).
The game was pretty close during the first 30 minutes with a total of 12 lead changes. Although Nantes Rezé had the edge (55-50), they still had to defend hard.
Lizzie Murphy was in foul problems all day long. Once she picked up her 4th one early in the final quarter, Angers' chances of upsetting the hosts diminished. Iva Sliskovic was the leading scorer for Angers with 16 while Romana Hejdova and Elise Prodhome had 14 points each.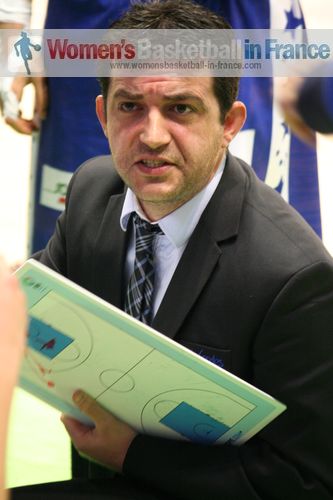 Olivier Lafargue (in picture), the coach from Basket Landes, has a well oiled machine. During the second half of their game against USO Mondeville, he cut off the offensive thread by Courtney Hurst restricting her to just 4 points (after having scored 14 during the first half).
Without Hurst scoring, Mondeville lost touch during the last 15 minutes and were outscored 29-16.
Basket Landes' victory (76-59) was their fifth consecutive win in all competitions. Marion Laborde led the offensive effort with 18 points. Naura El Gargati picked up 9 offensive rebounds in her total of 11 while she also scored 10 points. Olivia Epoupa (6 points) dished out 9 assists.

Hainaut Basket put together their best collective performance of the season to knock off Cavigal Nice (78-58). Astou Traore led four players in double digits with 19 points while Laura Garcia (6 assists) and Pauline Akonga-N'Simba (11 rebounds) had 12 points each. Amanda Jackson completed the quartet with 10 points.
Lyon BF blew Tarbes off their own court (88-59) with all nine players scoring at least 4 points. Lyon connected with 62 percent of their shots and were an impressive 7-of-11 from beyond the arc.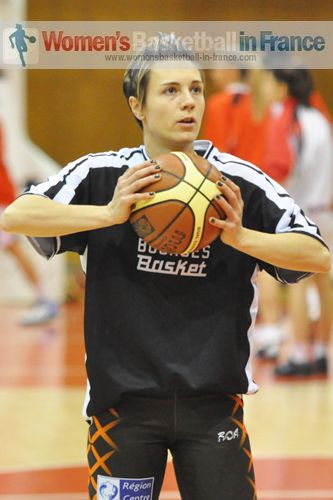 In the derby between Arras and Villeneuve d'Ascq, Anaël Lardy won her contest against Elin Eldebrink (2 points and 4 assists) with 17 points and 7 assists but ended up on the losing team.
Villeneuve d'Ascq won the match (63-59) with another big display by Olayinka Sanni with 18 points and 6 assists.
On the second day of the eighth LFB round, Tango Bourges Basket were made to work to overcome Charleville-Mézières (68-59) with 9 assists coming from Céline Dumerc (in picture).
Whereas Lattes-Montpellier were in front for the whole match against Toulouse Métropole to win (70-53) with eight players scoring 5 points or more.
La huitième journée de la LFB :
   Angers en danger et
Basket Landes explosif

Ce n'est pas seulement une première pour le Pays de la Loire quand la lanterne rouge Angers joue contre les Déferlantes en LFB, mais aussi une première pour cette saison pour Aurélie Bonnan qui renforce dorénavant l'équipe de Nantes Rezé.

Coude à coude les deux équipes se mésurent pendant les 30 premières minutes. Elise Prodhomme (14 points), adroite au tir à trois points, arrive toujours à éviter la casse. Mais la quatrième faute dans le dernier quart de Lizanne Murphy met en danger les ambitions angevines.
Dans l'image d'une bonne prestation collective, Marielle Amant (14 points, 10 rebonds - dans l'image), Sarah Michel (9 points, 3 passes décisives, 7 interceptions) et Claire Stievenard (9 points, 5 rebonds, 2 passes décisives) creusent l'écart pour enfin célébrer avec capitaine Caroline Aubert (10 points, 7 passes décisives) et toute l'équipe une victoire bien méritée (84-65) avec une Cayla Francis (22 points) qui clôture ce match à domicile avec un buzzer.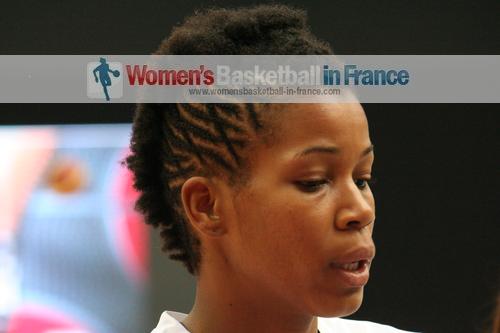 Une autre première est celle de Mondeville, dont leur match en LFB est diffusé en direct avec leur nouveau partenaire Normandie TV.
Malheureusement Basket Landes, leur adversaire, ne se soucit guère de cette publicité et emporte cette rencontre dans la deuxième mi-temps (76-59) grâce à l'effort collectif.
Les meilleures marqueuses de chaque équipe avec 18 points chacune étaient Marion Laborde (Basket Landes) et Courtney Hurst (Mondeville).
Dans le bas du tableau, Hainaut Basket, après cinq défaites consécutives, se remet dans le bain des gagnants (78-58) contre les Niss'Angels avec une bonne performance par Astou Traore (19 points).
Dans le derby du Nord, Villeneuve d'Ascq, emmené par Olayinka Sanni (18 points, 6 passes décisives) gagne contre Arras (63-59).
Les joueuses de Lyon BF, avec une réussite de 62% dans le tir, descendent leur hôte Tarbes (88-59).
Tango Bourges Basket et Lattes Montpellier gagnent leurs matchs respectifs contre Charleville-Mézières (68-53) et Toulouse Métropole 70-53) le dimanche après-midi.
Fatimatou Sacko de Montpellier et Ana Cata Chitiga de Charleville ne chôment pas sous le panier et prennent 11 et 12 rebonds chacune.

---
Picture credits:
womensbasketball-in-france.com
Date created: 17 November 2013
Like this page / Aimez cette page