October ends with three teams
sharing top honours in the LFB
After five rounds of the 2013-14 LFB season, three teams share the lead with a perfect record while Lyon and Montpellier are close behind with just one defeat.

Veuillez trouver des informations en français en bas de la page sur la cinquième journée de la ligue féminine de basket 2013-14.
Tango Bourges Basket were back to full strength with Endéné Miyem and Jo Leedham returning from injury for their contest against Tarbes.
Tarbes were in the game for five minutes and led (10-6). However the remaining 35 minutes belonged to the hosts who cruised to another victory (78-62) with everybody scoring.

Cathy Joens (18 points) and Paoline Salagnac (16 points) were the leading scorers for Tango while Jovana Rad scored 18 points for Tarbes.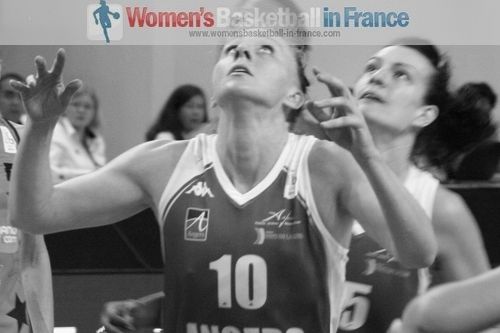 Angers once again gave their opponents a hard time but still came away second best. This time they pushed Villeneuve d'Ascq to the limit with Lizanne Murphy (in picture above) scoring 34 points and dishing out 4 assists. Iva Sliskovic was also on fine form offensively with 18 points.
The outcome of the game was decided in the last 17 seconds with Villeneuve d'Ascq scoring 5-of-6 from the free-throw line to clinch the victory (78-71) and keep their unbeaten record.
Six players from Villeneuve finished in double digits with Lenae Williams and Johanne Gomis-Halilovic leading the way with 15 points each.
Charleville-Mézières have set themselves a new LFB record with five consecutive victories after getting past Toulouse (65-61) in a nail biting finish.
Toulouse had a couple of chances in the last 19 seconds that may have given them the victory. But the ball refused to drop for Antonija Misura. In the end the 25 points from Kristen Mann were in vain.

The American duo of Jacinta Monroe and Ambrosia Anderson were again the top players for the hosts with 16 and 15 points. Yet the 11 points from their captain Yacine Séné proved to be decisive.

Charleville host unbeaten Villeneuve d'Ascq in their next LFB match.
Two teams showed no mercy to their guests: Basket Landes blew away Hainaut Basket (90-50) while Lattes Montpellier ran over USO Mondeville (85-42).
Lyon BF did not need a final-quarter escape this time but just did enough to defeat Cavigal Nice (50-45). Mistie Bass knocked down 16 points for Lyon while Margaux Galliou-Loko (in picture) hit 20 points for the Niss Angels.
It does not matter how hard Nantes-Rezé try. They still cannot win. They lost on the road to Arras (62-66) despite Caroline Aubert dishing out 13 assists and Cayla Francis scoring 18 points.
Arras had four players in double digits while Anaël Lardy dished out 8 assists on her return to the starting line-up.

La cinquième journée de la LFB :
   Pas de changements
pour le haut du tableau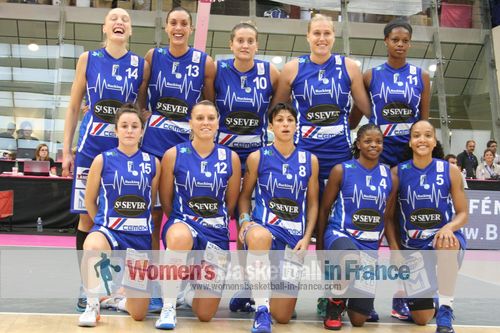 Enfin à nouveau au complet après le retour de Endéné Miyem et Jo Leedham, Tango Bourges Basket continue à dominer ses adversaires.

Tarbes ont peiné contre les Tangos après un bon début du match avec un avantage de 4 points. Mais les co-équipières de Paoline Salagnac (16 points) et Cathy Joens (18 points) ont repris le dessus pour remporter cette rencontre (78-62).
Villeneuve d'Ascq n'ont pas eu un match facile contre les joueuses d'Angers accrochantes, même menacentes pour arracher enfin une victoire. Les dernières 17 secondes étaient décisives avec 5 sur 6 lancers francs pour Villeneuve pour finalement opprimer leurs adversaires (78-71).
Mais elles n'ont pas dit leur dernier mot : Lizanne Murphy d'Angers a montré le chemin avec 34 points et 4 passes décisives, suivie par Iva Sliskovic avec 18 points pendant que Lenae Williams et Johanne Gomis-Halilovic avaient 15 points chacune pour les gagnantes.

Pour Charleville-Mézières c'est un cinquième exploit consécutif depuis leur montée en LFB. Mais elles ont été secouées par les Toulousaines qui rataient leurs derniers tirs pour laisser la victoire aux Flammes Carolo (61-65). Les 25 points de Kristen Mann n'ont pas suffit pour s'emparer des Ardennes.
Basket Landes mène tout au long du match pour facilement remporter la victoire contre Hainaut Basket (90-50) pendant que Lattes Montpellier écrase USO Mondeville (85-42).
Malgré les 20 points de Margaux Galliou-Loko pour les Niss'Angels, Lyon BF domine ses adversaires pour gagner (50-45).
Nantes-Rezé n'a pas de bol! L'équipe avec Caroline Aubert (13 passes décisives)  perd de 4 points contre Arras (62-66). Remarquable aussi avec 8 passes décisives Anaël Lardy qui joint ses co-équipières dans la joie d'une victoire! 
---
Picture credits:
womensbasketball-in-france.com
Date created: 26 October 2013
Like this page / Aimez cette page