3 teams lead the LFB
with perfect records
The top 3 in the LFB confirmed their early season form with wins on the road while newcomers Angers are still waiting for their first victory in the elite.

Veuillez trouver des informations en français en bas de la page sur la quatrième journée de la ligue féminine de basket 2013-14.
Toulouse hosted Tango Bourges Basket in front of a packed house and came away second best (42-67). The match was close for the first 20 minutes with Bourges leading by just 3 points (31-28).
The second half was one way traffic with Bourges outscoring their hosts 36-14. Once again Paoline Salagnac was the leading scorer for Bourges with 17 points.
The other news from the match was the confirmation that Adrijana Knezevic and Chalysa Shegog have been released from their contracts with Toulouse.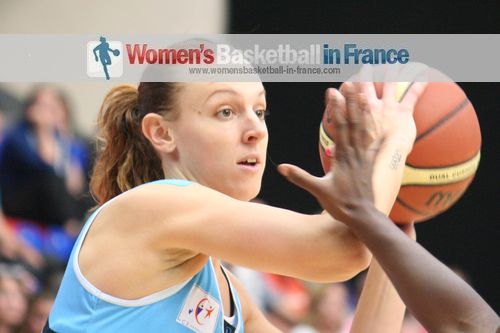 Villeneuve d'Ascq remain unbeaten after picking up another road victory. This time Nantes-Rezé were the victims. Villeneuve led (8-1) after three minutes and stayed in front the rest of the way.
All 10 players got on the score sheet with five in double digits. Olayinka Sanni topscored with 15 while Chantelle Handy (in picture) was the leading scorer for the hosts with 14 points.

Charleville-Mézières have had the best start to a season in LFB with four wins on the trot. Yet as usual when they meet Hainaut Basket, there is plenty of drama.

Leading by 21 points with eight minutes to play the Flammes Carolo shut down and Hainaut came storming back. A three-ball by Pauline Akonga N'Simbo from Hainaut Basket with a minute to play made it a 5-point game.
However Hainaut failed to score during the last 60 seconds leaving the road open for Charleville-Mézières to savour another victory (64-58).
Jacinta Monroe (9 rebounds) and Ambrosia Anderson were the match winners with 18 and 14 points each.

Touty Gandega returned from injury. When she came off the bench, she hit 5-of-6 from the floor scoring 12 points while dishing out 7 assists to help USO Mondeville fire past Arras (89-79). But it was a total team performance with the starting five all reaching double digits. Courtney Hurst led the scoring with 20 points.
Four Arras players knocked down 14 points while yet again Dawn Evans led the scoring with 16 points and 6 assists.
Lyon BF once again pulled off another fourth-quarter escape act to get past Basket Landes (72-67). Bintou Dieme was on fire with 25 points while Mistie Bass poured in 19 points and picked up 9 rebounds.
Valériane Ayayi and Danielle Page both scored 19 points for Basket Landes.
Cavigal Nice were saved at the bell by some ice cold shooting from K. B. Sharp (25 points) and her composure at the free-throw line to get past Angers (73-67).
This defeat leaves Angers as the only team not to have tasted victory in the LFB this season.
Montpellier showed no mercy against Tarbes to run away (76-51).

La quatrième journée de la LFB :
   4 sur 4
pour 3 équipes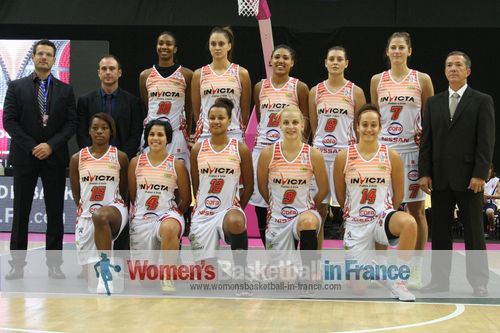 Les victoires s'enchainent pour trois équipes pendant que la nouvelle promue, Angers, se voit à nouveau échapper leur première victoire.

Pour les Tangos, leur danse des championnes continue après avoir démoli les locales de Toulouse dans la deuxième mi-temps pour un score final (67-42) avec une Paoline Salagnac, encore une fois, très performante avec 17 points.
Villeneuve d'Ascq mène tout le match contre Nantes-Rezé pour l'emporter (81-63).

Charleville-Mézières enchaîne les victoires. Après avoir dominé tout le match, Hainaut Basket réduit l'écart dans les dernières minutes pour challenger les Flammes Carolo mais succombe (58-64).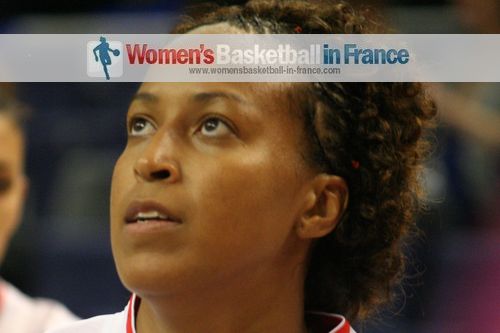 Les Niss'Angels gagnent leur premier match après leur retour en LFB contre Angers (73-67) grace à une K. B. Sharp, adroite dans les shoots à trois points.
Lyon BF arrache une victoire dans le money-time contre Basket Landes (72-67) sur le dos de Bintou Dieme et Mistie Mass avec 25 et 19 points. Il ne faut pas oublier la performance de leurs adversaires, menées par Valériane Ayayi et Danielle Page avec 19 points chacune.

US Mondeville gagne à domicile contre Arras (89-79) dont six joueuses de Mondeville marquent plus que 10 points contre cinq joueuses de Arras.
Tarbes succombe à nouveau, cette fois-ci contre Montpellier (76-51) et doit attendre ce weekend pour rebondir.
---
Picture credits:
womensbasketball-in-france.com
Date created: 23 October 2013
Like this page / Aimez cette page