First LFB victory
for Cavigal Nice in 2014

In real terms nothing has changed this weekend in the LFB: Bourges did not play but remain at the top while Cavigal Nice snapped their eight-game losing streak but are still fixed in last position.
The results of round 20 are to be found after the report for round 21.

Veuillez trouver des informations en français en bas de la page sur la vingt-et-unième journée de la ligue féminine de basket 2013-14.
With five games left in the regular season, Basket Landes and Lyon BF are still battling for the final championship play-off place.
Basket Landes hammered USO Mondeville (27-6) in the first quarter and then paced themselves to victory (77-43) to remain in 4th place.
Once again the team shared the scoring. Five players finished in double digits with Carmen Guzman (5 rebounds) and Danielle Page (9 rebounds) leading the way with 13 points each.

Lyon had to wait until a 29-7 push in the third quarter to finally knock down Tarbes. Alexia Plagnard (in picture) had her best game of the season statistically with 10 points and 3 assists while captain Mistie Bass led all scoring with 18 points.
Tarbes' injury problems continue after January signing Tiffany Stansbury was ruled out for the rest of the regular season. Tarbes need to win at least four of their remaining six games to be sure of avoiding the drop.
For Lattes-Montepellier it did not matter that Geraldine Robert was absent as they blew past Toulouse (81-55). Ingrid Tanqueray missed just one shot in scoring 20 points while Katsiaryna Snytsina was just as impressive with 19 points, coming off the bench.

Villeneuve d'Ascq took the advantage for good after seven minutes of play in their derby match against Arras. Hitting just over 46% of their shots, Villeneuve d'Ascq had no troubles keeping Arras at bay. The margin of victory (73-61) does not reflect the control that Villeneuve had in this game. Emma Meesseman was the pick of the game with 14 points, 4 steals, 4 assists and 8 rebounds.

Win or lose Angers are always exciting to watch. In addition Lizanne Murphy was back in action. Caroline Aubert (15 points) and Sarah Michel (10 points and 4 steals) dished out between them 11 assists, which was equal to the total number of assists by Angers.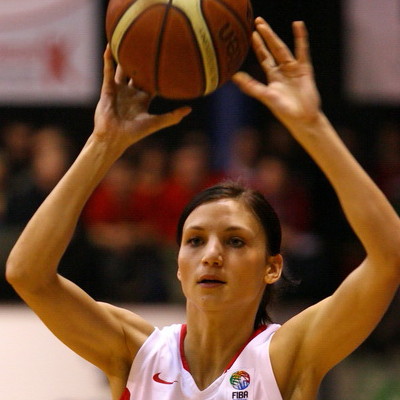 Nantes-Reze's second-quarter 29-11 push was just enough to see them hold on and win (70-64).
Cavigal Nice received the message loud and clear. They need to start winning if they want LFB basketball next season. Between the second and third quarter they outscored Hainaut Basket 46-26. 
Katerina Zohnova, Marie Paget and Margaux Galliou-Loko (4 assists and 3 steals) scored 19, 12 and 10 points each as Cavigal won their fourth LFB game this season (70-60).
---
The results of round 20 are / Les résultats de la 20e journée sont:
Nantes Rezé 68-64 Lattes-Montpellier
Toulouse 62-75 Basket Landes
USO Mondeville 81-57 Cavigal Nice

Tarbes 44-60 Angers
Charleville-Mézières 69-58 Arras

Hainaut Basket 62-68 Tango Bourges Basket

Lyon BF 77-84 Villeneuve d'Ascq

---
La vingt-et-unième journée de la LFB :
Cavigal Nice : toutes pour le maintien

Cavigal Nice montre ses griffes et arrache enfin une quatrième victoire dans sa saison en ligue féminine de basketball, mais reste la lanterne rouge derrière Arras qui perd ce weekend.
Tango Bourges Basket entamera sa rencontre contre Charleville-Mézières le mercredi prochain après avoir joué deux matchs de play-offs en EuroLigue cette semaine.
En haut de tableau suivent derrière les Tangos, Villeneuve d'Ascq, Lattes-Montpellier, Basket Landes et Lyon.
Les résultats de la vingtième journée se trouve en-dessus de ce résumé alors que les résultats de ce weekend sur la marge droite.

Cette journée se résume avec des succès pour les équipes classées dans le haut du tableau contre les équipes dans le bas de tableau.
Après sa défaite contre Nantes Rezé, Lattes-Montpellier renoue avec la victoire aux images de Ingrid Tanqueray (20 points, 4 rebonds, 2 passes décisives) et de Katsiaryna Snytsina (19 points, 7 rebonds), en battant Toulouse Métropole (81-55).
Arras s'incline (61-73) contre Villeneuve d'Ascq et les co-équipières de Emma Meesseman (14 points, 8 rebonds, 4 passes décisives)  pendant que Basket Landes, grace à une bonne performance de Danielle Page (13 points, 9 rebonds), garde son avantage sur Lyon BF en s'imposant contre USO Mondeville (77-43).

Mistie Bass (18 points, 7 rebonds) réalise une bonne partie pour Lyon BF qui se dispose de Tarbes (80-61).
De retour pour Nantes Rezé, Caroline Aubert (15 points, 7 rebonds, 6 passes décisives), épaulée par Marielle Amant (20 points, 8 rebonds) et Sarah Michel (10 points, 6 rebonds, 5 passes décisives) fait l'exploit pour battre Angers (70-64).
Cavigal Nice avec de bonnes performances de Katerina Zohnova (19 points), Marie Paget (12 points) et Margaux Galliou-Loko (10 points, 4 passes décisives, 3 interceptions) bat Hainaut Basket de 10 points (70-60) après avoir pris l'avantage dans le deuxième quart 25-8.
---
Picture credits:
womensbasketball-in-france.com
Date created: 16 March 2014
Like this page / Aimez cette page