Arras and Cavigal Nice must fight harder for LFB survival

The time in the LFB for Marc Silvert ended on 12 February when he was relieved of his duties as head coach of Arras. However Cécile Piccin who has taken the reigns until the end of the season was not able to change anything for her first game in charge.

Veuillez trouver des informations en français en bas de la page sur la dix-huitième journée de la ligue féminine de basket 2013-14.
Arras were walloped by Nantes Rezé (100-49) managing only 14 points during the second half of the match. Yuliya Andreyeva, Caroline Aubert (8 assists, 4 steals) and Cayla Francis all scored 17 points.
Côte d'Ivoire international Kani Kouyaté also made her début for Nantes and contributed 8 points in the victory.
Arras should be looking to snap their 11-game losing streak when they host Toulouse in their next game.

Cavigal Nice remain fixed in last place after suffering another heavy defeat. This time Lyon walked over them (84-65).
Mélanie Plust was the leading scorer for Lyon with 19 points while new signing Milica Dabovic chipped in 5 points and had 4 assists. For the Niss'Angels former Spanish international Anna Montañana was the leading player with 17 points and 5 assists. Despite the victory Lyon remain in fifth place.

Angers did not have Lizanne Murphy this weekend and yet produced the biggest story of the weekend by beating Villeneuve d'Ascq (64-62).
Angers, playing at home, trailed for practically all the match but sneaked by to victory with the last two baskets of the match.
Dutch international Natalie Van Den Adel tied the game with a minute to play. Hardworking Johanna Cortinovis (in picture) picked up the crucial defensive rebound that secured the ball that was to lead to the game winning shot by Iva Sliskovic (16 points).
Toulouse Métropole also recorded an important win as they also move away from the relegation zone. Leading by 13 points going into the final quarter, they just held on to beat Charleville-Mézières by 2 points (61-59). Miranda Ayim and Aby Gaye dominated the paint (area under the basket) and finished with 16 and 14 points respectively in the victory.
Tarbes' injury problems are almost behind them. But they were still not strong enough to tackle a depleted Tango Bourges Bastket team. The defending French champions - led by Australian international Marianna Tolo (17 points) - notched up victory number 17 (67-42).

USO Mondeville held Lattes-Montpellier for the first 20 minutes (31-30). Yet they were to lose their way during the second half of the match. Ingrid Tanqueray went 5-of-6 from behind the arc while dishing out 6 assists and scoring 17 points in leading her team to victory (73-61).
Lattes-Montpellier are in second place in the LFB regular season standings while Villeneuve d'Ascq are one game back in third place.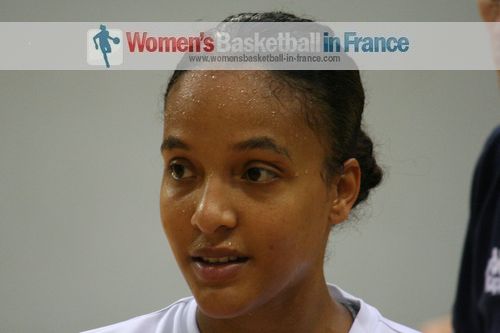 Hainaut Basket were involved in a ding-dong affair with Basket Landes. Pauline Akonga N'Simbo was very active for the hosts with 20 points and 14 rebounds but it was not enough. Basket Landes were able to overcome their opponents (71-68) with a more collective performance. Julie Barennes only played 14 minutes but went a perfect 4-of-4 from the floor to finish with 8 points while her team-mate Carmen Guzman (in picture) led the scoring with 19 points.
La dix-huitième journée de la LFB :
Assurer le maintien, est-ce possible ?

Angers surprend Villeneuve d'Ascq et arrache une victoire précieuse pendant que la lanterne rouge, Cavigal Nice, enregistre une nouvelle défaite et Arras n'a pas de chance avec l'interim coach et perd à nouveau.

Après dix journées sans victoire, Arras ajoute une nouvelle défaite en chutant lourdement par plus de 50 points contre Nantes Rezé (49-100). En avant dernière place dans le classement régulier, le maintien en LFB se rend difficile pour les Nordistes. Après un premier quart difficile, les Déferlantes dominent leurs adversaires, emmenées par Caroline Aubert (17 points, 8 passes décisives), Cayla Francis (17 points) et Sarah Michel (13 points, 7 interceptions, 4 passes décisives).

Même avec cette victoire Lyon BF qui s'impose contre Cavigal Nice (84-65) reste en cinquième place dans la saison régulière en LFB, juste derrière Basket Landes. Cette fois-ci, c'est Mélanie Plust (19 points) qui est en bonne forme. Pour les Niss'Angels c'est Anna Montañana (17 points, 5 passes décisives) qui fait une belle partie.
Villeneuve d'Ascq tombe à la troisième place après leur défaite surprenante contre le promu d'Angers (62-64). C'est grace à Natalie Van Den Adel qui égalise et à Johanna Cortinovis qui prend le dernier rebond et à Iva Sliskovic (16 points) qui met le dernier panier que les Angevines gagnent.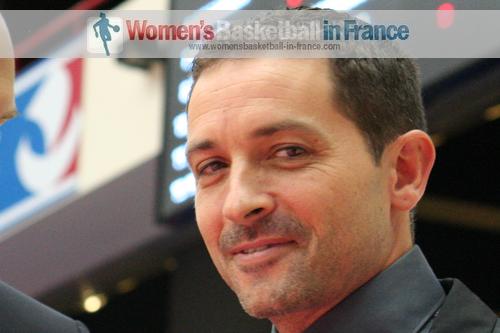 Le coach de Toulouse Jérome Fournier (dans l'image) est content après avoir battu de peu Charleville-Mézières (61-59). Miranda Ayim (16 points, 6 rebonds, 2 contres) et Aby Gaye (14 points, 9 rebonds) dominent la raquette pour les Toulousaines.
Pourtant avec un effectif diminué, Tango Bourges Basket, le leader avec 17 victoires sur 18, gagne facilement à l'extérieur contre Tarbes (67-42) avec une belle prestation de Marianna Tolo (17 points).
Emmené par Ingrid Tanqueray (17 points avec 5 sur 6 paniers primes, 6 passes décisives), Lattes-Montpellier s'impose contre Mondeville (73-61) et est actuellement seul deuxième au classement.
Les 20 points et 14 rebonds par Pauline Akonga Nsimbo ne sont pas suffisants pour que Hainaut Basket fait chuter Basket Landes (68-71). Meilleure marqueuse pour les Landaises est Carmen Guzman avec 19 points.

---
Picture credits:
womensbasketball-in-france.com
Date created: 25 February 2014
Like this page / Aimez cette page