Basket Landes move into 4th place
Arras & Nice in LFB drop zone

Arras and Cavigal Nice are the big losers in LFB round 17 while Basket Landes move into the top 4 after blowing away Lyon BF. Elsewhere Angers, Charleville-Mézières and USO Mondeville pick up important victories in their quest for survival in the elite division for next season.

Veuillez trouver des informations en français en bas de la page sur la dix-septième journée de la ligue féminine de basket 2013-14.
Arras' losing streak continues with a home loss to USO Mondeville (69-76). This was their 10th straight defeat despite the gigantic effort of Naignouma Coulibaly who missed just 1 shot and 3 free throws in compiling 28 points, 17 rebounds, 2 blocks and 2 steals.
Mondeville were more collective offensively with all 10 players getting on the score sheet. Courtney Hurst and Julie Vanloo were the only players in double digits for the victors with 18 and 16 points respectively. USO Mondeville have the series advantage over Arras in case of the teams finishing level at the end of the LFB regular season.
The same procedure as last week in the LFB for the leaders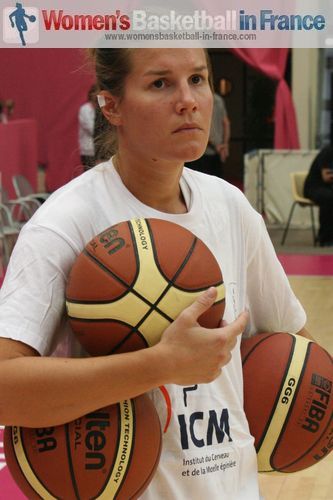 Bourges Basket were without three of their foreign players this weekend. But they were still too strong for their opponents Toulouse Métropole (71-37). 
Lattes-Montpellier were also in crushing form against injury hit Tarbes (86-59).
Gaëlle Skrela (in picture) was at her best with 22 points and 5 assists while Virginie Brémont put up another solid performance for Montpellier with 19 points.

Villeneuve d'Ascq's love for drama continues with them holding off Nantes Rezé (76-70). Six Villeneuve players shared 22 assists.
Bourges Basket, Lattes Montpellier and Villeneuve d'Ascq continue to occupy the first three positions in the LFB regular season standings.
Basket Landes' challenge for the title took a big step in the right direction with a comfortable victory against Lyon BF (89-66). The game remained close during the first 20 minutes. But after the break Basket Landes stepped up a gear at both ends of the court, restricting their guests to just 28 points. With this win Basket Landes move into 4th position alone. Mistie Bass was yet again the leading scorer for Lyon with 22 points while Mame-Marie Sy-Diop's medical cover replacement Marina Markovic played in her first game. After this weekend Lyon find themselves in fifth place.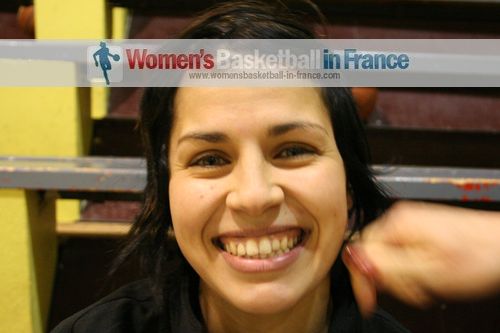 Charleville-Mézières were involved in another classic, a close encounter against rivals Hainaut Basket (83-72). Amel Bouderra (in picture) missed just two shots while scoring 22 points and dishing out 6 assists in the victory. Jacinta Monroe also had her best match since the Christmas break with 24 points.
For Hainaut Basket Emilie Gomis stepped up with 20 points while Astou Traore continues her march towards the foreign LFB player of the year award with 24 points and 11 rebounds.
Angers avenged their home defeat against Cavigal Nice from round 4 with a comfortable victory (74-55). Croatia international Iva Sliskovic put on another strong display with 23 points and 4 steals for the winners, who take a two-game advantage over Nice.
With just nine games remaining in the LFB regular season Cavigal Nice must start winning soon otherwise they will be on their way back to LF2.

La seizième journée de la LFB :
Arras et Cavigal Nice en danger

Basket Landes joint le top 4 pendant que Angers et USO Mondeville remportent des victoires importantes pour le maintien dans cette ligue.

Tango Bourges Basket gagne facilement, même avec un effectif réduit, contre Toulouse Métropole (71-37).
Avec des belles prestations de Gaëlle Skrela (22 points, 5 passes) et Virginie Brémont (19 points), Lattes-Montpellier a aussi un jeu facile (86-59) contre Tarbes, handicapé par des blessures.
Villeneuve d'Ascq s'échappe de peu d'une défaite contre Nantes Rezé (76-70) avec six joueuses de Villeneuve contribuant à la victoire 22 passes décisives.
Ce sont alors Bourges Basket, Lattes-Montpellier et Villeneuve d'Ascq qui sont dans le top 3 suivi par Basket Landes qui continue à s'éloigner du milieu du tableau. Les Landaises s'imposent contre Lyon BF (89-66) dont la défaite relègue les Lyonnaises à la cinquième place dans le classement.
Arras perd pour la dixième fois consécutive. C'est à USO Mondeville à les battre (69-76) malgré les efforts énormes de Naignouma Coulibaly (28 points, 17 rebonds, 2 contres et 2 interceptions).
Pour Mondeville c'est grace au jeu collectif et toutes les joueuses, emmenées par Courtney Hurst (18 points) et Julie Vanloo (16 points), marquant des points.
Ce sont Amel Bouderra (22 points, 6 passes décisives) et Jacinta Monroe qui mènent Charleville-Mézières à une victoire contre Hainaut Basket (83-72). Pour Hainaut Astou Traoré (24 points, 11 rebonds) et Emilie Gomis (20 points) font tout pour contrer leurs adversaires.

Iva Sliskovic est présente marquant 23 points (4 interceptions) pour que Angers réclame une victoire à Cavigal Nice après avoir été battu en match aller de la journée 4. 
Dans la saison régulière en LFB, il reste neuf matchs à disputer. Si les Niss'Angels ne veulent pas être reléguées, elles doivent monter les bretelles et gagner quelques rencontres.
---
Picture credits:
womensbasketball-in-france.com
Date created: 10 February 2014
Like this page / Aimez cette page