Four live LFB games on television
give women's basketball a boost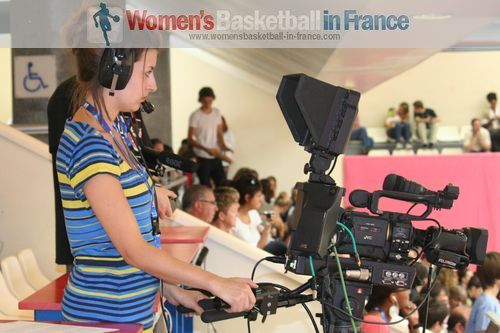 Outside of the Open LFB this weekend was the first time in the history of this championship that four games were shown live by TV platforms. In addition two other games were broadcast over the radio.

Veuillez trouver des informations en français en bas de la page sur la quartorzième journée de la ligue féminine de basket 2013-14.
In the only game that was not broadcast Lyon BF completed the double over Arras (87-61).
During the first ten minutes Lyon struggled to make home court advantage work. They just edged the first quarter (25-21) despite 7 lead changes and 5 ties.
Arras failed to draw level again for the rest of the match. They were punished with their 23 turnovers being converted into 23 points. German international Romy Bär led the way to victory on a perfect shooting day from the floor and the free-throw line in her game high 19 points. She also picked up a couple of assists and 3 steals.
Bourges Basket were pushed hard for the first 20 minutes by their hosts Angers. They led by just 5 points at the break (40-35). The first five minutes after half time turned out to be fatal for the hosts as they allowed their guests to open up a double-digit lead (52-39).
Playing in front of a record crowd (3000 people) Angers tried hard to come back into the game. However Bourges on the back of 20 points by Diandra Tchatchouang were too strong and ended up winning comfortably (76-55).

Villeneuve d'Ascq pulled out the big victory of the 14th round of the LFB by winning on the road against Basket Landes (74-65). Elin Eldebrink was the leading figure in the victory with 11 points, 6 assists, 3 steals and 10 rebounds.
Basket Landes ended up being the biggest losers of the weekend as they are momentarily two games down on the team in 4th place.
The injury lists for Lattes-Montpellier and Cavigal Nice seem to be getting longer and longer as the season continues. Lattes-Montpellier never trailed in the encounter despite not being able to bring out their A team.
However with four players in double digits they always had the edge in the (67-57) victory. Montpellier remain in second place while Cavigal Nice stay in the relegation zone.
Tarbes needed overtime to win (79-75) and Sabrina Reghaïssia (25 points) on fire to hold off the challenge of Charleville-Mézières.
Amel Bouderra who had 22 points, 10 assists and 5 steals in defeat fouled out with three seconds to play in regulation time. Her absence was felt during the extra quarter.

Just like at the Open LFB, Nantes-Rezé had to wait until the second half of the game before blowing away Hainaut Basket (83-59). Cayla Francis helped herself to 21 points while evergreen Caroline Aubert chipped in 18 points and had 5 assists. Pauline Akonga N'Simba had 22 points for Hainaut Basket.
Toulouse were the only team that had lost on the opening day of the 2014 season to reverse their defeat by beating USO Mondeville (63-53). While Courtney Hurst helped herself to 20 points for the hosts, it was Kristen Mann (18 points) and Shone Thorburn (11 points) from Toulouse who left the game smiling.
With this defeat USO Mondeville drop to last place in the LFB regular season standings.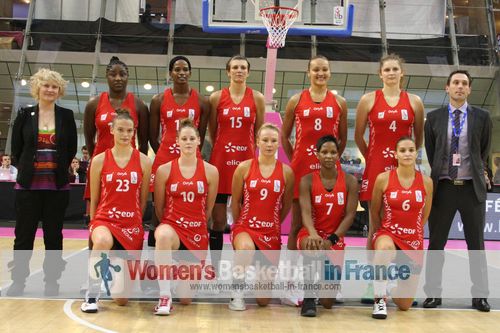 La quartorzième journée de la LFB :
le top 4 s'éloigne

Pendant que Tango Bourges Basket, suivi par Lattes-Montpellier, Villeneuve d'Ascq et Lyon gagnent en haut du tableau, c'est Mondeville qui est la lanterne rouge après une nouvelle défaite.
Dans le bas du tableau, Tarbes et Toulouse enregistrent des victoires pour s'éloigner de la zone de rélégation.

La bonne prestation de Diandra Tchatchouang (20 points) pour Tango Bourges Basket, épaulée par Nwal Endéné Myem (19 points) et Céline Dumerc (18 points), est à l'image des Berruyères qui - après une première mi-temps dont Angers s'accroche trainant qu'avec 5 points (35-40) - reprennent les regnes pour creuser l'écart et pour finallement gagner (76-55) contre leurs hôtes.
Même avec un effectif dimuni, Lattes-Montpellier parvient à s'imposer contre les Niss'Angels (67-57) avec une Géraldine Robert (19 points) et une Fatimatou Sacko (17 points) en forme.

Les 23 points de Carmen Guzman sont en vain pour les Landaises qui subissent une lourde défaite contre Villeneuve d'Ascq (74-65) dont la performance de Elin Eldebrink (11 points, 6 passes décisives, 3 interceptions, 10 rebonds) est impressionante.
Basket Landes est actuellement en cinquième place du classement, mais a déja deux défaites de plus que le quatrième du tableau, Lyon.
Lyon BF gagne à domicile avec une parfaite Romy Bär avec 19 points contre Arras (87-61) dont ses 23 balles perdues coutent chères.

Tout va pour de mieux pour Nantes Rezé. Caroline Aubert (18 points, 5 passes décisives) et Cayla Francis (22 points) font du dégat contre les co-équipieres de Pauline Akonga N'Simba (22 points). Les Nantaises célèbrent une victoire à domicile contre Hainaut Basket (83-59).
La rencontre entre Tarbes et Charleville-Mézières se décident en prolongation. Sabrina Reghaïssia (25 points) fait une belle partie pour Tarbes qui remporte une précieuse victoire contre Charleville (79-75).

Toulouse fait l'exploit contre USO Mondeville en s'imposant (63-53) - malgré une bonne performance de Courtney Hurst (20 points) - pour se placer au-dessus de Mondeville et Nice au classement. 

---
Picture credits:
womensbasketball-in-france.com
Date created: 12 january 2014
Like this page / Aimez cette page