The LFB derby in Perpignan
had an Australian feeling

With just seven rounds of matches remaining of the LFB regular season, Lattes Montpellier and Bourges Basket are closer to their season's objective of qualifying for the end-of-season championship play-off.
Perpignan huffed and puffed in recent weeks but are still on course for a top 4 finish as they are currently in third place.
Veuillez lire un résumé en français des matchs de la 19 journée en bas de la page.

The competition for 4th place is really interesting with Basket Landes, Lyon BF and Tarbes all sharing 4th place with 11 wins and 8 defeats.
The other fight, this time against relegation is just as exciting. No matter what happens in the North derby between Hainaut Basket and Arras to complete round 19, these teams will remain in 13th and 14th place.
With Aix-en-Provence, Charleville-Mézières and Villeneuve d'Ascq all losing, a victory for Arras would leave them just one game behind these three teams and more or less condemn Hainaut Basket to relegation from the LFB.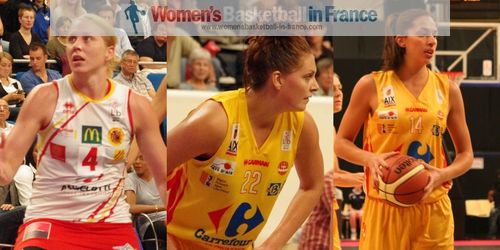 Abby Bishop, Cayla Francis and Marianna Tolo all played for Australia at the 2012 Olympics games and came back with bronze medals.
Bishop is riding high with Perpignan Basket, who are currently in third place in the LFB while Francis and Tolo are battling away with Aix-en-Provence at the end of the table.
In the encounter between Perpignan Basket and Aix-en-Provence, it was Bishop who came away with the win. She scored 13 points and picked up 5 steals in the (72-70) victory.
Tolo went 8-of-10 from the floor and scored 20 points while Francis finished with another double-double with 12 points and 10 rebounds.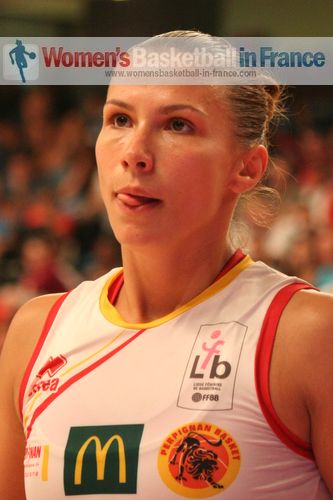 Aix-en-Provence had a bad start to the game and trailed (12-21) by the end of the first quarter. Yet they fought their way back into the game and were level (34-34) with two minutes into the third quarter.
In the end Aix-en-Provence comitted too many turnovers (20) and paid the prize.
Iva Ciglar (in picture) led Perpignan to victory with 20 points and 6 assists.
Bourges Basket avenged their defeat against Lyon in LFB round 6 with a clinical defensive display (62-50).
At the end of the first quarter Bourges trailed (12-13). But with a 15-4 run during the second quarter they took control of the game for good.
Nwal-Endéné Miyem fired in 19 points for Bourges while Danielle Page had also 19 for Lyon.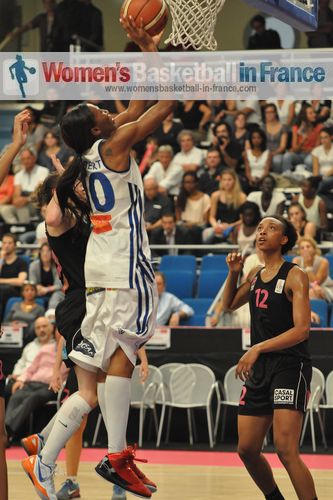 Lattes Montpellier needed something special from Géraldine Robert (in picture) to get past Charleville-Mézières (80-64). Robert scored 22 points and pulled down 9 rebounds. Virginie Brémont and Edwige Lawson-Wade were the only other players from Montpellier in double digits with 15 and 14 points respectively. Lattes Montpellier converted 64 % of their shots.
Charleville-Mézières were no pushovers and were level (43-43) at the break with a 59% success rate. However they could not maintain the same high percentage during the second half of this LFB game. Amel Bouderra, Sheana Mosch and Djéné Diawra had 14, 13 and 10 points respectively.
USO Mondeville trailed for most of their match against Nantes-Rezé and yet came out on top (68-66). For Nantes-Rezé Gunta Baško-Melnbārd was back to her very best offensively with 21 points while Bernadette N'Goyisa went a perfect 5-of-5 in the paint.
However Mondeville found the form of last season with the duo of Laëtitia Kamba (11 rebounds) and Naignouma Coulibaly (12 rebounds) scoring 14 and 11 points each. Amanda Lassiter also regained her scoring touch and contributed 18 points.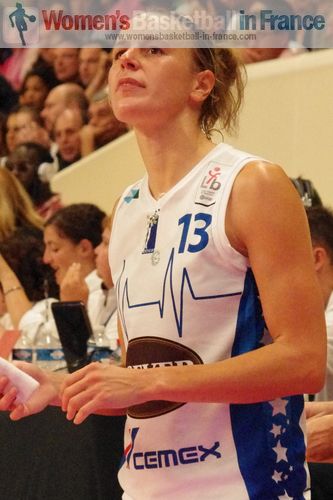 A three-pointer by Sabrina Reghaïssia (in picture) with just under a minute to play was enough to seal the victory for Basket Landes over Villeneuve d' Ascq (66-64).
Villeneuve d'Ascq were trailing by 6 points going into the final quarter. They fought hard all through the quarter and went in front with a three-ball by Jennifer Digbeu with 90 seconds to play (64-63).
Despite falling behind to Reghaïssia's three-pointer, Villeneuve had the chance in the last five seconds to win the game. But Digbeu's three-ball refused to drop while Olivia Epoupa collected the rebound.
In the only LFB game played on Saturday that went to the visitors, Tarbes beat Toulouse (70-49).

Lattes Montpellier 80-64 Charleville-Mézières
USO Mondeville 68-65 Nantes Rezé
Basket Landes 66-64 Villeneuve d'Ascq
Bourges Basket 62-50 Lyon BF
Toulouse Métropole 49-70 Tarbes
Perpignan Basket 72-70 Aix-en-Provence
Hainaut Basket 72-64 Arras
Des victoires arrachées au dernier instant en LFB!

Perpignan confirme son statut dans le top 4 en LFB mais a du mal à gérer les deux joueuses, Lizanne Murphy et l'Australienne Marianna Tolo - avec 20 points chacune - qui font du dégât sous le panier.
Cependant, la meneuse Iva Ciglar (20 points, 6 passes décisives) et ses coéquipières profitent des nombreuses balles perdues de leur adversaire aixois pour décrocher la victoire (72-70).
L'Australienne de l'équipe gagnante Abby Bishop a aussi un mot à dire avec ses 13 points et 5 interceptions.

Une fois que la machine berruyère tourne, Bourges Basket profite de la maladresse des Lyonnaises avec 34 % de réussite pour remporter le match (62-50). Nwal-Endéné Miyem de Bourges et son adversaire Danielle Page ont les plus hauts scores avec 19 points chacune.
Les Flammes Carolo sont des adversaires accrochantes avec Djéné Diawara (10 points et 7 rebonds) et une Amel Bouderra combattante. Mais avec une Géraldine Robert en excellente forme (22 points et 9 rebonds), Montpellier accélère dans la deuxième mi-temps pour gagner ce match (80-64) et rester en haut du tableau.
Un autre match serré était la rencontre entre Basket Landes et Villeneuve d'Ascq. Les Landaises tremblent quand Jennifer Digbeu, à 90 secondes de la fin de la rencontre, avec un tir prime donne à ses partenaires un petit point d'avance (64-63) pour que Sabrina Reghaïssia lui répond avec un autre tir prime pour redonner l'avantage à son équipe (66-64). Quand Digbeu rate son prochain tir prime, Basket Landes peut respirer et célébrer sa victoire.
Et encore un match qui se décide aux derniers moments! USO Mondeville traine pour 32 minutes contre Nantes-Rezé (avec 21 points de Gunta Baško-Melnbārd).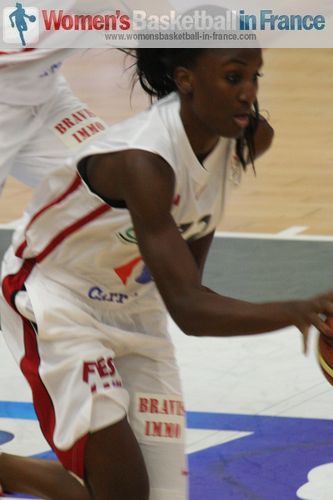 Mais ce sont les intérieures de USOM qui font la différence avec des bonnes prestations de Laëtitia Kamba et Naignouma Koulibali pour gagner à justesse contre les Déferlantes (68-66).
Les deux dernières balles perdues par Nantes-Rezé ne leur ont pas seulement fait perdre ce match mais elles se sont aussi éloignées d'une place dans le top 4.

Avec sa victoire contre Toulouse (70-49), Tarbes est quatrième avec Basket Landes et Lyon BF dans le classement à l'issue de la 19ème journée.
Le dernier match de ce weekend devrait se montrer révélateur de qui des deux équipes sera en LF2 la saison prochaine: Hainaut Basket ou Arras. 
---
---
Like this page / Aimez cette page