Hainaut Basket and Tarbes
still looking for first LFB win

On day 2 of LFB round 3, Lattes Montpellier joined Bourges Basket and Nantes-Rezé on top of the table with their victory. Elsewhere Lyon BF, USO Mondeville and Perpignan Basket all won for the second time.

wwbif visited this weekend the Palacium, a venue for the second round of EuroBasket Women 2013, to report on the LFB match in Lille.
The "z'hurlants", the official supporters club of Villeneuve d'Ascq were in good voice but only about 45O fans were in attendance for the first home game of the LFB season.
Sandra Pirs and Émilie Duvivier were injured during the week so were not expected to play for the hosts while Aix-en-Provence was complete.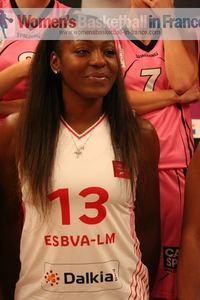 For 30 minutes the hosts had nothing to cheer about. Yet in a super final quarter and Olayinka Sanni (in picture) on fire Villeneuve d'Ascq got themselves out of jail and made up a 15-point deficit to beat Aix-en-Provence (67-64).
With 35 seconds left to play Aix-en-Provence still had the advantage. But with Marianna Tolo fouling out the pendulum swung in favour of the hosts.
Sanni hit the resulting free throw to put her team in front for good and seal the honour of player of the match with a double-double of 24 points and 16 rebounds.
Bintou Dieme had another good game with 8 points and 6 assists while Jennifer Digbeu finally came alive with 12 points for the hosts. Sandra Pirs did come on for a few minutes but it was obvious that she should not have bothered.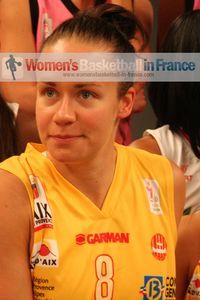 Shona Thorburn (in picture) from Aix-en-Provence who had a good game until the last few minutes was exhausted when she could have saved the match. She made a mistake with an ill advised three-point attempt with 10 seconds to play when a pass inside would have been a better option.
It was a tough loss for Bruno Blier, the coach from Aix-en-Provence. His side started the match so well with 12 points each from Tolo and Lizanne Murphy during the first quarter (26-11) and his players giving a master class in the execution of back door plays.
Villeneuve d'Ascq: Caroline Lamoine DNP, Émilie Duvivier DNP, Bintou Dieme 8 (6 assists), Stéphanie Dubois 2, Amélie Pochet 7, Jennifer Digbeu 12, Alice Nayo 1, Olayinka Sanni 24 (16 rebounds), Lenae Williams 11, Sandra Pirs 0, Bojana Vulic 0

Aix-en-Provence: Lisa Lefèvre DNP, Kelly Corre 0, Shona Thorburn 8 (9 assists, 9 rebounds), Sylvie Gruszczynski 12, Adja Konteh 2, Lizanne Murphy 13, Natty Chambertin 0, Marianna Tolo 20 (9 rebounds), Cayla Francis 9

What else happened in the LFB in round 3
Lyon BF ran away from Charleville-Mézières (73-59) after another big performance by Emilija Podrug (in picture) who scored 27 points, made 5 steals and finished with 3 assists. Audrey Sauret on her return to action played just over 19 minutes and scored 2 points but dished out 3 assists.
Melanie Plust who was also absent last week went 3-of-4 from beyond the arc for her 9 points while Danielle Page knocked in 16 points.
Lyon appeared as if they would run away with the game after a (16-2) opening burst but the Flammes Carolo fought back and trailed by just 4 points at the break (27-31).
After a hard fight in the third quarter the hosts opened up a 9-point lead (49-40) and then cruised the rest of the way.
Amel Bouderra led the scoring for Charleville-Mézières with 16 points and Djéné Diawarra finished with a double-double of 15 points and 10 rebounds.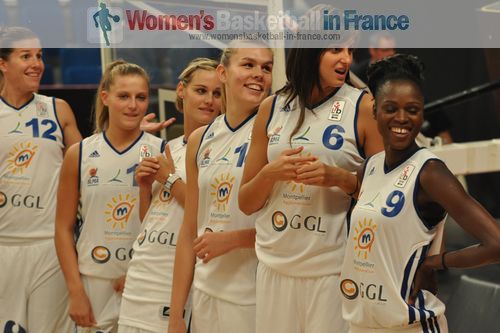 Lattes Montpellier were once again efficient when they needed to be as they comfortably beat Hainaut Basket (70-54). Géraldine Robert is enjoying her LFB comeback. She led the way with 17 points while Edwige Lawson-Wade was not far behind with 16 points. The wbbif September player of the month Gaëlle Skrela scored 11 points.
Hainaut have lost their last five LFB matches, the first three matches of this season and two LFB Challenge round games from last season.
Perpignan Basket outscored Toulouse (50-46) in the match between the two teams promoted from Ligue Féminine 2.
The match went to the wire with Abbey Bishop (18 points, 9 rebounds and 4 assists) giving Perpignan the lead for good (48-46) with 90 seconds to play. In similar circumstances to the LF2 final four final, the end was messy and Perpignan prevailed.
In the last game of the weekend Mondeville bounced back from their defeat last week to beat Tarbes (72-59).
All the results from round 3 of the Ligue Féminine de basketball

USO Mondeville 72-59 Tarbes
Perpignan Basket 50-46 Toulouse Métropole
Villeneuve d'Ascq 67-64 Aix-en-Provence
Lyon BF 73-59 Charleville-Mézières
Basket Landes 62-65 Nantes Rezé
Lattes Montpellier 70-54 Hainaut Basket
Bourges Basket 67-51 Arras

---
Visit our 2012-2013 Ligue Féminine de Basket section

Visit our home page
Visit our "What's New" page
picture credits:
womensbasketball-in-france.com


Date created: 06 October 2012
Like this page / Aimez cette page