Another bad Saturday night
for LFB hosts
Lattes Montpellier stay on top of the LFB standing after escaping with a victory against USO Mondeville (71-68). Like in LFB round 9, all the other hosts came out second best in the Saturday night games.

USO Mondeville's roster has taken a physical beating in recent times. Aminata Konate is out for at least four months after shoulder surgery while Amanda Lassiter is playing with a face mask after breaking her nose in training.
Laëtitia Kamba is playing but has been having some back treatment and is not 100% fit.
All the same, despite disastrous first 20 minutes in Mondeville trailed against their guests from Montpellier (23-38), they made a brilliant recovery in the second half and almost won the game in an exciting final quarter.

During the final quarter the game was tied on four occasions. With a little over three minutes to play USO Mondeville went in front (57-56).
Edwige-Lawson-Wade (in picture) hit back to back three-pointers and dished out a couple of assists during the closing minute. Géraldine Robert secured the victory with an And-1 (2+1) play with nine seconds to play.
Mondeville tried to set up K. B. Sharp with a three-point shot at the end but Gaëlle Skrela deflected her effort with a block.
For Hervé Coudray, the coach for USO Mondeville, the defeat was bitter because he was hit with a technical foul early in the final quarter. Those 2 gifted points may have cost them the game in the end.
Lawson-Wade finished the game with 16 points and 6 assists while Skrela added 12 points. Ana Lelas and Robert also had double-digit scores with 10 points each.
For USO Mondeville Sharp, Naignouma Coulibaly and Amanda Lassiter all scored 13 points while Giedre Paugaite and Ingrid Tanqueray added 12 and 11 points apiece.
News from the other LFB games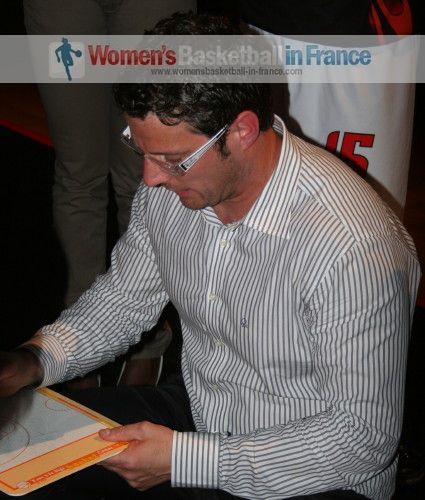 Romuald Yernaux (in picture), the coach from Charleville-Mézières, was not on the coaching bench for his team's visit to Arras. He was forced to sit this game out due to him being suspended because of the number of technical fouls called against him during the last few months.
In a sea-saw battle and a three-point shooting festival it was Charleville-Mézières that came out on top against Arras (70-66). Sheana Mosch scored 20 points followed by Amel Bouderra who finished with 17 points and 5 assists while Aurélie Bonnan chipped in 13 points and dished out 5 assists.
For Arras Dawn Evans scored a game high 23 points while handing out 4 assists. Sandra Dijon scored 13 points while collecting 9 rebounds and Olesia Malashenko had 10 points.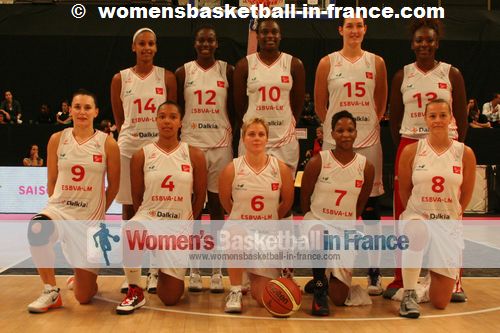 Toulouse lost at home to Villeneuve d'Ascq in another close game which neither side controlled for any length of time (75-78).
Toulouse led by 5 points going into the final quarter. Then they lost the lead for good with about seven minutes to play. Lenae Williams led the offensive attack for Villleneuve with 23 points but Binta Diémé was the team's pace maker with 18 points, 5 assists and 3 steals. Olayinka Sanni chipped in 13 points.
Toulouse played well for most of the game. However lack of concentration early in the final quarter hurt them as they allowed Villeneuve d'Ascq back in the game and wasted the 20-point contribution by Julie Legoupil.
Aix-en-Provence have the smallest roster in the LFB this season with just seven players. Yet these players are performing wonders. They led from start to finish against Tarbes and won (74-68) with 24 points coming from Lizanne Murphy.
The 11th round of the LFB comes to an end on Sunday evening with the remaining three games.
Results from Saturday:
Mondeville 68-71 Lattes Montpellier
Toulouse 75-78 Villeneuve d'Ascq
Tarbes 68-74 Aix-en-Provence
Arras 66-70 Charleville-Mézières
---
Visit our 2012-2013 Ligue Féminine de Basketball section

Visit our home page
Visit our "What's New" page
picture credits:
womensbasketball-in-france.com

Date created: 02 December 2012
Like this page / Aimez cette page